Friday Box Office Analysis
By Kim Hollis
August 21, 2004
BoxOfficeProphets.com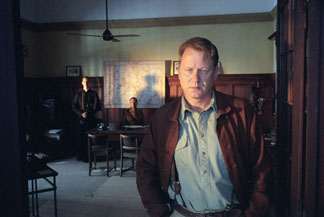 ---
The scariest thing about Friday was not Exorcist: The Beginning or Open Water, but rather the precipitous drop that Alien vs. Predator took. And rarely has a film been so deserving of such a punch to the gut.

Exorcist: The Beginning

The Paul Schader Renny Harlin-directed prequel took in a mildly surprising $7.4 million on Friday. It seems that The Exorcist franchise still carries over enough goodwill to entice the curious, at least. Horror films have not been the beneficiaries of strong multipliers in recent years, and it is likely that this film will suffer an additional hit due to the sequel-itis factor. We'll be generous and give it a 2.4 Friday-to-Sunday multiplier estimate, which would indicate a $17.8 million weekend.

Without a Paddle

This amalgram of Deliverance and City Slickers started out amazingly strong on Friday, with $4.8 million tallied by the time the day was done. It benefits somewhat from a PG-13 rating and a vanilla set of stars. Comedies fare slightly better than movies of other genres, and the fact that this one skews a little younger doesn't hurt it any, either. A 2.7 multiplier for the weekend would give the film $13 million for its opening three days.

Open Water

In the end, Open Water just couldn't match the advance hype it was given as the Blair Witch Project of 2004. It expanded perhaps a bit too rapidly, and might have done better to do a more gradual addition of screens, building a slower, more effective buzz. The film started its first wide release day with $4 million from 2,709 screens. Since its appeal is largely to the art house crowd, its weekend multiplier should be pretty strong, though. The film should be looking at a solid $12 million this weekend.

Garden State

Zach Braff's Garden State moved semi-wide with 652 screens this weekend, and managed a pretty solid $1 million on Friday. The debut directorial effort from "the Scrubs guy" is looking at a decent $3-3.5 million for the weekend and should be able to hold pretty strongly in the coming weeks as word-of-mouth spreads.

Notable Holdovers

The Princess Diaries 2: The Royal Engagement held up pretty well for a 2004 summer film. It had a $4.2 million Friday, a drop of 50%. It should probably do better over the course of the three days, with a 45% drop not too far out of line. Look for the Disney flick to take in another $12.6 million this weekend.

Things weren't nearly so upbeat for Alien vs. Predator. Its $3.8 million Friday indicates a horrifying 77% drop from its opening day. It's looking at $11.5 million for the weekend and will likely take the title of largest drop from opening weekend away from The Village...

...Or it might, if Yu-Gi-Oh!: The Movie hadn't fared even worse. The film dropped from its opening Friday of $4.3 million to a miserable $747,000. That's an 82% fall and means the film won't make the top ten in week two. The studio suits at WB don't mind, though. It's already a guaranteed cash cow once DVD sales and rentals are figured in.