Trailer Hitch
By Kim Hollis
August 19, 2004
BoxOfficeProphets.com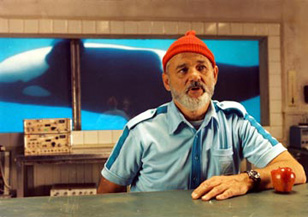 ---
BOP celebrates the return of Trailer Hitch by taking a look at one of our most anticipated movies of the year along with a few other indie flicks.

1. The Life Aquatic With Steve Zissou

This marvelously crafted little trailer tells fans of director Wes Anderson everything they need to know. This latest offering from the helmer/co-writer of the understated masterpieces Bottle Rocket, Rushmore and The Royal Tenenbaums is centered around an ocean documentarian in the vein of Jacques Cousteau. Anderson's trademark combination of quirky humor with an undercurrent of melancholy is clearly present, not to mention the meticulous attention to detail. Music from New Order and David Bowie only serves to complete the overall impression. It's my favorite trailer of the year so far.

2. I Heart Huckabees

Speaking of bringing the quirk, does this film ever appear to have it in abundance. Words and phrases such as "existentialism" and "infinite nature" are tossed around, along with a number of sensory images that are clearly designed for maximum appeal. The film features a stellar cast and they all appear to have excellent chemistry – from Jason Schwartzman to Mark Wahlberg to Dustin Hoffman to Jude Law and finally even Naomi Watts. I laughed out loud several times and can't wait for the film.

3. Sideways

Strangeness seems to be in this week as we next take a look at the upcoming release from Election/About Schmidt director Alexander Payne. Sideways ostensibly looks to center around two friends who take a road trip just before one of them gets married, but like Payne's other work, it clearly delves much, much deeper. The film is obviously for grownups and doesn't hesitate to evince that quality, which I respect. Thomas Haden Church and Paul Giamatti wouldn't immediately impress one as the likeliest of buddies, but their on-screen pairing is quite solid. The presence of Sandra Oh and Virginia Madsen doesn't hurt matters any, either. This one is high on my list of anticipated films to hit theatres before the end of 2004.

4. Criminal

This trailer will be virtual catnip for big fans of caper flicks, but it sadly did little for me. The voiceover by star John C. Reilly is a strong decision, but from there it's kind of fuzzy what the movie is trying to be about. Diego Luna looks great for his role, but Maggie Gyllenhaal seems out of place somehow. The final line of the trailer combined with the cut to the movie's title is very clever, though. And I'll definitely be anticipating the film since it was co-written by one Steven Soderbergh.

5. The Yes Men

This offbeat documentary follows two guys called The Yes Men in their quest to assume the identity of criminals and try to correct their past wrongs. The catch is that in this film, the criminals are people like the World Trade Organization's Dr. Andreas Bichlbauer and Granwyth Hulatberi. The trailer makes the movie appear as though it has a lot of promise, and it should be a lot of fun. Even Michael Moore makes an appearance, noting that The Yes Men have managed to upset quite a few people. And you know if Moore is saying you're a troublemaker, you're waaaaaaaaay up there.