Friday Numbers Analysis
It Takes A Village To Top Box Office
By Tim Briody
July 31, 2004
BoxOfficeProphets.com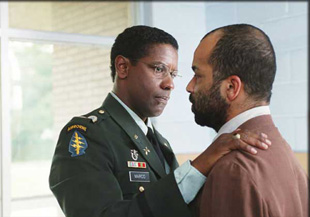 ---
Despite the worst reviews of his directing career, M. Night Shyamalan's The Village still tops the box office charts easily on Friday, as The Bourne Supremacy tumbles like a typical summer sequel.

The Village

The thriller/horror film earned an estimated $20.8 million Friday, eeriliy similar to the Friday figure for Signs this weekend two years ago. Shyamalan's films have proven to have decent opening weekend multipliers, so we can expect a 2.9 internal multiplier, again similar to what Signs managed. That will give The Village a stellar $60.3 million for the weekend.

The Manchurian Candidate

Denzel Washington's heavily marketed remake took in an estimated $6.1 million Friday. It's a bit off from April's Man on Fire, but Washington's drawing power should bring in a few more older viewers over the rest of the weekend. Give it a 3.1 internal multiplier for the weekend (based on Man on Fire's numbers), for $18.9 million in the war chest.

Harold and Kumar Go To White Castle

Uh-oh. Our two new favorite stoners guys with the munchies were only able to bring in $2 million on Friday. That's a disappointing opening any way you slice it, but here's hoping for some positive word-of-mouth. A 2.8 internal multiplier sounds about right, for a $5.6 million weekend, which still buys a lot of White Castles.

Thunderbirds

Thunderbirds aren't go with a mere $957,000 on Friday. It won't get any better for the rest of the weekend, so figure about $2.7 million and a quick trip to DVD.

Notable Holdovers

The Bourne Supremacy tumbles in its second weekend, off 60.1% for Friday. That's become par for the course for a lot of sequels that open huge, and as long as drops of this size don't happen in the third weekend and beyond, it's got a lot of box office life left. Figure a 55% decline or so for the weekend, placing it close to the $100 million mark.

Catwoman plunges a ridiculous 68.1% from last Friday. A 65% drop for the weekend is in store, and good riddance.