Friday Box Office Analysis
By Tim Briody
June 26, 2004
BoxOfficeProphets.com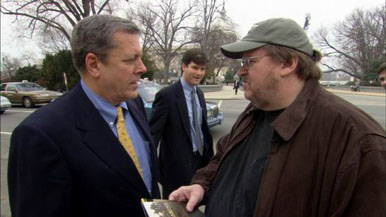 ---
And you thought Hollywood had run out of ways to make box office history. Fahrenheit 9/11 shatters all first-day expectations by raking in $8.1 million.

Fahrenheit 9/11

Michael Moore basically breaks every documentary record in the book (most of which he already held) with Fahrenheit 9/11's estimated Friday gross of $8.1 million. Now, there's a few questions here. Frontloaded or not? Did enough people get turned away from sellouts to try and see the film on Saturday? There's no basis of comparison for anything like this at all, so I'm going to hedge my bet with your standard 2.9 internal multiplier, giving Fahrenheit 9/11 a fantastic $23.5 million weekend.

White Chicks

The Wayans Brothers' "comedy" earned an estimated $6.7 million Friday, giving it $14.2 million since its Wednesday release. It's not a bad number, nor is it a great number, and Dodgeball will probably come out ahead come the weekend estimates Sunday. White Chicks should earn $18.6 million for the weekend.

The Notebook

The token chick flick this weekend opened to an estimated Friday number of $5.3 million. That's pretty good, and shows that source material may actually be a bigger draw than star power in the long run (see Stepford Wives, The). I also expect The Notebook to top Stepford's internal multiplier easily. Call it a 3.1 and The Notbook earns $16.4 million over the weekend.

Two Brothers

The family film starring tigers and Guy Pearce earned an estimated $2 million Friday. It's likely to have the highest internal multiplier among the openers this weekend, but it's still a distant fourth in the running. Two Brothers looks to end up with $7 million for the weekend.

Notable Holdovers

In other shocking news, all three holdovers from last weekend have declines of under 50 percent. The extremely funny Dodgeball is down 43.2%, The Terminal is off a mere 32.7% and even Around the World in 80 Days falls 41.4%.