Weekend Forecast for June 25-27, 2004
By Reagen Sulewski
June 25, 2004
BoxOfficeProphets.com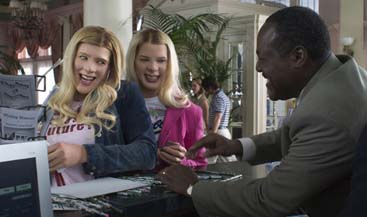 ---
What had previously been an ordinary summer dumping ground (due to the upcoming release of Spider-Man 2) has been revitalized by the addition of the self-billed "Most Controversial Film of the Year." It may not win the weekend, but Fahrenheit 9/11 is by far the one to watch.

First things first, though. White Chicks, another film in the proud tradition of "black people talk funny, white people are lame" comedy, assaults audiences this weekend as more or less the headlining film and the one most likely to take the top spot this weekend. I try not to use hyperbole that much, but if this happens, it will be the greatest injustice in American history, or at least since Bringing Down the House became the highest-grossing Steve Martin film. The basic plot: two FBI agents (played by two of the Wayans... I think it's Tito and Moon Unit this time) have to disguise themselves as two spoiled socialites, going undercover to foil a kidnapping ring. There's a bit of a hitch - they do so with disguises that wouldn't fool a blind and deaf person.

Now, it's not like it's not possible to get comedy out of black and white cultural differences or out of black actors in 'whiteface'. Eddie Murphy is maybe the king at this, and Dave Chappelle is following in his footsteps. Their trick, though, is to keep it short. There simply isn't enough you can do on this subject for 90 minutes to an hour, especially when your makeup looks like some sort of serial killer mask from a horror film. The Wayans seem to agree, filling the film with jokes about underwear, plastic surgery and farts. Hey, that last one is something everyone can laugh at. Maybe I have them wrong and this film is really about bringing people together in their love of bodily emissions while pointing out the hilarious foibles of stereotyped characters.

White Chicks opened on Wednesday, duping bringing in a little over $4.2 million. Extrapolating out from this number isn't always easy, since it would not be entirely unheard of for word-of-mouth to kick in this fast. On the other hand, I wonder about the thought process of that small subset of people who had an interest in this film, but were waiting to see how the reviews turned out. White Chicks will probably end up with around $23 million for the weekend, and may mercy be upon all those who venture to see it.

Now to the meat of the weekend. It's rare that a documentary would be discussed this high up in my column; they simply don't perform well at the box office, sadly enough. This weekend is a much different story. Two years after shattering perceptions of how a documentary can entertain and inform a mass audience with Bowling for Columbine, Michael Moore is back with Fahrenheit 9/11. A poison pen letter to President George W. Bush, 9/11 attempts to examine the connections between Bush and the bin Laden family and their connection with the World Trade Center and Pentagon terrorist acts. The first documentary to win the Palme d'Or at the Cannes Film Festival, 9/11 has prompted unprecedented attention for a non-fiction film and will open on 868 screens, a mammoth number by documentary standards (Bowling for Columbine earned over $20 million without ever seeing more than 248 screens).

However, as any school teacher can tell you, attention isn't always positive. Early controversy centered on Disney's refusal to allow Miramax to distribute the film for fear of stirring negative reaction to the company. In the aftermath, the brothers Weinstein created their own company for distribution, known as the Fellowship Adventure Group, and picked up additional financial support from Lions Gate and IFC Films. As might be expected with such a nakedly political film, attacks are being made from the opposing side, in the form of a letter writing and intimidation campaign against theaters showing or thinking of showing the film. It may have worked in some respects; initially pegged as a 1,000 plus screen release, it's since scaled back to the amount we see now. Attacks on the film's points have come from both sides, including a vitriol-filled rant from a clearly feuding Christopher Hitchens of Slate. Such is the power of Moore, to inspire awe and bile, often at the same time, from the same person.

Unashamedly single-minded in its purpose, 9/11 has no loftier goal than toppling Bush as president. First, though, he's going to make an awful lot of money. It's already set some screen records at two theaters in New York, beating the standards of Men in Black and Crouching Tiger, Hidden Dragon at those respective venues (it's hard to blame their interest in the topic). It will be interesting to see if this kind of performance can be carried through the entire continent, into states that are less reflexively supportive of the "Bush bad" message. When analyzing the potential of this film, the most useful tool ends up being the highest per screen averages. Spider-Man is the current champion for wide release films at close to $32,000. The patron saint of mid-tier releases, The Blair Witch Project, is also a standard bearer at $26,500. The $20,000 per screen barrier is pretty routinely broken for blockbusters now, with four different films doing that just this year. This weekend will add a fifth, as Fahrenheit 9/11 will earn approximately $19.5 million over this weekend. It will be nothing short of ground-breaking for the documentary genre.

The rest of the new films are rather anti-climactic by comparison. The Notebook has a decent amount of buzz as the romance to see of the summer. Based on a novel by Nicholas Sparks (of Message in a Bottle and A Walk to Remember fame -- this guy's got a jones for tragedy), it stars James Garner, Gena Rowlands, and Rachel McAdams and former Mouseketeer Ryan Gosling as the younger versions of themselves. A film about star-crossed lovers through 60 years, it sounds like something that might put me into insulin shock, but will probably find an audience and build through the summer. None of the actors here have much of a track record recently, but the buzz the film has gathered should be enough to give the film a $7 million opening frame.

Jean-Jacques Annaud is known for making very beautiful, very ponderous films such as Quest for Fire and Seven Years in Tibet. The film that is most associated with his name, though, is The Bear, his nature film that followed around a bear cub and its adoptive grizzly father. He has returned to that well with Two Brothers, this time looking at two tiger kittens as they grow to adulthood. There's a bit more interaction with humans this time (The Bear was almost entirely without dialogue) and Guy Pearce has the leading human role as a jungle adventurer who intervenes in the cubs' fates. The Bear earned $31 million in 1989, appealing to family audiences. I think the appeal for this film has somewhat diminished, though, with the advent of the Discovery Channel and Animal Planet. Though it is likely charming as all get out, why settle for a fictionalized tale about tigers when the real thing is on every 30 minutes? Expect a total of around $5 million for Two Brothers for the weekend.

Dodgeball pulled off a bit of an upset in earning the number one spot last weekend, beating out the Hanks/Spielberg collaboration The Terminal $30 million to $19 million. The lesson: throw enough Ben Stiller movies out there and one of them is bound to be a hit. Or maybe we're just tired of Tom Hanks speaking in a goofy accent. Both Fox and DreamWorks seem to sense an opportunity in a weak frame, adding significant numbers of screens. I wouldn't expect a miracle in either case, but a decent hold is likely for both films.

In milestone news, Harry Potter and the Prisoner of Azkaban will easily pass $200 million this weekend, while Shrek 2 will fall just short of hitting the $400 million figure in this frame. Still in seven figures after five weeks of release, Shrek 2 has set itself up as at least the number two film of the summer. It will take next weekend and the rest of July to see if it keeps the number one spot.