Friday Box Office Analysis
Dodgeball Beans Spielberg, Chan
By Tim Briody
June 19, 2004
BoxOfficeProphets.com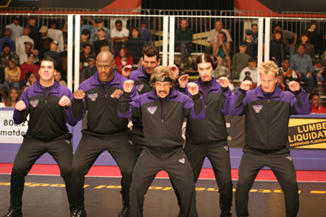 ---
It appears that a true underdog story will be the first real upset of the summer box office season.

Dodgeball: A True Underdog Story

Dodgball surprises just about everyone with an estimated $11.8 million Friday, easily besting the other two openers and taking the top spot for the weekend. Frontloaded? Probably, but not excessively. March's Starsky and Hutch had a 2.95 internal multiplier, so something in the neighborhood of 2.8 seems right for the Ben Stiller/Vince Vaughn comedy. Dodgeball looks to end up with a solid $33 million for the weekend.

The Terminal

The second collaboration in the last 18 months between Tom Hanks and Steven Spielberg doesn't get off to nearly as good a start as Catch Me If You Can. An estimated $6.3 million start isn't the end of the world, though. Though The Terminal is more of a comedy, we're looking at 2002's Road to Perdition for both weekend multiplier and performance down the next few weeks. Perdition had a 3.29 multiplier, and that certainly fits The Terminal very well, giving it a $20.7 million weekend.

Around the World in 80 Days

Chris Tucker must be going out of his way to hide from Jackie Chan. After two mediocre days since its Wednesday opening, Around the World In 80 Days earns a miserable $2.1 million Friday. The best weekend it can possibly hope for is $6 million if it's really lucky.

Notable Holdovers

A bloodbath of epic proportions awaits the three openers from last weekend. Garfield falls 56.6% from last weekend, The Stepford Wives (the only one of the three that had a shot at legs) drops 59.2% and The Chronicles of Riddick plummets 72%. The outlook doesn't get any better for any of those films over the remainder of the weekend.