Friday Box Office Analysis
By Tim Briody
June 12, 2004
BoxOfficeProphets.com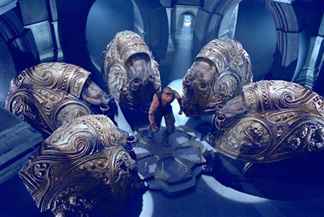 ---
Remember when three $20 million openers in a weekend was impressive? Me neither.

The Chronicles of Riddick

Harry Potter will still rule the box office, but Vin Diesel sure made it a lot closer than many thought. The sequel to Pitch Black took in $10.2 million Friday, around $700,000 behind The Prisoner of Azkaban (though the margin for the entire weekend will be considerably larger). As terrible as this movie looked, Diesel still clearly has a little drawing power, though it's not going to come close to matching the $44.5 million opening of 2002's xXx. Given a 2.7 internal multiplier, Riddick looks to end up with $27.5 million for the weekend.

The Stepford Wives

The update of the '70s thriller/commentary starring Nicole Kidman earned an estimated $8.1 million Friday, showing that star power is a recurring theme this weekend. The rest of the weekend depends on 1) how many couples opt for Shrek 2 instead of Stepford Wives as their date movie of choice and 2) the nostalgia factor, if any. That said, I'll give The Stepford Wives a 3.0 internal multiplier, good for a $24.3 million weekend, but look out below from here.

Garfield

Remember what I said about star power? Nevermind. Garfield took in an estimated $8 million Friday, unable to earn much more in the wake of Shrek 2 and Harry Potter. Thankfully, such an average Friday number should halt any thoughts of a sequel. Though with three viable family choices, watch out for rugrats (not to be confused with Rugrats) abound at theaters the rest of the weekend. Give Garfield a 3.1 multiplier and $24.7 for the weekend.

Notable Holdovers

Harry Potter and the Prisoner of Azkaban drops a mind-numbing 71.5% from last Friday. Take into account the spectacularly bad internal multiplier the third entry in the series had and it's not exactly the end of the franchise. The much lower Friday figure will let Harry and friends have a much more kid-friendly multiplier this time around. The weekend drop should still be in the neighborhood of 50-55%, though.