Saved!
By Tony Kollath
May 28, 2004
BoxOfficeProphets.com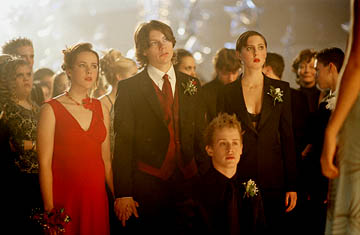 ---
Brian Dannelly's Saved! is sure to earn its share of loud detractors among both non-Christians and the more conservative Christians. Hopefully, these voices will not limit access to the film, for in making a subversive film about acceptance, Dannelly brings to the screen a charming comedy with some of the best on-screen laughs I've had for a while.

Mary (Jena Malone) is about to embark on her senior year at American Eagle Christian High School, and everything is just super. She's sure of her faith, and has some equally devout friends in Hilary Faye (Mandy Moore) and Veronica (Elizabeth Thai). The three make up the Christian Jewels, a sort of girl gang for Jesus, doing their best to spread the Word through some righteous musical performances, if not necessarily through actions. The one wrinkle is that Mary's boyfriend, Dean (Chad Faust) seems to be leaning toward a lifestyle that, shall we say, would not be accepted in the ultra-conservative community.

Following some questionable advice, and heeding an even more questionable vision, Mary decides to undertake a rather extreme -ahem- sacrifice to try to -ahem- cure Dean of his -ahem- condition. This does not lead to the desired result, and in fact brings about a result that is most undesirable. Mary is left to conceal her new condition, sure that her single mother (Mary-Louise Parker) and the good folks at American Eagle would not accept the new development.

As Mary tries to conceal her condition, she drifts farther away from Hilary Faye, whose marauding piety covers a heart somewhat short on kindness and understanding. As the once-hot friendship cools significantly, Mary gravitates towards the two ugly ducklings at American Eagle. Roland (Macauly Culkin), Hilary Faye's wheelchair-bound brother, drifts along on the outer edge of the school's society. Roland is drawn toward Cassandra (Eva Amurri), the brash Jewish girl, whose penchant for trouble raises as many eyebrows as does her religion at the school.

Herein is the crux of the film. Hilary Faye and her hangers-on go to great lengths to bathe themselves in Christian piety, but are revealed to be several quarts low on understanding and acceptance. Meanwhile, it is with the undesirables at the school that Mary finds solace and companionship. Biblical parallels are clear. Yet the bold strokes with which Dannelly paints the established Christian community in and around the school might ruffle some feathers, as Hilary Faye is held up as a fairly unflattering caricature.

Still, the mean-spiritedness lurking underneath the surface of the film is not overwhelming, as Dannelly injects a steady stream of humor in the film. A number of the characters have some good barbs in their dialog. The exchanges between the main protagonists, Hillary Faye and Cassandra, and between Cassandra and Roland are especially good. Roland's unusual panhandling provides the best throwaway moment in the film.

Dannelly gets some fine performances from his ensemble cast. Malone plays Mary as a sympathetic but not victimized girl, trying to guide herself through some odd circumstances and pressures. Moore brings just the right amount of nastiness to the role of Hilary Faye. Moore's career got off to a solid start with A Walk to Remember, but How to Deal and Chasing Liberty saw unspectacular success. Moore's performance in Saved! remind audiences that she has real screen presence and a good measure of acting talent.

Culkin and Amurri steal the show. I haven't seen much of Culkin's recent work as he tries to escape the mantle of Former Child Star. It would have been easy to let Roland fade into the background, yet Culkin doesn't underplay the character. Culkin lets Roland stand on his own as he deflects Hilary Faye's barbs and abuse and emerge as the surprising voice of reason in the film. Amurri will be new to most audiences, as she was to me, but she really runs with the best role in Saved! As the Culkin role could have been too underplayed, it would have been easier to overdo the part of Cassandra. Amurri brings just the right amount of outrage to the role, but doesn't go overboard, and succeeds in bringing out an engaging character.

As with most Comedies With a Message, Saved! stumbles a bit as it tries to cross the finish line. The tempo of the film slows way down in the last few scenes as Dannelly makes sure that every character understands the director's point. This is all the more glaring in contract to the deft pacing of the majority of the movie. Still, Dannelly finds the right note on which to end the film, and has made a fine piece of work.