Friday Box Office Analysis
By David Mumpower
May 15, 2004
BoxOfficeProphets.com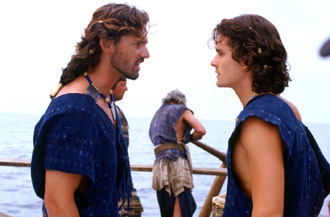 ---
Homer might be rolling over in his grave (assuming ancient Greeks used graves), but that didn't stop the kind folks at Warner Bros. from making a movie based on his writings. That film, Troy, launched into 3,411 venues yesterday with first day box office receipts of $16.9 million. Let the debates begin on whether this is a strong or a disappointing number.

Troy had been the subject of passionate debate in recent weeks due to its perceived parroting of Gladiator in every way possible. Even the studio quotes went out of the way to remind analysts that Gladiator made $153 million of its $187 million domestic tally after opening weekend. The attempt was to diminish the too-lofty expectations in order to point out that Troy is expected to be a world-wide marathon box office performer rather than a domestic sprinter. Described as a four quadrant movie, i.e. one that plays to the widest ranging demographic audience, Troy was being hailed as a potential top five performer this summer. Whether its opening day tally is demonstrative of such lofty expectations is a to-be-determined.

What we do know at the moment is that Van Helsing's opening day tally of $19.7 million was considerably higher. Of course, since that film flamed out the rest of the weekend and wound up with a tally of $51.7 million for the three days, Troy still stands a reasonable chance of surpassing its opening total. So, it's still a bit early to say which one is the winner in today's box office Preakness. The film we are being heartily encouraged to compare to Troy is Gladiator. That movie's opening weekend included an $11.7 million Friday and a $34.8 million weekend. Saving you the trouble of breaking out your calculators, that's an internal multiplier of 2.98. Should Troy match that performance, we would be looking at a weekend total of right at $50 million. Even factoring in the inflation during the four-year period since Gladiator's release, Troy made 30% more in its debut than the Russell Crowe epic. While it's easier for a smaller number to have a larger multiplier (this is an underappreciated trick of mathematics), the reality is that Gladiator built its buzz from word-of-mouth after opening weekend. Troy, on the other hand, is in better shape to earn more money upfront. I am going to give it a 3.2 multiplier in anticipation of a $54.1 million weekend. Of course, Troy's negative cost is being placed over $200 million, so it damn well better make more money than Gladiator's $456 million world-wide.

Believe it or not, there was another opener yesterday. That film, Breakin' All the Rules, is Jamie Foxx's precursor to being kidnapped by murderous Tom Cruise later on this summer. Nurtured by the talented execs at Screen Gems, Inc., the same group that turned Two Can Play That Game into a moderate hit, Breakin' All the Rules had an outside shot at surprising. Alas, its box office tally of $1.8 million is indicative of a stillborn release. Breakin' should wind up with $4.7 million or so this weekend, thereby precluding the possibility of a sequel entitled Breakin' All the Rules 2: Electric Boogaloo. Tragic, really.

Notable Holdovers:

Van Helsing's poisonous buzz continues to hurt it. After managing the aforementioned weekend multiplier of only 2.62, the Wolverine starrer now falls a precipitous 67% from its first Friday. There will be some recovery over the weekend, but a 60% drop from its first three days is…how do I say this politely?...not good. As for the Olsen Twins and New York Minute, thanks for playing. I hope you enjoy your parting gifts. The second Friday total of $1.2 million is off 45% from an already minuscule performance of $2.2 million last weekend. Go have Uncle Jess kiss the boo-boo and make it feel better, girls. Even the Bush twins could open a movie about this well.