Box Office Estimates Report for April 30 - May 2, 2004
By Tim Briody
May 2, 2004
BoxOfficeProphets.com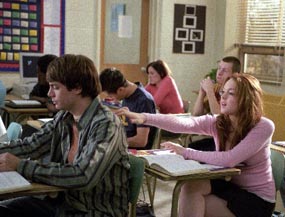 ---
The last weekend of April brings five new releases that crowd the landscape as we head into a month with just eight films slated for multiplexes. With Van Helsing, the first of the 800 lb. gorillas on the horizon, would any of these movies grab a slice of the box office pie before the heavy hitters start hogging screens and moviegoers' dollars?

The answer, somewhat surprisingly, was yes. Mean Girls, starring Lindsay Lohan and written by Saturday Night Live cast member Tina Fey, easily took first place with $25 million. Credit here goes to Paramount's marketing department, whose deluge of clever ads appealed to both the target demographic and even those a little bit older. It also didn't hurt that Mean Girls has been one of the best-reviewed wide releases of 2004. Critics praising Fey's script were running out of synonyms for smart and funny.

The opening is quite similar to Freaky Friday, Lohan's hit last year, which earned $22.2 million in August and finished with $110.2 million. While it remains to be seen how well it will hold up in the face of May's blockbusters, it's going to be a profitable venture for Paramount no matter what.

Second place goes to the film that eked out the top spot last weekend. Denzel Washington's Man on Fire earned $15.2 million, down a very good 33% from last weekend. The action film of choice for one more weekend before Van Helsing, the Fox film has now earned $44.4 million to date, and the Tony Scott-helmed pic is still a safe bet to earn its $70 million production budget back.

Slipping a spot to third but down 52% from last weekend is 13 Going on 30, the Sony comedy starring Jennifer Garner. Mean Girls can be blamed for its second weekend decline, or perhaps the more cynical among us can speculate that all the Alias fans showed up opening weekend. Whatever the cause, 13 Going on 30 has now grossed $35.1 million and is still a certified hit.

In fourth, we have the second of this weekend's new releases, Laws of Attraction. Apparently someone thought Pierce Brosnan and Julianne Moore would be a Tracy/Hepburn for the aughts. That person might be out of a job as with only a $7 million opening, those looking for a date movie probably chose 13 Going on 30 or Mean Girls.

On the opposite side of the spectrum from Mean Girls, the fifth and sixth spots go to two more new films, both of which are two of the absolute worst-reviewed films of the year, and maybe of all time.

Fifth goes to Godsend, the evil child clone movie starring Robert DeNiro, Rebecca Romijn-Stamos and box office poison Greg Kinnear. The Lions Gate film earned $6.9 million for the weekend, which isn't absolutely horrid considering the way this film looked, but it's a mortal lock for well under $20 million domestic.

Envy, the long-shelved Jack Black/Ben Stiller "comedy," took sixth with a mere $6.1 million opening weekend. As a service to our readers, Box Office Prophets will now provide you with some space to make your own "dog crap" joke.

____________________________________________________________________________

Envy kills two hot streaks at once, as Stiller has already had two hits this year in Along Came Polly and Starsky & Hutch and Black coming off School of Rock and his hilarious Academy Awards appearance. May we never mention this movie again.

Quentin Tarantino's revenge fantasy Kill Bill Vol. 2 falls 44% to seventh in its third weekend to a $5.8 million weekend and $52.6 million to date. It's looking to finish with $60-63 million, but it's all been gravy for Miramax, really, so they're just biding their time until the inevitable DVD box set.

The Punisher is eighth with $3.4 million and has earned $29.6 million in three weekends. A final take of $35 million is the best the comic adaptation can hope for. While both Punisher and Kill Bill lost a few hundred screens each this weekend, they're still taking up 5,000 screens combined. Look for both films to hemorrhage screens rapidly in the next few weeks.

Disney's animated Home on the Range slips to ninth from fifth in its fifth weekend. After a $2.2 million weekend, it now stands at $45.5 million and is looking to finish its run at around $55 million.

Proving that we live in a cruel and unjust world, Scooby-Doo 2: Monsters Unleashed clings to the tenth spot. Down 37% from a weekend ago, the unnecessary sequel has somehow earned $79.5 million in six weekends.

The week's fifth release, Bobby Jones: Stroke of Genius places far out of the money with $1.1 million. The Passion of the Christ in its tenth weekend was still the choice of Jim Caveziel fans, as the Bobby Jones biopic even finished behind the biblical epic.

Due to calendar wackiness, we get to compare this weekend to the first weekend in May last year when X2: X-Men United opened to over $85 million. That isn't even close to fair, but a better comparison would be the weekend prior, which also featured several new releases the weekend before a blockbuster, led by Identity. The top ten this weekend earned $83.7, up 11.9% from 2003's April 25th - 27th weekend.

Next weekend brings the first of the summer blockbusters in Hugh Jackman's Van Helsing, along with (ye gods) the Olsen twins' New York Minute.