Weekend Forecast for April 16-18, 2004
By Reagen Sulewski
April 16, 2004
BoxOfficeProphets.com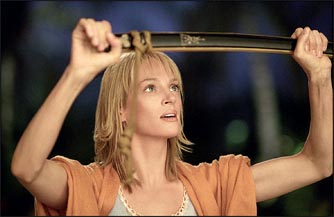 ---
For the second time in three weeks, the two biggest new releases are action movies going head-to-head, with one based on a comic. Apparently, April isn't just a month of rebirth and renewal; it's also a month for ass-kicking.

Kill Bill Vol. 2 is set to finish what Quentin Tarantino started six months ago with the release of the first half of his bravura blood-and-guts epic. I would have added the adjective "samurai" here as well, except for the fact that the split in films has allowed Tarantino to make two distinct homages in the two films. Volume 2 is far more concerned with being an homage to the Leone spaghetti westerns than the Japanophilia seen in Volume 1, and thus perhaps justifies the split of the movies beyond the cynical financial motivations.

Opening to $22 million last October, Kill Bill Vol. 1 finished with a modest $70 million total (though strictly speaking, it doesn't leave theaters entirely until this weekend). While the fans of the film haven't proven to be extraordinarily large in number, they have shown themselves to be loyal, and those that did see the film became quick converts. The DVD of Volume 1 was released on Tuesday, with sales topping two million units. It's one of the few times that a studio has released concrete numbers regarding those sales, and it's really appropriate here, considering that the DVD is turning out to be Miramax's biggest marketing tool for Volume 2.

With the project firmly in the black just from the first outing, Miramax seems to feel reluctant to take any big risks with mounting a huge ad campaign that could come back to bite them. It's a kind of "pass it on" strategy rarely seen for a big-budget film, although we recently saw something similar with the campaign for The Matrix Revolutions, though that may have been more a case of giving up on a film they knew was a lost cause. The effect could be the same, as they may run into a case where even those who want to see the film might miss that it's out. And then there's the enormous gap in wow factor in the two film's advertising; where Volume 1 used music and Uma Thurman's kineticism to hook viewers, Volume 2 is just...there. They should keep all the hardcore fans but have utterly given up on expanding that audience. The opening weekend should be a little lower than the first, though not excessively, at about $18 million.

With the waters safe again for comic book films, it's time to start revisiting previous projects that have failed, back when studios didn't know how to make these kinds of films. In this case it's the 1989 Dolph Lundgren version of The Punisher that's getting a second take. It's an interesting choice, as it's quite different from the vast majority of comic films that are made, being not about brightly colored heroes, but instead a dark and morose revenge tale. After his family is killed and he is left for dead by a Florida criminal family, FBI agent Frank Castle proceeds on a campaign of revenge and retribution, adopting the moniker of The Punisher.

Were it not for the comic connection, The Punisher would probably end up as a pretty generic action film ca. 1987, and in spots it kind of resembles that. However, this similarity might be, in some ways, its greatest asset, as the R-rated action film has become kind of rare these days. The lead is Thomas Jane, who is an interesting contrast to the steroidal Lundgren -- though no weakling, he's a bit of a slimmed-down action hero. He's probably best known for either his roles in Deep Blue Sea or Dreamcatcher, both bad films, but he was probably the best thing in either. This is his big test as an action hero.

John Travolta plays the heavy, again, which seems to be developing into an "every other movie" thing for him. It almost seems like he's worn out his welcome again and is quickly becoming box office poison for, what is this, like the fifth time? How many career comebacks can you have? His last film, Basic, bombed unreservedly, opening to just $11 million and finishing with just $26 million total and it's hardly unique among his recent CV; you need to go back to The General's Daughter in 1999 before you can find a film of his that's a hit without qualifications. So while The Punisher probably did need a name in some role to make it look legit, I'm not sure this was the one.

The promotion for this film has been well done, with a grit and edge that's pretty much necessary these days for action. Something Marvel continues to do well with its comics-turned-movies is to use the attached soundtracks to sell the movie and that's no exception here. Filled with neo-grunge bands including a track from Seether featuring Evanescence's Amy Lee, it might be enough to pull some more people in à la Daredevil last year, which effectively broke Evanescence. In any case, it's made for very effective ads. Look for The Punisher to challenge for the top spot for the weekend, but it should fall a little short at $16 million.

Universal must be hoping that everyone's forgotten Some Like It Hot and Victor/Victoria to come out with a film like Connie and Carla. Nia Vardalos's second effort as a screenwriter after My Big Fat Greek Wedding, it features her and Toni Collette as witnesses to a mob hit who decide to hide out as female impersonators until the heat dies off. Much wackiness involving mistaken genders and bad song and dance numbers ensue. I'm setting the Nia Vardalos fame clock at 13 minutes and 45 seconds pending the opening weekend figures of this film; it's just an aggressively unfunny looking project and should quickly wear out the welcome that she engendered from being the creative force behind the biggest indie success ever (to that date). It's only being inflicted on a little over 1,000 venues, so we're probably looking at around a $3 million weekend.

The biggest story of last week was The Passion of the Christ's jump back into first place for Easter weekend, earning $15 million, one of the few films to recover first place after losing it. It looks as though that's not going to be a signifier of a restart for its run, as in weekday figures, it's already fallen back to where it was in previous weeks, fourth place. The figure for this weekend should probably sit at around $6.5 million.

Hellboy had what has to be considered a very disappointing second weekend, dropping a massive 53% from its opening frame. For a film that should have been able to build an audience with quality and was surely hoping to turn into a franchise, this is very disheartening, though films that have done worse have had sequels. Look for only about $5 million here.

The Alamo was a stunning flop for Disney, grabbing only $9 million in its bow against (depending on who you believe) an operating budget of anywhere from $90 to 140 million. It defies belief that a film about such a well known historical event could fare so badly, but that may just be me channeling Michael Eisner (must...finance...milquetoast...movies). The Alamo is an early front runner for financial loser of the year. It's going to start shedding screens next week like Courtney Love would her clothes in a Wendy's.

The most significant limited release film to open this weekend is Young Adam, the latest chapter in Ewan McGregor's goal to make sure every human alive has seen his penis. Rated NC-17, it's gotten a tremendous amount of publicity for his fight to keep his nude scenes in the film and less about the plot of the film, a sexual thriller set in Scotland in the '50s.