The Number One Movie in America: Sahara
By Sean Collier
October 16, 2021
BoxOfficeProphets.com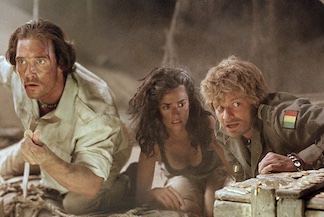 ---
"Sahara," the 2005 action-adventure flick starring Matthew McConaughey and Penelope Cruz, made $68.6 million. It was the 35th top-grossing film of that year.

So that's not great — but it's fine. That's not a disaster, right?

Well.

There were high hopes for the film, a potential franchise-starter based on author Clive Cussler's adventures starring the seafaring treasure hunter Dirk Pitt. (Side note: That is an absolutely awful name.) The books were popular — 20 topped the New York Times Bestseller list — and McConaguhey and Cruz were likable stars.

The budget was set at $80 million.

It grew.

A long, ambitious shooting schedule started to get away from relatively inexperienced director Breck Eisner (son of Disney bigwig Michael). Expensive sequences were filmed, only to be cut; a plane-crash set piece cost $2 million, and none of it made the finished product. Government officials in Morocco pushed for ... let's just call them "fees." By the time "Sahara" wrapped, it had cost about $160 million.

That $68.6 million domestic total doesn't look too good anymore, does it?

It's nearly impossible to quantitatively rank the biggest bombs in box-office history; too much of a film's money is spent beyond the reported budget, and additional sources of revenue such as home video and television licensing aren't accounted for. Still, "Sahara" is certainly among the biggest losers of all time; industry sources estimated the total loss on the project somewhere between $75 and $105 million.

Surprisingly, it's not a terrible film. It's not particularly good, either, but it's certainly no disaster. The cast — anchored by Steve Zahn, in his signature sidekick mode — is engaging, and a number of the set pieces work perfectly well. While Cussler's story has a few too many twists — if we're looking for a missing Civil War battleship in the desert, we do not also need a convoluted industrial-pollution subplot — it has more than enough action and mayhem to keep things moving.

It's just not quite enough of a movie to justify the hype. Word of mouth was poor (by the time the film was released, Cussler and producers were already bickering over who had ruined the project) and lukewarm reviews didn't convince audiences that "Sahara" needed to be seen. It's likely that more people caught bits of it on cable than actually paid for it; those that did were likely mildly amused.

That's certainly not enough to make back a few hundred million, though.

Because of an eight-year legal battle instigated by Cussler (who really, really didn't like the adaptation), the full, line-by-line budget for the film eventually leaked. This is a fascinating document for a lot of reasons. My favorite detail, though: Despite that bloated budget, poor Rainn Wilson made a mere $45,000 for his efforts.

He would eventually make more than enough money, of course, but still! Justice for Dwight!

"Sahara" is the subject of the latest episode of The Number One Movie in America, a look back at past box-office champions. Each episode's film is drawn at random from a list of every number-one movie since 1977. Please listen and subscribe!

Next time: A space ... comedy? Kinda?