Top Chef: Portland - Episode 10: Tournament of Tofu
By Jason Lee
June 6, 2002
BoxOfficeProphets.com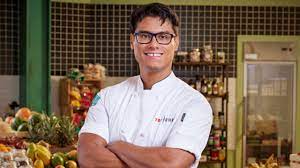 ---
In a season of almost unbelievably high quality, today's episode of Top Chef is, for my money, the best one so far. The cheftestants have been whittled down to the top six, and it's a strong one—a group of chefs armed with powerhouse flavors and amazing creativity. What will the producers do this week to test the mettle of these amazing chefs?

The answer is: pay homage to Chipotle. While, again, the quality of the episodes this season has been, overall, extremely high, we've also seemed a higher-than-average number of sponsored challenges (and we still have a number of episodes to go). Maybe this is a product of the fact that filming during the middle of a pandemic, housing all of the cheftestants, All-Stars, and crew in a Los Angeles-based hotel, paying to have all manner of personal protective gear on hand . . . it can get pricy.

So lets bring in a purveyor of reasonably priced, admittedly tasty Mexican food to sponsor yet another Quickfire. We're joined today by not only Padma and Richard, who the producers seem to be grooming to fill Tom Colicchio's spot if he ever were to step down, but also Tom and Gail. Behind the judges are tables full of amazing ingredients—53 in fact. It's all the ingredients, Padma tells us, that Chipotle uses to make their bountiful bowls and burritos. Today, the chefs will use those ingredients to make dishes of their own.

What type of dishes? Well, in Chipotle fashion, lets let each of the judges decide what they want. Tom, Padma, and Gail each draw two knives ("I've been waiting 15 years to do this," Gail says gleefully, as she draws her knife), each of which has the name of one of our remaining cheftestants. Those two chefs will have to cook for their judge—Richard is the only one who'll sample all of the dishes. From Maria and Shota, Padma requests something spicy and tart. From Gabe and Jamie, Gail wants something smokey and charred. From Dawn and Byron, Tom requests something tangy and crunchy. Each judges will pick their favorite of the two dishes, and Richard will determine the overall winner, who'll win a cool $10,000 for their efforts.

Shota immediately recognizes that Maria will have the upper hand in this match-up, as Japanese cuisine doesn't typically highlight spicy and tart flavors. Meanwhile, Maria all but rubs her palms together in eager anticipation to get her hands on these Mexican ingredients. "Good luck to me!" Shota exclaims, noting that he'll be trying to copy cooking techniques that he's watched Maria do all season.

Gail wants smokey and charred and Jamie and Gabe are doing their best to deliver, relying on their fellow cheftestants (Shota for Gabe and Maria for Jamie) to make sure their flavors are on point. Jamie gets to work making a charred salsa, which Maria dubs "perfect" after trying a spoonful.

Finally, Byron and Dawn seem to be having the most trouble of the group. Dawn has a lot of components in her dish and she just barely has enough time to make some crispy onions to add a textural component. Meanwhile, Byron totally forgets about the pork he has on the grill—it falls to Shota to remind him of it, with just enough time for Byron to salvage a few pieces for his dish.

As time runs down, almost all of our chefs are running crazily around the kitchen trying to get everything done. Nonplussed, Padma notes, "it smells good in here."

It better taste good, too. Shota serves to her a pork loin with a spicy avocado puree, sautéed spinach, and crunchy black beans. Padma nods as she eats it, looks at Shota, and says, "very good." Maria is undaunted, serving a fried avocado taco with a black bean tortilla, serrano peppers, and a fresh corn, avocado, and spinach jalapeño salsa. Her dish looks amazing. Declaring the match-up to be a "close one," Padma deems Shota the winner. Explaining the decision, Padma says, "Maria, I didn't find yours that spicy." Maria responds with, "well, I didn't want to kill Richard." ROFL.

If Shota wins the spicy/tart battle, next up is tangy/crunchy with Tom. Dawn offers a wood-fired pork loin with crispy onions and a poblano avocado puree. Byron counters with a mojo-grilled pork loin with a poblano and charred corn salad, all complemented by a tomatillo and charred poblano salsa. Tom loves the acid in both dishes but finds that one chef cooked their meat "way better" and has better crunch. As both chefs think back to the pork loin that Byron forgot on the grill, Tom announces Dawn as the winner.

All that's left is for Jamie and Gabe to serve Gail their smoky and charred dishes. Jamie has a grilled skirt steak with chipotle, smoked corn, and a spicy tomatillo salsa. It looks amazing. For his part, Gabe serves a bay leaf-oil roasted pork loin with smoked jalapeño, tomatillo salsa, and avocado. Noting that both dishes were super strong, Gail declares Gabe the winner because he was able to get "that smokey, charred flavor in there a little more," though noting that she plans to finish off both dishes while Richard announces the overall winner.

That winner, Richard says, is the person who "really hit the challenge on the head" and "listened to the judges." While it sounds like that might be Gabe, it's actually Dawn who takes home her second straight Quickfire. She's stunned and absolutely delighted. I would be, too, if I just won $10,000.

Padma announces that there will be a new person joining the All-Stars judging panel, and it's someone I never expected to see back on the show, despite his four James Beard nominations: Edward Lee from Top Chef Texas.

Ed is here to participate in a challenge that will celebrate a "delicacy" that has been a part of multiple Asian cultures for over 200 years, but made its way into American kitchens only in the last century. "Any guesses?" Padma asks, and Dawn correctly guesses that tofu is the answer. Apparently, the oldest tofu maker in the United States is in Portland. The chefs are tasked in their Elimination Challenge to show off the versatility of this ingredient.

The chefs will also have to be versatile, as they'll be facing off, head-to-head in a Top Chef bracket. Three pairs of chefs will cook against each other, each using a different type of tofu: medium, firm, and extra firm. The three losing chefs will took against each other using fried tofu. The two bottom chefs in that challenge will have the toughest challenge of making a dessert using soft tofu.

The chefs draw knives again to set the first head-to-head match-ups. It's Jamie vs. Byron, Dawn vs. Gabe, and in a repeat of the Quickfire, Shota vs. Maria. Both of those chefs realize that, while Maria might have had an advantage in the Quickfire, it's Shota who'll go into the Elimination Challenge with confidence.

To get a little more familiar with their feature ingredient, the cheftestants visit Oda Tofu for a tour of their facility and sample the tofu products they make. It's such a cool experience. As one cheftetant describes it, Oda Tofu makes tofu "like its an art."

With the research done, it's time to roll up the sleeves and get cooking. The chefs are given the relatively short timeframe of two-and-a-half hours that night to prep their THREE dishes. Knowing that, the next day, they'll only have 30 minutes to prepare and serve their dishes, the chefs scramble to get as much done as possible. Many chefs, including Shota, Gabe, and Dawn decide to basically marinate their tofu overnight so that it absorbs as much flavor as possible before the next day. Meanwhile, Maria decides to incorporate okara—a product of making tofu—into Mexican tamales, flavoring it and using it as chorizo. It doesn't end up working, and so she switches to more traditional tamale fillings.

On the other side of the kitchen, Jamie says that she feels underestimated by the other chefs. She muses that maybe it's because she looks like Hello Kitty. She declares that, instead, she'll be Tony the Tiger in this challenge.

Time runs out and cooking continues the next day in Portland's Japanese garden, which is gorgeous. Our entire judging panel—Tom, Gail, and Padma, plus all of the All Stars—are seated at a long table in front of a Japanese tea house, and the chef stations are situated in front of the judges. In short, the judges will have a front row seat as the dishes come together.

Maria and Shota start cooking first, as they have the first course. Shota expresses confidence in how his tofu has come out, while Maria is adapting as she goes. Her tamales are not cooking quickly enough, so she opens them up, cuts them in half, and finishes cooking them in a wok.

She ends up serving a soy-braised tofu tamale with masa and soy beans. Tom questions whether it's a tamale, given that it's been unwrapped and pan fried. "I took it apart. I didn't want to give you too much," Maria explains. "Okay," Tom responds with some skepticism.

For his part, Shota also has a soy-based tofu with soy milk yuba, shira ae, and tofu crumble." Kwame asks if he put any acid in the dish, and Shota says that he put in some vinegar.

With the two dishes served, the panel votes for their favorite dish. Despite Shota having the seeming advantage, it ends up as a five-to-five tie. Saying that the judges will need to discuss amongst themselves, Padma convenes a heated group discussion in the tea house. Gregory supports Maria, saying that she was more creative and did more with her ingredients. That may be true, but Tom was utterly impressed by her tofu "masa," which he describes as "mush." The tofu, Tom says, was "not treated well," while Shota had a more tofu-forward dish. Padma admits that Shota used tofu six different ways but faults him for the fact that all the tofu "tasted the same." Gail could not disagree more—she found "nuance and subtlety" in Shota's dish.

After their discussion, the judges return to the table and announce Shota was the winner. He's safe from elimination (but not by much) and Maria will have to try to save herself in the next round.

Next up is Gabe and Dawn, who cooked firm tofu. Gabe serves a marinated and braised tofu with cabbage, soy beans, and miso chicken jus. Dawn offers a West Indian-style braised tofu with charred vegetables. As they dive in, the diners note that both dishes are "really good." Sure seems like it, as once more, the voting ends in a five-to-five tie. Suppressing slaughtering, Padma tells the cheftestants that the judging panel will be right back.

Like before, there are passionate voices on both sides, but one side clearly has more heft, with Tom, Gail, Padma, Richard, and Ed all supporting Gabe. They note that Gabe's dish was brother and more complex, and his tofu was more pleasurable to eat. Dale doesn't dispute the flavor of the tofu but faults Gabe for simply "dropping it in a sauce" and marinating it. Padma concedes that Dawn's dish was delicious, saying that she'd order Dawn's dish if given the choice between the two, but says that as a "tofu challenge," Gabe's was better. Kwame tries to highlight Dawn's amazing stew, but Richard pointedly responds with "tofu to tofu, which do you prefer?" That pretty much ends the discussion because the answer is clear: Gabe is the winner of his head-to-head battle.

Last up is Byron and Jamie. Byron treats his extra firm tofu as beef, pan searing it and pairing it with a daikon salad and a tofu vinaigrette. Meanwhile, Jamie stays true to her Vietnamese roots with a bahn xeo with sauteed tofu and fresh herbs. Downing his in two bites, Dale whispers to his dining companions, "you could eat twelve of these." Declaring both dishes "magnificent," Padma calls for a vote, and for the first time, it's not close: Jamie wins, nine to one (with Ed the only holdout for Byron).

This leaves Maria, Dawn, and Byron to cook dishes using fried tofu. All is going well for our three chefs—Maria jokingly says she's making tacos before saying, "NO! I'm not that predictable," while Byron is focusing on his food and shaking off his bad loss to Jamie . . . before one of my true nightmares comes to pass. Wanting to add some color to her dish, Dawn grabs a mandolin and starts shaving radishes when . . . ughhhh, I'm not even going to say what happens because you all can guess. I'll just say that I covered my eyes and looked away from the television screen as Dawn called for a medic. If that weren't bad enough, Dawn sees that blood from her rapidly bleeding finger has gotten into her pickles and some of the plates she had prepared.

As has been the case all season long, Dawn's two competitors, Maria and Byron rush to help her finish her dish. It's a wonderful moment and only serves to reinforce the sense of community and collectivism that has marked this season of Top Chef—at least, that's how it sounded (since I was still keeping my eyes averted for fear that I might glimpse a bloody finger). Unfortunately, despite the assistance of her fellow chefs, Dawn miscounted her plates (a totally understandable oversight given the predicament she was in) and made 9 dishes when 10 was required.

The food is served up anyways, and Maria goes first with a fried tofu steak dressed with an Asian mole plus a fried soy bean crumble. Kwame calls it delicious, noting that, although the flavors are innovative, they all taste well togerther.

Dawn is next with a spin on Nashville hot chicken, but with tofu instead. It is served with a soy buttermilk ranch sauce. As the judges dig in, Padma commends Maria and Byron for jumping in and helping Dawn (almost) finish all her plates. Tom agrees, saying it was "nice to see" from the chefs. Ed is too focused on the food to comment on the other chefs' collective action—"that was damn good chicken, I mean tofu," he says.

Finally, Byron has fried tofu with grilled shrimp, a smoked fried tofu puree, prosciutto, and crispy tofu skin. Gail wonders if Byron has ever fried tofu skin before. "Not before today," he says.

Padma clarifies for everyone in attendance that because Dawn was not able to prepare ten plates, as required, she is indelible to win this round. That means she'll be cooking in the final round to try and avoid elimination. Ed asks whether he can vote for Dawn in protest. "No," Padma says, sounding like Queen Elizabeth shutting down Prince Charles in seasons 3 and 4 of The Crown.

The judges thus have to decide between Maria's fried tofu steak and Byron's fried tofu with shrimp, and unfortunately for Byron, he loses but he same 9-to-1 vote that he did in the first round. That means, between two rounds and 20 potential votes, he won a total of 2. He'll be cooking against Dawn in the final round, making a dessert using soft tofu. Maria, meanwhile, is thrilled to be safe and takes a shot of Japanese sake.

With exhausted bodies but determined minds, our two remaining chefs trudge on. Byron was hoping not to be put into this situation, but he has a plan and is sticking to it. He has a soft tofu custard and is turning it into a mousse. Meanwhile, Dawn is seemingly sleepwalking through this round. She "has no urgency," Maria says with alarm. She's not wrong. As happened in Restaurant Wars, Dawn had not fully conceptualized her dish before today and is figuring things out as she goes along. While she has components ready to be used, how they end up on the plate is anyone's guess. Jamie covers her eyes, fearful of how things might turn out.

In the end, she puts together a mango tofu mousse with macerated mango, diced soft tofu, and a sesame okara crumble. Bidding to stay in the competition, Byron offers a honey and soft tofu mousse plus an okara and dried mango granola.

The judges marvel at the fact that the two desserts are extremely similar. They retreat to the tea house once more to talk out their thoughts. As Padma notes, both desserts are "yummy," and the decision between the two is hard. Melissa expresses appreciation for Dawn's crumble, especially it's use of sesame. Tom agrees, pointing out that Dawn smartly used contrasting temperatures. Richard chimes in with praise for the texture in Dawn's dish.

As for Byron, Dale says that, between the two, he thinks Byron's was more successful. Gail calls it "gorgeous" and notes that it had a focus that Dawn's lacked (unsurprisingly). Kristen agrees, noting that it brought a "fullness and roundness" to her palette and felt complete.

Kwame tries to boil things down, saying that Byron nailed the texture of his mousse while Dawn nailed the overall flavor profile of her dessert. Well, when you put it that way, the decision seems clear, doesn't it?

Yes, it does. Dawn and Byron are brought back to Judges' table and Bryon is asked to pack his knives and go. He takes a moment to acknowledge what an honor it has been to serve food to such an esteemed panel . . . and indeed, that was one of my thoughts while watching the Elimination Challenge. The three judges aside, Top Chef has been the breeding ground for an absolutely amazing cadre of chefs, and for Byron to have had the opportunity to introduce them to his cuisine is a win in and of itself.

That's not to say Byron wouldn't have preferred to have won his first head-to-head battle with Jamie and be safe. But he understands that (despite the danger of sounding trite) the journey has been the reward. He knows he pushed himself harder than he'd ever done in his culinary career, and he leaves a stronger chef.

And how knows? Through Last Chance Kitchen, he might return and even stronger chef.