The Number One Movie in America: Hero
By Sean Collier
June 6, 2021
BoxOfficeProphets.com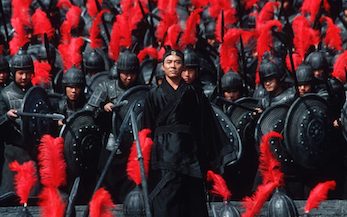 ---
Zhang Yimou's dazzling "Hero" was greeted with a glowing reception throughout Asia in late 2002. Soon after its release, it was nominated for Best Foreign Language Feature at the Academy Awards; though it lost to "Nowhere in Africa," the nomination spoke to the global buzz that surrounded the acclaimed wuxia film.

Then about a year and a half went by.

Then, in late 2004, audiences in North America could finally watch it.

"Hero" had one of the most unusual global rollouts in recent memory, with Miramax holding (and holding) the hit until long after it was available on DVD in most of the world. Nearly two full years after its Chinese debut — and just three months before Zhang's follow-up, "House of Flying Daggers," would also get a U.S. release — Miramax finally debuted the film in North America.

Whatever they did, it worked; "Hero" easily won its first two weekends, with a haul of more than $17.8 million in its debut frame. It was the first time a Chinese-language film topped the North American box office, giving Zhang an accolade that even the breakout "Crouching Tiger, Hidden Dragon" couldn't claim.

So: Why the long wait?

At the time, Miramax was claiming a deliberate approach, opting to wait until "Crouching Tiger" had fully faded into the background. The belief, I suppose, was that American audiences would need to be primed for another subtitled martial-arts crossover. There could be some truth to this, but it's likely an obfuscation of the true motivation. After all, the earlier film had debuted in the U.S. in early 2001, so "Hero" could've premiered a full year before it eventually appeared and still have been separated from "Crouching Tiger" by more than 30 months.

The real explanation is probably a simple matter of trailer placement.

Miramax was determined to attach a dazzling trailer for "Hero" to Quentin Tarantino's "Kill Bill," figuring that they'd get a captive audience — and counting on Zhang's dazzling visuals to make Tarantino fans sit up and take notice. Studio folks likely made that decision, however, when "Kill Bill" was still being planned as one film. When Tarantino's epic was sliced into two parts, the strategy was (likely) questioned; "Kill Bill vol. 1" should be selling tickets to "Kill Bill vol. 2," not "Hero," right?

So, "Hero" was attached to the second volume of Tarantino's movie — delaying it further.

Tarantino shouldn't be blamed directly; allegedly, he's the one that lobbied Miramax to give "Hero" a proper wide release in the first place. (Many commercials introduced the film as "Quentin Tarantino Presents Hero," despite him having nothing to do with the production.) Though the Bride's two-part rampage may have pushed "Hero" back, to the consternation of eager fans (and Oscars death racers), the strategy ultimately worked.

Theoretically, "Hero" would've been eligible for Oscar consideration in 2005, which probably would've made it the only film to be nominated two years apart. A Best Picture nomination wouldn't have been overstating the film's merits; it's a tremendously entertaining and visually rich spectacle, a blend of old-school storytelling and of-the-era, stylized filmmaking. And Zhang would indeed have a film in competition at the 2005 Academy Awards; it just wasn't "Hero." "House of Flying Daggers" scored a somewhat unexpected Cinematography nomination, ultimately losing to "The Aviator."

"Hero" remains Zhang's only North American box-office champ, despite a long string of major hits in China. That's not entirely bad news, though; if nothing else, that means this column will never have to deal with "The Great Wall."

"Hero" is the subject of the latest episode of The Number One Movie in America, a look back at past box-office champions. Each episode's film is drawn at random from a list of every number-one movie since 1977. Please listen and subscribe!

Next time: Steven Seagal ... saves the environment? Really?