Top Chef: Portland - Episode 8: Restaurant Wars
By Jason Lee
May 27, 2021
BoxOfficeProphets.com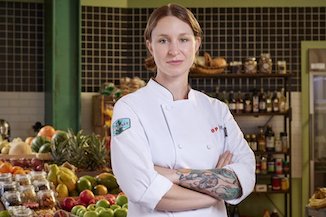 ---
You know it, I know it, the chefs know it. With eight people left in the competition, it's time for Restaurant Wars! It's the "Snatch Game" of Top Chef. It's the one challenge you know is coming and can prepare for it in advance—perhaps by thinking of possible restaurant names, which position in the restaurant you might want to handle, etc. etc.

But I'm getting ahead of myself. Because everyone knows what's up and there's no need (or possibility, really) for subterfuge, the chefs are brought to a big empty warehouse-like space where they're met by Padma, Gregory, and the newest addition to the judges' panel, Kristen Kish, winner of Season 10 who had to fight her way back into the competition after being eliminated during Restaurant Wars.

What a fitting return for her. Back to the scene of the crime. (Yes, I'm looking at you, Josie). Having been through Restaurant Wars (Gregory, twice), our two All-Stars offer up some key words of advice. Kristen recommends a strong focus on team communication, and Gregory flags a need for both teams to have a clear, cohesive concept.

Of course, ad this episode was filmed during a global pandemic, the producers of Top Chef can't invite a hundred or so diners to come in and eat (indoors, gasp!) at our cheftestants' pop-up restaurants. So instead, the chefs will treat the judges and All-Stars to a different type of high-end dining experience: the chef's table. They'll have to provide a tasting-menu experience, treating the diners like VIPs. And, as part of the fun of having a chef's table experience, our judges and All-Stars will have a front row view of our two teams as they race to put food on the table.

With the rules set, the real drama (at least during this lead up period) begins, as we learn which chefs will make up the two teams. David Mumpower and I discussed this over email, and he pointed out that in order to have any sort of parity, you basically have to split up Shota and Sara, who have been the strongest chefs so far and the favorites to win the title, and make sure they're on different teams. The producers aren't going to intervene to make sure this happen. Rather, they leave it to chance. In yet another ode to Portland, which gained its name based on a coin flip, the chefs will flip a coin to determine which team they're on.

The chefs who flip heads ends up being Jamie, Shota, Maria, and Byron. Tails are Dawn, Chris, Gabe, and Sara. So David gets his wish—we'll see Shota and Sara on opposing teams.

The chefs are given an hour to conceptualize their restaurants and create their menus before heading out to shop for decor, create their logo, and get ingredients at local speciality shops. They'll also have $2,500 to spend (in-person, GASP!) at Whole Foods the next day.

The team of Jamie, Shota, Maria, and Byron settle on doing a Latin-Asian fusion concept. It's basically going to be a seven-course kaiseki meal featuring Latin ingredients, which sounds amazing. For one dish, Maria suggests braising tongue, which Shota thinks could go well in a spin on Japanese "sando" (basically, a high-end sandwich with very fluffy bread). They also decide to make a hot pot for one course in which each person will contribute an element or set of ingredients. Shota is the obvious choice to supervise and expedite everything (note the lack of use of the term "executive chef"). Maria will handle front of house, interacting with the diners, and Gabriel says he'll make sure glasses are filled and plates are cleared. As for the name of the restaurant, the team goes with "Kokozon," which is a combination of the word "heart" in Japanese ("kokoro") and Spanish "("corazon").

The team of Dawn, Chris, Gabe, and Sara might, on its face, seem like the stronger team—Sara has been a force all season, Dawn has been coming on strong, and Gabe has never once been in the bottom—but they lack cohesion from the get-go. Instead of picking a clear theme for their restaurant, they decide to simply use "seafood" as a unifying element of all the dishes, which means the chefs will basically make whatever they want and just make sure there's some seafood ingredient involved. They decide against picking a particular person to expedite the dishes or handle front of house. Rather, they'll all work together to take care of things, which brings to mind that old adage: when everyone's responsible, no one's responsible.

To be fair, Sara wonders aloud whether they're making wise decisions in terms of concept and service. Bringing an element of the 1990s classic horror film, "Scream," Sara tells us that she's watched seasons of Top Chef before and knows that "a global perspective never works out." She is also unsure about the lack of a dedicated front-of-house person. Still, she keeps her reservations to herself and the team proceeds under their plan. (Next thing you know, Sara will, despite her recognition of what a bad idea it is, go downstairs to check out those spooky noises in the basement).

The team also settles on a restaurant name: "Penny" (I didn't catch the rationale for this). Describing their restaurant to the logo designer, they say they want to make diners feel like they're "eating dinner at sunset on the beach." Yep. That's a clear restaurant concept if I've ever heard one.

The cheftestants break off into smaller teams to go buy decor, shop at specialty markets, and visit a farm to harvest amazing-looking produce. It looks like a ton of fun and, for the most part, the chefs are benefiting. Maria is fired up and ready to prove her mettle, Shota is determined to "cook from the heart" in this challenge and make up for his poor showing last week, and Dawn . . . well, Dawn seems to be really struggling with conceptualizing her first dish. She knows it's going to be crab-based, but that's about it. She says that she'll ruminate on it a bit more and trust her creative process.

The next day, we are FINALLY treated to a montage of this season's cheftestants running wild through Whole Foods. It's glorious. I didn't realize how much I missed this cacophonous, hot-mess of a shopping trip. Both teams easily obtain what they need under budget and head off to the kitchen to start preparing for the chef's tables.

The contrast between the two teams is still stark. Kokozon is simply more focused and more organized. They chefs are communicating well and tasting each other's components, and they're clear on their individual roles—with Shota making sure everything is fitting into the kaiseki mold and Maria taking time to make sure the table and ambiance is right. The team members even take a moment to discuss how they'll plate and serve particular dishes. They really seem like they have their @$#% together.

On the other side of the warehouse, Penny is . . . struggling. Dawn is still trying to conceptualize her crab dish, which makes Chris start to get nervous. Despite some initial tastings, the chefs ultimately get too far behind in their individual preparations to taste the various components put together into their respective dishes. And of course, no one has a chance to taste Dawn's crab dish because Dawn is still figuring it out. Overall, things just don't feel as orderly over at Penny.

The judges arrive, looking spectacular and dressed to the nines (save for Gregory, who's in his standard cardigan sweater). Maria is instantly there to greet them. "Hola, hola, bienvenidos," she tells them. The team gathers at the table to introduce their concept and explain the name of the restaurant. They offer the diners a matcha limonada to start, which is good but perhaps a touch too sweet.

The team converges to help Shota plate his first dish, which is an eggplant with ham furikake and a sesame mole made by Maria. It's a hit. Padma and Gregory find it super flavorful, and Melissa notes how well the two cuisines have been fused in this dish. Meanwhile, Maria is brilliant as the team's hostess, bantering with the diners and filling water glasses.

There are a couple of tense moments as Shota pressures Byron to start serving his food, but Byron objects because he's not ready yet. Again, the team converges to get everything done, and before you know it, Byron is serving a cured sockeye salmon with rocoto curry sauce and crispy quinoa made by Jamie. Gail finds herself at a loss for words given how much flavor and texture there is in the dish. Padma loves the hit of passion fruit she gets, and Dale declares the curry to be one of the best he's had, though it tends to overpower the salmon.

Maria's beef lengua Japanese "sando" is next with pickled mustard, onions, and a dipping sauce (which brings Carrie much glee). Tom likes the dish but says that playful dishes like this one tend to work better earlier in a tasting menu. Regardless of its placement, though, there isn't much to dislike about the dish. Padma calls it "beautiful" and says it has the best tongue she's had on the show.

As the diners wait for the fourth course, Gail notes how well-paced the dinner has been. Indeed, the presentation of the first three courses have been well-choreographed and staged. That same holds true for the next course, which is a tempura lotus root shiso with chopped rockfish and an ume paste. The texture of the dish is great and Padma particularly likes the ume paste. Tom has nothing to add except his agreement.

Finally, it's Jamie's turn to present a dish, and she's feeling the pressure. She's not used to having diners watch her as she finalizes things but doesn't want to let her team down. Luckily, she doesn't have much to worry about. Maria is being utterly charming as front-of-house, leading Padma to pull her aside and say, "you're killing it, any the way."

The next course is Jamie's short rib (boy, she's made a lot of those this season, hasn't she?) with a kalbi glaze, quail egg, puffed rice, and a salsa morita by Byron. The dish is "really tasty," has great balance, but is a lot of food coming in the middle of a seven-course kaiseki meal.

The last savory course is a big Japanese seafood nabe—three earthen clay pots filled with a steaming soup that contains ingredients made by each of the team members. It's a home run. The judges love that the chefs all worked together to make this one, family-style dish. Gail calls it traditional, homey, and comforting. Padma adds that it's harmonious and delicious—too which Tom can only say, "yeah, it's pretty fucking good."

Last up as a tres leches cake from Jamie, which has been steamed with coconut condensed milk, and a little bit of pineapple on top. Jamie introduces the dish, complete with sound effects in place of words, as is her endearing practice. Kristen is the only All Star who has not yet experienced this, and the more Jamie talks, the bigger Kristen's grin gets. Maria notices and tells Kristen (regarding Jamie's sound effects), "you'll get used it." It's a wonderful, humorous, and very warm moment.

And the dessert ain't half bad, either. As "mmmm's" echo from one end of the table to the other as the diners dig in, Tom calls the dish "fantastic." Carrie loves the way Jamie incorporated basil into the dish and used pineapple in two ways. Gail calls it the "perfect way to end the meal." Shota overhears this and tells Jamie what Gail said. Jamie's face lights up and, expressing her triumph in the mode of Yosemite Sam, dances around while saying "pew pew!" and shooting imaginary bullets out of her fingertips.

This effectively locks up Jamie's win as "Fan Favorite," if the outcome hadn't been fully determined already.

If you can't already tell, Kokozon blew the judges away. Padma calls the meal "extraordinary," and Tom says that the team "raised the bar for every Restaurant Wars there's ever going to be in the future." That's some high praise. It's going to take a lot for Penny to try and steal the win.

The diners head over to Penny and learn that the restaurant is "seafood focused." Gabe hands out some warm, scented, steamed napkins for them to wipe down with, suggesting that Kokozon "left [the diners] messy." He laughs off the jab he just threw at the opposing team, but the bravado doesn't play well given the supremely high level of cooking the diners just experienced—a tidbit of which Gabe is blithely unaware.

And he would do better to focus on his own cooking. Because preparing seven courses simply isn't enough, Gabe has a heirloom corn tostada with oysters and cured snapper to serve as an amuse bouche. It's pretty darn big for an amuse bouche, with Kristen noting that it's hard to eat. She also notes that the tostada itself is soggy, not crispy as one would want, and Gail notes that it's because the dish is weighed down by the size of the seafood pieces.

Needless to say, the judges do not finish their amuse bouches. Gabe takes note of that and correctly deduces it to be an ominous sign.

Meanwhile, Dawn is trying to finish her crab dish. Her teammates crowd around her, asking what they can do to help (answer: not much). It's a very tense moment, and ones the judges pick up on. Finally, they're presented with a warm crab salad with a corn cake and coconut sauce. Dawn is fortunate, as the dish is very well-received. Indeed, many wish that the team had presented Dawn's dish as their amuse bouche instead of Gabe's tostada.

The atmosphere turns awkward once more as the chefs focus on helping Sara plate their next course. There's no interaction with the diners, no banter, no conversation, which Melissa notes is part of the point of having a chef's table experience. She notes that the team feels "detached" from the diners.

Eventually, Chris wanders over and starts filling everyone's classes. Amar asks whether the chefs are having fun in the kitchen. "Yeah!" Chris responds with a smile, "can't you tell?" "No," Amar answers.

Finally, Sara presents a halibut crude with ado blanco sauce and confit green tomato. Dale immediately notes that the dish has no connection with Dawn's first dish. Gregory faults the team for starting with a raw dish, moving to a cooked dish, and then now moving back to a raw dish. Amar says he didn't enjoy the dish at all, as the sauce is grainy. Tom tries to lighten the mood with a biting joke: the dish "is like a Grateful Dead concert: it needs acid."

Dawn follows Sara with a seared scallop, a creole XO sauce, and ham hock broth. Again, the diners love her food. Following in Amar's footsteps from a few weeks ago, he picks up his bowl and drinks the remaining broth. Gail understands why—the broth has been "clarified beautifully" and is wonderfully rich. Melissa praises Dawn's use of XO sauce, the cooking of the shellfish . . . in fact, she says she's jealous that she didn't come up with the dish herself.

Again, we ricochet from good food to awkwardness, as the cheftestants (who are barely talking with each other) avoid talking to the judges and All Stars. Melissa says that the atmosphere is making her feel uncomfortable.

Meanwhile, Sara is busy trying to plate her second dish. "It's so ugly!" she exclaims in a voice loud enough to be heard by the diners. When finished, she presents a crispy salmon skin with pak choi, turnips, and a hazelnut brown butter sauce. One diner asks Sara about where the rest of the salmon is. With no good answer, Sara says the team is saving the salmon for dinner—a baldfaced lie. The only part of the salmon the diners will see today is the skin.

And that's a problem. Kristen says that the dish needs the salmon. Tom disagrees, but in a backhanded sort of way, calling it an "oddball dish that works."

With their dishes done, Dawn and Sara nervously have a whispered conversation. Dawn asks whether they should go talk to the judges. "I don't know," Sara says, "what would we talk about?" Finding that they have no desire to talk with the judges and nothing to talk about, Dawn and Sara remain in the kitchen.

Chris is next with a shrimp tortellini en brodo with seafood broth. Tom says that the flavor of the dish is good but that Chris's pasta technique is simply "not there." Padma can't fathom why the team didn't serve this dish after Dawn's scallop dish. Indeed, the entire meal progression leaves a lot to be desired. Tom rightly notes that there's nothing tying the dishes, or their progression, together. Gregory surmises that the cheftestants simply came up with a concept and said, "we're each going to make our own dish." He's not far off from the truth.

Gabe presents a charred octopus with mole verde, squash, Serrano chili. It looks absolutely beautiful. The flavors are a bit spicy for Carrie's liking, so of course, it's perfect for Padma. But it's not the spice level that bothers Kristen, it's the bitterness of the dish overall. She expresses a desire for some sweet component. Gail points out that the squash is supposed to play that role but there's not enough of it. Tom has a bigger gripe: with all of the savory dishes done, the "seafood" team didn't present a single dish that had a cooked piece of fish.

It's up to Chris to see if he can end the night on a positive note for his team. To do so, he will rely on kelp ice cream with a cocoa nib meringue, toasted hazelnuts, and seaweed salt. Having kept a mental tally of the night's highs and lows, I write in my episode notes, "if this is a hit, Sara is going home."

Well, assuming my speculation is accurate, Sara has something to worry about. Padma says she expected to hate the dish but actually loves it. Dale is astonished by how good the hazelnuts taste in the dish, which he loves as a whole. In fact, he only half-jokingly tells Chris that he wants another. When the team, smartly catering to the wishes of the diners, serves one up, Dale happily digs in.

With the two meals complete, chefs arrive at Judges' Table. Tom compliments them on having done an amazing job, saying they "set the bar really, really high" and "should be proud." Only one team will get the win, though, and to no viewer's surprise, it's Kokozon.

Gail starts off by noting that the restaurant felt like a food concept that had been in the works for years. Kristen notes the difficulty of merging four distinct chef styles into one cohesive menu and says they did so successfully, declaring that "everything was exceptional, from start to finish." Tom loves how they worked together to allow multiple chefs to have a hand in multiple dishes. But most of all, Maria draws praise for her hospitality, which was far from forced and focused on making sure the diners had everything they needed.

In terms of the food, Gregory thought that Shota's first dish was a great way to start off the evening, and Kristen especially loved Maria's mole sauce. Bryon did a great job of curing his salmon, which was wonderfully bright. Tom initially questions the team's decision to serve a "sando," asking where in a kaiseki meal a sandwich is traditionally served. But Shota explains that the tongue in the sandwich was the kaiseki's braised item, and Tom appears satisfied with the explanation, especially as Kristen calls the tongue "absolutely stunning." As for Jamie, Gregory loved her tres leches cake, which was a "seamless fit" with the menu overall. Tom also makes a point of singling out the team's decision to make a Japanese hot pot, which was served family style. It came at a perfect point in the meal and was a "big pot of flavor."

It's clear that every chef did a great job and contributed to the team win, but only one chef gets individual honors. But the winner, as announced by Gregory, is the one person whom he'd want to make sure is working the next time he visits Kokozon, and that's Maria. It's a wonderful moment, as Maria had a long stretch of episodes where she really struggled. But here she shone and the win is well-deserved. Teary-eyed, Padma notes that the entire team is a winner but Maria's service was "exceptional." Noting that this is her first win, Padma asks Maria how it feels. "Odd," Maria answers honestly, drawing laughter.

That leaves Penny. Padma kick things off by saying that the menu didn't feel like something designed by one person, and Tom chimes in by saying although the food was good, and sometimes excellent, they felt like a collection of dishes. The judges pepper the cheftestants with other questions—why they chose seafood as their theme, whether there was a team leader, whether there was any discussion of how to serve and present their dishes, etc. The chefs don't really have much to offer by way of explanation, other than Dawn's admission that there were "holes in [their] communication."

Lucky for her, she's quite obviously safe. Gregory loved her crab dish, and Tom did, too. Gail found Dawn's scallop in her second dish to be complex in flavor, saying that there's nothing she'd change about that dish.

That leaves Gabe, Sara, and Chris. Gabe's tostada as an amuse bouche tasted stale and was under seasoned. Kristen liked his octopus and mole, but found the dish too bitter overall. As for Sara, Padma faults her for serving two dishes that both had a non-dairy sauce, suggesting they were too similar. Gail says that her halibut dish was weighed down by all the other components on the plate. Tom found that both dishes suffered from where they were placed in the overall menu, but say that he enjoyed her salmon-skin dish, as it's exactly the type of quirky dish that she does well.

As for Chris, Padma did not enjoy his pasta dish, as the dough of the tortellini was tough and thick. She also found the dish's placement in the progression to have been puzzling. However, what may save him from elimination is his dessert, which delighted Kristen with its fresh ocean flavor (in a dessert, no less!) and provided a great finish to the meal.

It's a tough deliberation among the judges to figure out who should go home. Chris didn't get his pasta right but also provided "two delicious bites." Gabe provided a "fully realized" dish featuring octopus, and it felt like an actual seafood dish for what was supposed to be a seafood-themed restaurant, even if his tostada was "inedible" per Kristen. And though Sara gave the judges a lot to love in her second dish, which was technically well-made, the ingredients lacked flavor and suffered in presentation.

Despite the fact that each of the three chefs made one dish that the judges didn't like, it's Sara who, in the biggest upset of the season so far, is going home today. The judges seem to recognize the enormity of their decision, with Tom pointing to Kristen as one of the "most talented chefs" on the show who "met [her] demise in Restaurant Wars," and reminding Sara that she can fight her way back in Last Chance Kitchen.

Back in the Stew Room, the other cheftestants are stunned that Sara is the one going home, with Gabe admitting that he thought that he'd be the one eliminated. Sara is in a positive state of mind, though. She's very happy that she took the risk and participated in Top Chef, which she describes as just "another step in [her] personal journey" learning about who she is and how to accept herself. She better be ready to take more steps soon because, though Kristen provides a roadmap of how to persevere through defeat in Restaurant Wars, it's not an easy path.