Top Chef: Portland - Episode 3: Pan African Portland
By Jason Lee
April 18, 2021
BoxOfficeProphets.com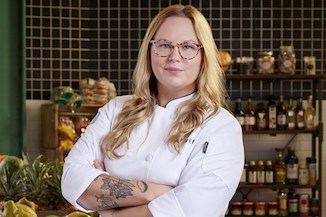 ---
What I love about Top Chef is the show's earnest desire to celebrate the very best chefs in America. The constant refrain we hear from the judges centers around composition, balance, and most of all, technique. They mean it when they say they're looking to find the best up-and-coming chefs out there and then subject those chefs to the hardest physical and mental marathon those chefs will probably ever experience. Challenges in this vein show the show at its strongest.

And then other times, Top Chef engages in blatant commercialism and product placement to help pay the bills. Today's Quickfire is one of those times. Gesturing to a display of Talenti ice cream—which, admittedly looks delicious—Padma charges the chefs to create a dessert inspired by the flavors of Talenti ice cream. Referencing Talenti's iconic layers in its ice cream, gelato, and sorbet, the chefs' desserts will need to be layered. Because Talenti's ingredients are slow cooked for 45 minutes, the chefs will have 45 minutes to make their dishes. The winner gets immunity and a $10,000, presumably courtesy of our Italian dessert overlords.

A few chefs grab some nearby cartons of Talenti to sample the product and "take inspiration," while others rush to the pantry to roll up their sleeves and get to work making their layered concoctions.

Forty-five minutes feels like a very long time while watching the chefs, but not everyone is able to get everything done the way they want it. Kiki has trouble getting her cream to cool down, Dawn burns something on the stove, and Maria has trouble getting her rice balls to freeze together. But in the end, everyone has something to serve, even if it's not exactly what they'd intended.

Carrie is today's guest judge for the Quickfire, along with Padma. This allows Padma to reminisce about how Carrie made a cake during a camping challenge by burying a tin cup filled with batter alongside some hot coals. It was brilliant. Carrie and Padma sample everyone's offerings, which include a whipped yogurt with matcha miso crumbles from Shota and a perplexing combination of hazelnut cake with smoked chanterelle pastry cream from Chris.

But it's Brittanny, Kiki, and Maria who miss the mark with the judges. Brittanny had a rum gingerbread trifle that was a bit too sweet, and Carrie wanted to see Brittanny actually make a cookie instead of using a store-bought one. Kiki tried to make a twist on a peach pie, with stewed peaches and a shortbread crumb, but the crumb was underbaked. Finally, the judges ding Maria for the fact that her Puerto Rican arroz con leche was "excellent" but "too big."

I don't know about you, but I've never encountered a dessert that I found "too big."

Byron gets better feedback for his goat cheese ice cream and fig and date jam, which had great flavors. Sara does, as well, for degree of difficulty in baking a matcha-dusted cream puff with grilled strawberries and miso whipped cream. But it's Avishar who takes home both immunity and a cool $10k for his "Buckeye" bonbon with brown butter and liquid graham cracker, which had great structure and crunch.

Although Avishar won last week's Elimination Challenge, his victory here in the Quickfire feels a bit unexpected. I know we're only a few episodes in, but this season feels, more than other recent seasons, like it's anyone's to win.

If the Quickfire was a dip into Top Chef's commercial side, the Elimination is a delightful foray into what the show does best: celebrate (non-European) food culture. Noting the large amount of pan-African restaurants in Portland, Gregory and Kwame will each take half of the cheftestants and treat them to multiple meals at various restaurants and food trucks around the city that specialize in cuisine of the African diaspora.

It looks like an absolutely amazing experience. The chefs meet a bevy of chefs and restauranteurs, each happy to share their amazing food and food culture with the chefs—many of whom have never tried the dishes put in front of them. This is exactly the type of experience every chef appearing on the show should hope they get to experience. The opportunity to learn about another culture's food and find ways that it connects with one's own cuisine and food heritage is invaluable.

It's an especially emotional experience for some of the African-American chefs on the show. Dawn is thrilled to see Top Chef celebrating and recognizing the cuisine of West Africa, and Kiki is thrilled to make a dish inspired by the food she grew up with.

After a day of (amazing) eating, the chefs get to work making a dish that takes inspiration from, and pays homage to, the food they just tried. Brittanny, the daughter of fishermen, wants to bring her personal history into the challenge with a dish incorporating mackerel a fritter. Kiki says that eating at the various restaurants during the day was one of the first times in a long time that she ate food that tasted "like home," and she's going to do a take on a dish her dad used to make. Shota loved the spices used in the Jamaican restaurant Kwame took him to, and even though Japanese cuisine doesn't use a lot of spice, he attempts to incorporate jerk spices into his dish.

The diners and service begins. First up is Byron with a pan seared snapper marinated in red stew with a cassava cod cake and escabeche. It's a huge hit—his stew tastes authentic and his croquette is delicious.

Next is Brittanny, who is also trying her hand at making a red stew, this time paired with pickled mackerel, an allspice fritter, and charred cucumber. She had worried about the aggressiveness of her red stew, and thus tried to "calm down the flavors" by adding coconut cream. That was a mistake. The judges call the stew "muted," also criticizing the toughness of her fritter.

Nelson is next with braised chicken, jerk spice yucca, sweet plantains, and a fava bean puree. His dish is tasty overall, but is far more Dominican in flavor than West African. Indeed, if you didn't know what the challenge was, I'm not sure the diners would have known what cuisine he was supposed to be paying homage to.

Jamie, our bundle of sunshine this season, has a crispy snapper with turmeric couscous, heirloom tomatoes, and pickles. The diners adore how light and crispy her fish is. Gail finds that the pickling liquid incorporates classic Vietnamese flavors. Kwame is even more robust in his praise, saying that Jamie took the challenge and "owned it." Amar is too busy devouring the dish to add much, saying he just wants the next bite and the next bite and the next bite.

Dawn, like Jamie, hits a home run with her curried goat, crispy roti, fondant potatoes, and green pepper sauce. Tom is a fan of Dawn's decision to serve the goat bone-in. Kwame demands that Dawn bottle and sell her green pepper sauce. Richard goes a step further saying this is the first dish tonight where he wants the whole recipe.

Gabriel follows up with a red-stew braised Oregon lamb shoulder with goat cheese mashed potatoes and soya spice-dusted potato chips. I roll my eyes at Gabriels use of GOAT CHEESE MASHED POTATOES in a dish that's supposed to be celebrating flavors of the African diaspora. I'm not the only one. Tom declares that he's over chefs presenting "designer mashed potatoes," and Richard (in his absolute best moment this season to date) offers to say "what everyone is thinking: this dish is too white."

Chris tries to get back to the point of the challenge by combining his Haitian heritage with West African flavors in an epis-marinated red snapper with a crispy rice cake, twice-fried plantains, and mushroom and bean puree. Per Tom, the dish suffers from "a bunch of technical mistakes." Kwame suggests that Chris went too far in reimagining the West African dish that served as his inspiration.

Kiki presents a dish inspired by one that her father used to make when she was growing up. It's called "saka saka," and it features beef and fufu. The flavors of the dish are nice overall, but Kiki failed to cook the starch out of the fufu, which is also too cold.

Sara, one of the strongest and most consistent cheftestants this season, has a coconut rice porridge with jerk spice gravy, pork floss-style salt cod, peanuts, and pikliz. She might be in the running for the top, as Padma says she would order this dish again and again. Gregory loves out "out of the box" the dish is.

Gabe serves the diners braised chicken with heirloom beans, plantain dumplings, and pikliz escabeche. Everything is cooked very well, but there are few raves to be heard.

Mr. Immunity, Avishar, brings out shrimp and grits with eggplant escabeche and taro. Kwame loves this dish, and Melissa says that she can tell that Avishar put a lot of himself into it.

The good vibes continue with Shota, who has a black cod with cabbage, turmeric, cloves, and an allspice sauce. Though Shota worries he might have overdone things with the spices, the diners all love it. Gregory says that the dish looked Japanese, but when he started eating, the flavors were "anything but." Amar says he was waiting for someone to bring the spice in the challenge and Shota was the one who did it.

Maria found inspiration in a dish that reminded her of Mexican mole, and so she has a black eyed pea cream with oxtail, masa plantain crumble, and a habanero avocado oil. Tom declares he has "a big problem": it's the end of the challenge and he's stuffed, but he can't stop eating Maria's dish.

It's amazing how many chefs hit it out of the park during this challenge. I sort of wish that Padma would bring all the chefs before Judges' Table to tell them how extraordinarily high the level was during the Elimination Challenge—and indeed, these "pay an homage to a cuisine you're not familiar with" challenges tend to bring the best out of the cheftestants, season after season—but presumably due to the need for social distancing, Padma only calls out
Shota, Kiki, Dawn, Brittany, Chris, and Jamie.

It's no surprise that Dawn, Jamie and Shota made the judges' favorite dishes today. The only surprise is that people like Sara, Avishar, and Maria don't get to learn how much the judges also liked their food.

But this moment belongs to the top three. Jamie loved her dish and is so happy the judges did, too. Padma adored the sweet and tart notes that's so emblematic of Vietnamese cooking, but also showed how those flavors could mesh with those of West Africa. Gregory compliments the crispiness of her fish and her use of pickles. Gail declares that it felt like Jamie had been making this dish for years.

Dawn starts off by apologizing for not remembering to advise the diners to eat her dish using their hands, but it's no problem—many of the judges, including Padma, did. Kwame again praises Dawn's green pepper sauce, and Tom praises the balance in the dish, saying "everything was where it needed to be."

Regarding Shota's dish, Tom says that he thought the flavors would clash, but somehow, Shota brought everything together. Gregory notes that he, himself, is very familiar with the ingredients Shota used, but was surprised by how he incorporated all of them, saying he was able to taste everything, including Shota's "beautiful" sauce.

The winning chef is the person who best represented the flavors of the African diaspora, and that's Dawn. It's a wonderful moment for her. She admits that she has had a number of ups and downs this season—indeed, she didn't even get her sauce on the plate in the first Elimination Challenge—and so this win means a lot. Kwame says that Dawn made her ancestors proud.

Having heard everything that went right for the top three, it's now time for the bottom three to take a few shots. Padma asks Kiki if she was happy with her dish, and Kiki mentions how she wished she could have cooked her stew down a little more. Kwame found no fault in the stew, though. The fufu was the problem. That's a hard criticism for Kiki to take—she says it doesn't feel good to mess up fufu. This challenge hit home for her and she says she won't "take it lightly if I'm eliminated."

Padma says that Brittanny's red stew was "kind of mild," and Brittanny attributes that to the fact that she doesn't have much tolerance for spicy food. The judges correct her—the issue was not that the dish needed more heat, but that it needed more flavor. Tom says that he doesn't feel like Brittanny has been letting herself cook in these recent challenges. "What do you love about cooking?" he asks, encouraging her to "tell [her] story." Brittanny has no answer for Tom's question, saying she doesn't know what she loves about cooking. "Get out of your head," Tom advises.

For his part, Chris admits that he faced an internal struggle during this challenge, not sure how to combine Haitian and West African flavors into his dish. Gregory says that he used a lot of ingredients common in Haitian cooking but lacked the technique to bring everything together. Tom calls his dish a "collection of ingredients" and says that Chris's dish "could have been made by anyone" because it didn't represent Chris on the plate. "You're here to cook, right?" Tom asks. "Then cook."

Clearly, the two cheftestants in danger of being sent home are Brittanny and Chris. Both struggled at taking inspiration from West African cuisine and incorporating those flavors into their own cooking. But given the lack of depth overall in her dish, it's Brittanny who goes home today, following the elimination of her friend, Sasha, last week.

As she leaves, Brittanny notes that the pressure on Top Chef is "intense," expressing surprise at how quickly her confidence took a hit. Despite that, she says that her experience on the show has helped her think deeper about who she is as a chef. She wants to continue down that path of exploration. We'll see if she's able to do so on Last Chance Kitchen.