April 2021 Forecast
By Michael Lynderey
April 17, 2021
BoxOfficeProphets.com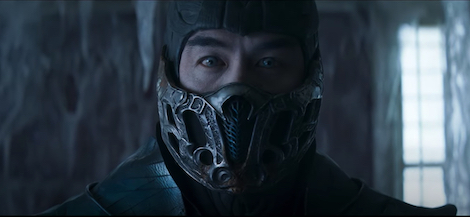 ---
A lively summer season is coming, weeks away. I can feel it in the cautiously-optimistic air; air we'll be allowed to freely breathe in one of these days.

But for now April projects just one really major film onto the big screen, as Mortal Kombat is thrust violently back into our lives, and becomes a title that should thoroughly dominate all challengers as is its nature. It is surrounded by a smattering of lonely if intriguing horror and science fiction titles, geared at genre fans with empty stomachs. That is the extent of your choice, in a release schedule still very much influenced by the current situation. But that isn't without precedent: in April 2017, the flagrantly ridiculous The Fate of the Furious (that's part 8, I think) grossed $226m, a number so above and beyond any other film in that forsaken month as to leave a 181 million dollar gap between itself and the next biggest release. Let's see how close to that chasm Kombat and its few dissenters can get.

1. Mortal Kombat (April 23rd)
I first viewed Mortal Kombat in theatres at the tender age of nine years, and can report it has firmly and irreversibly taught me all sorts of important values I have already, and ever shall, cherish and hold dear with me for the rest of my life - hard work, determination, honour, the need for the ability to resolve any conflict with brutal violence, fear of sorcerous-looking foreigners. Today I'm a better man for it.

May its reboot do the same for the children of the 2020s as it did for me. I think they need it.

As before, ostensibly the world's greatest martial arts fighters are kidnapped by other-dimensional aliens to combat their greatest champions in a shiny tournament on a lush, nasty, desert island, victory or defeat inwhich shall result in the otherworlders having full and legal tender to invade and annihilate the earth (who the h--l was stupid enough to say, "oh, ok" and sign on to that agreement? I hope the buffet at the interdimensional summit was good).

As usual, the aliens in these films don't play very fair and concentrate on recruiting not The Rock-like 6 foot 11 he-men and were-beasts, but rather a motley and cross-global collection of individuals shaped more or less like normal humans you might see at a not particularly ambitious or discerning neighborhood gym (when gyms re-open, you can see what I mean). As per intergalactic law, you can't have some John Cena type just take one of the bad ninjas and crush him to the bone between hand and hand, can you?

Mortal Kombat was the major film debut of director Paul W. S. Anderson, who has since lent his unique set of skills to Resident Evil, Monster Hunter, The Three Musketeers, and also a few films that were not inspired by video games. "Superior Paul Anderson," I call him, correctly. After Alien Vs. Predator, Mortal Kombat remains the highest-grossing film ever directed by anyone named Paul Anderson. (and how about Mortal Kombat + Monster Hunter = Monster Kombat?)

Inspired by a fiercely addictive video game, the original film was a late summer hit that grossed so much money as to practically finance the rest of Mr. Anderson's career - $70m, and then was followed by Mortal Kombat: Annihilation in November 1997, which managed to neatly slice that first number in half, totaling at precisely $35m. Like another genre sequel of that month, Alien: Resurrection, part 2 helped gently put to rest its franchise for at least a few good and quiet years. (And Annihilation and Resurrection? What a nice synergy, no?)

In the time intervening, the Mortal Kombat non-cinematic universe has released any number of video games and assorted and quite lucrative merchandizing, not to mention has inspired television series and direct-to-video animations, where the blood is probably an unrealistic shade of red and teeth fly out of mouths at unnatural intervals. In short, like a powerful hangover that throbbs gently on in the back of your head going bam, bam, bam, the kombatters have not departed from the cultural stage.

Yes, the franchise has stayed dead on the big screen for far too long. Toddlers lovingly pawing at the Annihilation poster at the bus stop would today be 37 or 28 or something like that, which is pretty old, and they want their own Kombat film not encumbered by horrifically dated 1990s special effects.

That wish is granted them and us with assistance from James Wan, perhaps the most effective and influential horror filmmaker of our time (Saw, The Conjuring), who's done some nice work in the typically tedious non-horror elsewhere, too (he directed Aquaman). Wan co-produces and helped spearhead the new version, with Simon McQuoid making his directing debut and perhaps hoping for a career that's a little more diverse than Anderson's.

The original film was filled with a cast that seems indelibly wedded to the 1990s: Robin Shou, Bridgette Wilson, Talisa Soto, and Cary-Hiroyuki Tagawa, as sorcerer Shang Tsung, while Christopher Lambert, who is and forever and always shall be Highlander, having his second best role as the helpful Lord Raiden. The new guys? Not yet as known as the 1995 iteration's (no offense, and not a knock on them), with martial artist Lewis Tan as new hero Cole Young, as well as professional Australians Josh Lawson and Jessica McNamee, Japanese actor Tadanobu Asano as the new Raider, and also Ludi Li, who was part of the 2017 Power Rangers reboot, and must have a love for upkeeping all the franchises that inspired a temporary love for karate in 1990s children.

And for the bad guys, the fan favourites are all here - Scorpion, still a hissing undead ninja ghost, Sub-Zero, who produces evil cold vapour between his fingers and launches it in the general direction of his opposition, Mileena, with the dual, stabby sais, and of course, Goro, who's got four large arms and a really bad attitude (again, how do reasonably powerless earth humans ever beat these guys? we must be smarter than anyone thought). I've heard a lot of "get over here!"s in the media for the first time in decades, so we know that the film's wittiest line is creeping merrily back into the culture.

As the month's highest-profile film, Mortal Kombat's distributor is predictable. Yes, for arguably the fifth month in a row, HBO Max (and its subsidiary Warner Bros.) will have now supplied the box office with a putatively biggest film, having previously released Wonder Woman 1984 (December, $46m total so far), Godzilla Vs. Kong (March, $74m), and Tom Vs. Jerry (February, $41m), which would have been joined by The Little Things (January) had that particular film not found itself suddenly though thoroughly outgrossed by still-burly Liam Neeson in and as The Marksman, with a resounding $15.3m for Marksman besting Things' $15.2m. Well, it was close, but it's Neeson for pete's sake. Did you seriously think you could win?

So, in light of Godzilla Vs. Kong's rather luminous misadventures at the global box office, how high can Mortal Kombat go? It may be a reiteration of a video game property with relatively unclear and likely inhospitable critical prospects, but, on the decidedly plus side, it is, after all, essentially the only game in town, the one film that even gently reeks of blockbuster air that will be released between April 1 and all the way until Cruella and Quiet Place II hit in late May (with apologies to Saw 9 on May 14, which will always be my most anticipated).

So the Kombatters should have room for a plus-size opening, and then weekends where legs are almost guaranteed, regardless of any judgments that fans or regular civilians pass on largely irrelevant matters of quality. Theatres? They'll get over there.

Opening weekend: $29m / Total gross: $90m

2. The Unholy (April 2nd)
The 1988 The Unholy starred the late Ben Cross as a priest battling a rather sinful demon, and this unrelated titled is of course also a horror film, a PG-13 affair from Screen Gems, which has been practicing the art of PG-13 entries in that greatest genre for an extra spooky 15 years now, and isn't going to let a bit of downtime stop them (did I ever tell you how, with a few minor and disgraceful exceptions, every horror film from 1984 to 2004 - including The Unholy, of course - was rated R, until some genius figured out you can cut a little cussing, half a dollop of gore, and all particularly detailed nudity, and get a PG-13 rating, thus exponentially expanding your big screen audience, at least theoretically, and after which the genre was plagued by trying to play down to the rating for years? Oh, remind me to tell it again sometimes).

Also produced by Sam Raimi and his neat old mainstay, Ghost Pictures, Jeffrey Dean Morgan stars as a journalist investigating a saintly miracle in a New England town that (almost?) inevitably leads to events of doom and gloom and abundant disappointment. That ain't no miracle, son. It's evil. Katie Aselton, William Sadler, and Cary Elwes co-star, unsurprisingly; the latter two have oft found themselves in horror films as of later years, usually as the bad men from whom teenagers run screaming into the night, before coming back to vanquish them and claim victory.

The film opened with a $3m sum over Easter weekend, which might not seem particularly princely or exciting, but it's about where horror has been in the last eight months - Freaky, Come Play, Monster Hunter all nicked at the same range, and still pleased their makers. And with semi-"only game in town status" for weeks, that $3m can rise up and turn into $6m rather quickly, or 9, or 12, and then who knows? The world. (will see this movie)

I think Screen Gems has it under control.

Total gross: $10m

3. Voyagers (opened April 9th)
Tye Sheridan, Fionn Whitehead, and Lily-Rose Depp (uh... no relation) get in a big spaceship one Saturday afternoon and head for the darkest stars. On board, there is sex, violence, and of course the raw human emotions resulting from the unequal distribution of both.

It's along the lines of Moon, Nightflyers, High Life (a movie I truly do not care to recommend), and all the stories where frail people are stuck in space with nary a bloodthirsty alien to relieve the long days of their miasma. Without a razor-tooth interplantery threat to combat and unite your various disparate human personalities, whatcha gonna do up there? You must only sit and seeth among the stars as the ship slowly, slowly, slowly travels to its purported final stop.

Some of the films are quite good from strictly a quality perspective (does anyone really look at that?), but a lot of those "we'll prove humanity sucks, in space" movies don't do well at the box office, with Voyagers for example having returned back $1.8m over the weekend even as, elsewhere in the same slowly reflowering movie theatre, mighty titans clashed over formerly habitable rubble in the new addition to the giant Monsterverse.

Tye Sheridan is a talented actor, from early roles like Mud and Dark Places to the basically virtual performance he gave in Ready Player One; Whitehead was the star of Dunkirk and some interesting smaller films, like the masterful The Children Act with Emma Thompson, which is decidedly underseen; and Depp is making her wide release-film debut, though I imagine it's one of her next roles that she'll be better remembered for (some cinematic universe will claim her as a member).

Lions Gate bravely opened Voyagers, much as they've been sending out these mid-size-level thrillers and genre films into wide release, to varying degrees of interest - see Fatale, Chaos Walking. Like them, the film probably never had much of a chance in theatres, but in the waning days of the current troubles it has the benefit of added attention to its theatrical release. It should finish with around $5m. The rest is in the stars.

Elsewhere, Amazon is premiering 4. Without Remorse (on the 30th), another sequel/spin-off film that Paramount went and sold off to Amazon Prime after Coming 2 America last March, with Michael B. Jordan as John Clark, a Navy SEAL dutifully navigating whatever passes for international intrigue these days. Mr. Clark's creator, Tom Clancy, died in October 2013, but his work will likely remain with us for some time, his plot outlines re-fashioned for the nuances, real or imaginary of their era (and Jordan has already successfully brought back the Rocky films, apparently deducing that six weren't enough).

Elsewhere on that date, Open Road Films, chiefly responsible for giving the Liam Neeson-starved world more Liam Neeson movies over the last eight months (Marksman, Honest Thief), now sends out the month's second big horror film, 5. Separation, if you enjoyed director William Brent Bell's other work, like his "am I really a haunted dummy?" The Boy films. Rupert Friend stars; so do Mamie Gummer and Brian Cox. In its story of a troubled child who finds a troublesome if really emotionally comforting supernatural friend, the film recalls Come Play. But hey, that film grossed $10m just now, and kudos to Separation for adding to the smaller if cheerfully and rapidly growing list of 2021 titles. May the chain get ever longer.