The Number One Movie in America: The Toy
By Sean Collier
April 1, 2021
BoxOfficeProphets.com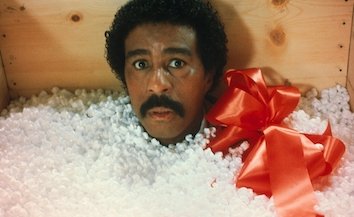 ---
Let's talk about Francis Veber.

You're more than forgiven if you don't know the name; while he's had a remarkably successful career, the French filmmaker never became as famous on this side of the Atlantic. While he has worked in the United States, he's primarily known as a director and screenwriter of comedies in France — a surprising number of which swiftly received American remakes.

This in spite of the fact that very few become hits.

Of the eight — yes, eight — of Veber's films to be remade by Hollywood, the biggest success by far is "The Birdcage," an adaptation of his take on "La Cage aux Folles." That film was undoubtedly a hit. Beyond that, though, there's "Buddy Buddy," a critical and commercial miss that ended the career of Billy Wilder. "The Man With One Red Shoe" was a footnote in the career of Tom Hanks at best, and also a bit of a flop. "Three Fugitives," Veber's first directorial effort in English, didn't work. Neither did "Pure Luck." The less said of "Fathers' Day," a black spot on the Robin Williams filmography, the better.

There are two, besides "Birdcage," that kind of worked out: "Dinner for Schmucks," the most recent Veber adaptation, which received lukewarm reviews but became profitable on the back of hard work from Steve Carell and Paul Rudd. Then there's "The Toy," probably the second-most memorable and financially successful Veber adaptation.

Thanks to the nearly unmatched fame and bankability of Richard Pryor in the early '80s, the slapstick flick was a hit. It made $47.1 million — pretty good for 1982, when the box office was firmly divided between "E.T." and everything else — and stands as the 14th best-grossing film of the year.

And it's not really any good, either.

"The Toy" was not warmly received by critics, who generally shrugged at its broad, unambitious gags and pranks. While the optics of the film — it lampshades the problem, but the slavery connotations of Jackie Gleason's billionaire buying Pryor as company for his son can't be escaped — were farther from the cultural zeitgeist, at least to white audiences, in the early '80s, it can't have ever felt better than unsavory.

Yes, audiences turned up — Pryor was more or less a guarantee, and his stand-up special, "Live on the Sunset Strip," was a number-one hit earlier the year — but it's a mess. The jokes that work are pure slapstick, like Pryor grappling with a human-sized hamster wheel at a toy store, while others just read as cruelty. The kid isn't particularly likable; Gleason gets his shots in, but at a rate far beyond his own capabilities.

It's memorable as a cable-TV staple and as a showcase for Pryor (in that everything Pryor did was memorable), but "The Toy" strikes an awkward tone at best. Perhaps that's why the Veber adaptations keep failing to connect. Much has been made of the differences between the French sense of humor and that of Hollywood, and Veber's films may illustrate it better than most; these comedies don't translate neatly, with many moments not quite hitting right. Revisiting "The Toy" feels less like watching an adaptation and more like regarding an antiquated artifact; its purpose is clear, it just doesn't quite work the right way.

"The Toy" is the subject of the latest episode of The Number One Movie in America, a look back at past box-office champions. Each episode's film is drawn at random from a list of every number-one movie since 1977. Please listen and subscribe!

Next time: Mel Gibson followed "The Passion of the Christ" with a quiet, gentle film. Just kidding. It was way more gory.