The #1 Movie in America: Coming to America
By Sean Collier
March 29, 2021
BoxOfficeProphets.com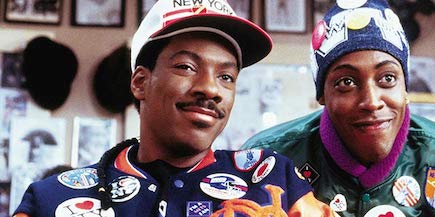 ---
"Coming 2 America," the belated sequel to the 1988 comedy classic, hasn't been a critical hit. Notching just a 52% approval rate on Rotten Tomatoes, the new film has been called — by me, among others — a somewhat disinterested retread of the jokes from the original.

Perhaps there's a sense of a bullet dodged in the film's purely digital release. Maybe the cool reaction would have led to disappointing box office for the sequel, had it been released in theaters (as intended before the pandemic began).

Then again, the original "Coming to America" did huge business — with similarly lukewarm reviews.

While it's seen as a classic today, "Coming to America" was met with plenty of shrugs upon release. The Hollywood Reporter scoffed at a "homogenized Eddie Murphy, drained of his kinetic comic charm." In the New York Times, Vincent Canby complained of "a screenplay that seems to have escaped its doctors before it was entirely well." In a televised review, Roger Ebert said, "This plot is so old fashioned, and so hackneyed ... the energy level of the movie is so low." (Gene Siskel called it "charming and very funny," though.)

That didn't stop "Coming to America" from winning three consecutive weekends en route to a total haul of $128.1 million. It's the third top-grossing film of 1988.

That it needed no help to attract an audience, even in the face of a mixed reception, is a testament to Murphy's unrivaled star power in the late 1980s. "Coming to America" reunited Murphy with John Landis, who directed his breakthrough, "Trading Places," five years prior. "Beverly Hills Cop" was a nearly unrivaled sensation in 1984; in '87, Murphy went to the top of the box-office charts twice, with "Beverly Hills Cop 2" as well as his own stand-up concert film, "Raw."

In the summer of 1988, anything with Murphy's name on it was a surefire financial success. So: Was that all there was to it, or is there more to "Coming to America" than the critics found?

The best endorsement of the film, I think, is this: It's an effective romantic comedy that leaves time for unadorned humor, and thus the rare perfect date movie. Much of the film is outlandish, and there are plenty of effective comic setups — the bickering men in the barber shop (most of them played by Murphy and his co-star, Arsenio Hall, under heavy makeup), the over-the-top behavior of the Zamundan royal family, the vast differences between McDowell's and McDonald's.

But when "Coming to America" builds to a climax, it's not a zany set piece or a comedy-of-errors unraveling; it's pure romance, with Murphy's Prince Akeem chasing his beloved Lisa (Shari Headley) onto a subway car to try and win her back. It is charmingly old-school in plenty of regards — while remaining quotable. (And singable. Try to get the "Soul Glo" jingle out of your head.)

That's the good news. On the other hand — with apologies to the many fans who grew up with the film — it's an uneven, somewhat shambling affair. The critics were right; there's not much at all to the screenplay, which is repeatedly bailed out by a game cast (but does no favors to Murphy, who's committed to playing it straight at all costs).

Despite a stutter-step resurgence, Murphy is not half the draw he was in 1988; I don't think that "Coming 2 America" would've done business like its predecessor, particularly with a similarly lukewarm reception. 33 years ago, however, Murphy was a megastar, and the film — despite its faults — was charming enough to nestle into beloved territory.

"Coming to America" is the subject of the latest episode of The Number One Movie in America, a look back at past box-office champions. Each episode's film is drawn at random from a list of every number-one movie since 1977. Please listen and subscribe!

Next time: Before Eddie Murphy ascended, another comic-turned-actor kept bringing comedies to the top of the charts.