2021 Calvins: Best Supporting Actor
By David Mumpower
April 2, 2021
BoxOfficeProphets.com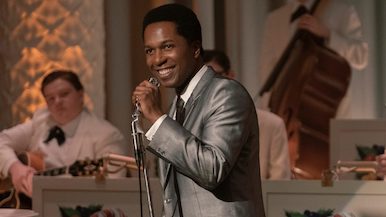 ---
Every year, Best Supporting Actor provides plenty of surprises at The Calvins.

The explanation involves our arcane voting practice. We don't provide guidelines on what's Supporting vs. Lead.

Instead, we let the voters decide for themselves. Then, we transfer the points totals to the category where a candidate receives the most support.

Think of the situation like this. If five people voted for someone as Lead Actor while ten selected Supporting Actor, we'd add the five votes to Supporting.

The whole thing's convoluted and makes tabulating results a waking nightmare. Still, we love the open-ended nature of this process.

This year, our voting led to some odd quirks at the top of the list. Two films were responsible for four out of the top six selections.

Remarkably, both titles included near-misses from other performers. So, we irrefutably thought two titles towered above the rest.

To wit, first and second place go to the same film…and I'm livid about it. In fact, either my wife or I may sleep on the couch over this one.

You see, we both felt passionately about the fact that our favorite should have won the category.

The razor thin voting result meant that we nearly had to toss a coin to determine a winner. I'm not even joking. We had a tie until the last possible moment.

Ultimately, the winner in Best Supporting Actor is Leslie Odom, Jr. for his stunning portrayal of Sam Cooke in One Night in Miami.

Our staff relished his breakout role as an actor, and his candidacy was likely buoyed by his popularity in Hamilton, which also came out on Disney+ this year.

However, I will argue until my dying day that the best performance in the movie came from my beloved Aldis Hodge.

The longtime BOP fave has come a long way from his work as Voodoo Tatum on Friday Night Lights.

A few years ago, Hodge turned heads for his small but significant role in Hidden Figures. Since then, doors have opened for him now that the glass ceiling has shattered.

In One Night in Miami, Hodge portrays Hall of Fame running back, Jim Brown, as a man trying to beat the pro football system.

Both Odom and Hodge rely on one another plus the rest of the cast for their work to succeed. So, this vote is a credit to the entire ensemble.

Finishing third is Paul Raci, whom BOP's Reagen Sulewski points out as having one of the weirdest filmographies ever before breaking out.

Raci, whose parents are deaf, can hear, but he's used American Sign Language since he was old enough to walk.

That made the actor the perfect choice for Sound of Metal, probably the most inventive film we discuss in The Calvins this year. And he nailed the opportunity.

Fourth and sixth place go to two actors from Trial of the Chicago 7.

We slightly preferred Sacha Baron Cohen for his portrayal of Abbie Hoffman, founder of the Yippies.
However, we were nearly as impressed by Yahya Abdul-Mateen II, who played Bobby Seale.

Between this film and the Borat sequel, Cohen had a huge year. Still, when we combine this role with Watchmen, it's Abdul-Mateen whose star ascended the most.

Our fifth selection... well, it's tragic. We lauded Chadwick Boseman once again this year, this time selecting his work in Da Five Bloods.

Almost incomprehensibly, Boseman passed away at the age of 43, sending shockwaves through the industry. He's already won a Golden Globe posthumously, and everyone expects an Oscar victory, too. It won't be enough.

Boseman grew into a transformational human being as a wildly successful actor who inspired a generation with his nobility. His death is emblematic of how horrible 2020 was.

We chose a couple of performers from awards season darlings as our seventh and eighth nominees.

BOP's J. Don Birnam deems Daniel Kaluuya as perpetrating ballot fraud as a Supporting Actor since he plays the titular character in Judas and the Black Messiah. The rest of us felt Kaluuya belonged in this category instead.

We all agreed about the excellence of Alan S. Kim as the young boy in Minari. His relationship with his grandmother charmed us.

Our final two nominees for the year are Daniel Levy from Happiest Season and Colman Domingo from Ma Rainey's Black Bottom.

Overall, we weren't crazy about Happiest Season, which was just... fine. It's certainly no D.E.B.S. or But I'm a Cheerleader.

Still, we loved Levy for being the supportive friend that everyone wishes they could have. When he's on camera, the movie's better.

Domingo excels as the religious member of Ma Rainey's band. He's her confidante and the moral center of the film, a point driven home during the climactic scene.

Several other performances this year were legitimately just a vote or two away from nomination. For instance, Glynn Turman's work in Ma Rainey finished 11th, only a tiebreaker away from Domingo.

Earlier, I mentioned Hamilton, a movie that our voters couldn't decide how to approach. It's, you know, a Broadway musical that got recorded and released as a movie.

For that reason, some people felt compelled not to vote for it. Others celebrated the performances anyway.

Daveed Diggs and Jonathan Groff narrowly missed nomination. We also loved Paul Bettany and Peter Macdissi in Uncle Frank.

Finally, if you've heard Kelvin Harrison Jr. sing in The High Note, you understand why he almost made the list.