The 400-Word Review: Coming 2 America
By Sean Collier
March 5, 2021
BoxOfficeProphets.com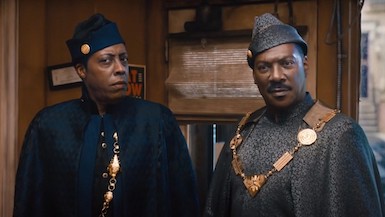 ---
It doesn't take long for "Coming 2 America," the long-belated sequel to the similarly titled 1988 original, to run out of new ideas.

There are a few useful sequences early on, at least. James Earl Jones, now 90, reprises his role as King Jaffe Joffer long enough for the character to attend his own funeral while still alive, observing the proceedings from an upright coffin; the memorial is narrated by Morgan Freeman and features live performances from En Vogue and Gladys Knight. Later, we flash back to an early night in Prince Akeem's (Eddie Murphy) original trip to the United States; clever editing brings a funny Leslie Jones into the old footage, as Mary, a boisterous Queens native who seduced Akeem.

Way back in the late '80s, Mary gave birth to a son, LaVelle (Jermaine Fowler); he is therefore the new heir to the throne of Zamunda. Once that gets going, "Coming 2 America" can't help but stumble backwards into the original plot; LaVelle is betrothed to Bopoto (Teyana Taylor), the daughter of General Izzi (Wesley Snipes), ruler of Zamunda's neighboring nation. (In a sign of the average level of joke deployed, the border country is called Nextdoria.)

Just as his recently discovered Dad did thirty-plus years ago, LaVelle has misgivings about the arranged marriage and briefly returns to Queens to escape his fate. This, and a brief segment earlier in the film, are the only stretches of time "Coming 2 America" spends in its title nation; most of the film is mired in Zamunda, occasionally bringing in characters from the West to liven things up.

At that task, Jones succeeds; Tracy Morgan, as Lavelle's uncle, also gets his shots in. Arsenio Hall, reprising his role as Akeem's confidant Semmi, seems happy to be here and tries his best. Much less effort is forthcoming from Murphy; the former megastar brightens when he reprises some of the side characters he played in the original film, but is otherwise content to let the throwback references orbit around him. Murphy seems assured that little but his presence is required to make the film work.

Either that, or he just doesn't care. Most of the bits and setups are familiar, interspersed with semi-sly nods (King Jaffe announces the title card on the national cable network: "This is ZNN.") There's enough here to remind viewers why they liked the first film, but not much besides.

My Rating: 5/10

"Coming 2 America" is available on Amazon Prime.