December 2020 Forecast
By Michael Lynderey
December 19, 2020
BoxOfficeProphets.com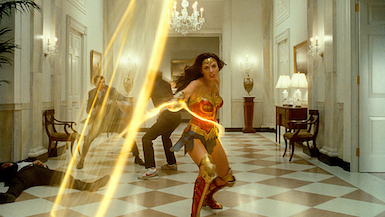 ---
December 2020: it's bad out there, yes, but we know that the troubles are also beginning to end. Film releases slowed down a little in November, but they can't break for the holidays no matter what - and what's been conjured up is mighty, with some of the world's greatest classic action heroes (Gadot, Jovovich) trading blows with one very bad cop (Hilary Swank), while Tom Hanks re-staggers through American history, and Pixar again attempts to make 2020 a happier, more emotionally uplifting place; that's their thing. Most of these titles will be viewed on the small screen, not the big, quite possibly forever rejiggling the way some of us see films, history moving just a little too fast for comfort.

1. Wonder Woman 2020 (December 25th)
Here it is, the event. The last giant striver of 2020, the only title left that could challenge Will Smith and Bad Boys for Life as the highest-grossing domestic release of the year's films, and the first real instance of what could become a mainstay in how film exhibition is conducted in North America and beyond. All this while it now finally makes what is its third or fourth release date, a fate bestowed through no fault of its own.

So the first thing I want to talk about here is living snowmen.

Not a lot of people are going to the movies right now, and so I noticed that in the annual Christmas film marathons on TV, one that's frequently aired and re-aired is Jack Frost, a sort of co-production between A-Pix Entertainment and WW84's own studio, Warner Bros. This is the classic story from the late '90s about a boy's father (Michael Keaton) who dies tragically one Christmas Eve, before coming back exactly one year later as a talking, walking jumbo-sized snowman who happens to be a rabid serial killer, now set loose upon the town. No, really, that's what it's about. And just look at what that snowman does to poor Shannon Elizabeth!

So the point is, you have a lot of good home entertainment options this December. And controversially, this film makes one more. Many will want to discuss Wonder Woman 1984's status as the first (and for a long time, likely the biggest) example of Warner Bros.' new evil scheme to release their films on screens both big and small on the same exact date. I, being both a contrarian and somewhat of a jerk, would have probably wanted to discuss the fact that this is, darn it, yet another unmissable superhero movie in a world that is being quite persistent is not getting tired of them, ever. But I'll save my futile whining for 2021, where it belongs.

Gal Gadot returns as the world's highest-grossing female super being, or at least she was until 2019, when Captain Marvel quite inexplicably made more money ($426m to $412m - and no, that Marvel number doesn't make any sense to me either. Who were these 426 million worth of people, and what will they do next?). And I know that I hate superhuman box office segregation by gender, too, so much so that someday I'll stop doing it.

Gadot's ageless Amazonian wonder ended film 1 having apparently just won World War I a year early (not to mention killed off Gen. Erich Ludendroff, a real historical figure who was previously still kicking until 1937). In film 2, she returns from her self-exile decades later in 1984, having sat out the previous 67 years of rampant human-caused evil for reasons that I hope the film will dedicate copious detail and time to clarifying (can't miss out on the 1980s). Her paramour, Steve Trevor (Chris Pine), is also back, this time wittily reversing the "fish-out-of-water" scenario of the first film as now he is the one who is confused by the human world circa nineteen eight fo---

Hey, wait a minute, that guy died a screaming, torturous, probably excruciatingly painful death, his every ether of being consumed by flames over the night sky of 1917, in that movie.

How is he back?

Well, it would seem that the chemistry between the stars of the first film was of such fierce and passionate fervor, causing that level of a vivid emotional response on behalf of anyone even within a country mile of where the film was playing, that time and death, whether by expected old age or bloody fire, would have to be denied. No amount of "Mr. Trevor flew off on a plane with a lot of bombs and met his demise" would suffice to allay his comeback. And so Chris Pine again receives high credit billing, with yet another screenplay explanation that is sure to be even better than how Agent Coulson returned from his no-dry-eye demise in The Avengers to lead multitudinous seasons of Agents of S.H.I.E.L.D. on TV (7 seasons? I feel like 5 would have been sufficient).

The pair's 1984 villains are a television show host (Pedro Pascal) who's apparently a satire on a former U.S. President whose name I have already forgotten (very, very former, very, the formerest), and then something or someone called The Cheetah, who is played by that marvelous comedian Kristen Wiig, which is the point where the film captures my attention.

Patty Jenkins, who did the quality Monster (2003) and the original WW, returns to direct and co-write, a respectable $200m has been spent on the film's making, and franchise mainstays Connie Nielsen, Robin Wright, and Lynda Carter (!) abound in whatever combination of flashbacks, dream scenes, and real life. In short, no significant re-jiggling of the ingredients that worked the first time has occurred, no matter how much a casual audience member may rub their eyes to make sure they're really seeing Pine again on that poster. Everything that earned the first film respect from critics and pop culture canonization from audiences has been retained, and the reviews speak for it - 80 point something percent Fresh, the "go" sign now turned alight.

What would have Wonder Woman 1984 grossed in an alternate 2020, one glistening with life beneath the snow somewhere? It would have probably opened somewhere in the range of the $160 millions, and totaled at another $400m and counting (Captain Marvel, watch out! this time). And even now, many of its potential audience members will wander off to the theatre, although that HBO Max subscription will sure look appetizing.

So, yeah, a lot of people want to see this. One way or the other, they probably will. Does Wonder Woman 1984 stand a good chance of grossing $100m at the box office in 2020? Yes, I think so. If Tenet can pull in $60m, and WW84 and her golden lassoe have a few months to work with, she can get that 100. That's a good thing. Just do it safely.

Opening weekend: $23 million / Total gross: $100 million

2. Monster Hunter (December 18th)
On the release of this, another "blow-the-computer-drawn-creature-to-bit" CAPCOM video game adaptation, let us take the occasion to discuss the life and career of one Milla Jovovich. Here is a woman who in the 1990s fled successfully from the modeling world to emerge as a promising young actress, a thespian who partook in drawn-out teenage angst (Kuffs, Dazed and Confused) as easily as she did weighty Spike Lee soliloquies (He Got Game) or fantastical off-beat action adventures (The Messenger, The Fifth Element).

All of this was before arriving at that life moment and making that one special decision that would define her career since then, and perhaps for a long time: she said "yes" to the lead role in the then-early awaited film adaptation of the video game Resident Evil, signing up to hunt down salivating zombies and save whatever tiny pockets of humanity were left intact. The film was released in March 2002, winning its weekend with $17m. Henceforth, she would be known as Alice, and she remembers everything.

Resident. Evil.

These are the two words now most associated with Mrs. Jovovich in focus group tests of swing state voters, must as WW is branded upon Mrs. Gadot. In the years since that fateful Friday in March, Jovovich has headlined a handful of wide-release titles with something else in the title: Ultraviolet (2006), The Fourth Kind (2009), The Three Musketeers (2011), but more often than not, if you saw the name Milla Jovovich shining brightly on a marquee through the night, it was next to those two other must-have words. She kicked, punched, grimaced, and cloned (!) her way through Resident Evil: Apocalypse (2004; where they do a nuclear kabluey on a small town), Resident Evil: Extinction (2007; Vegas is at last consumed by the desert), Resident Evil: Afterlife (2010, my favorite, and so the one most people would hate), and Resident Evil: Retribution (2012; she didn't get any), and then waved a warm farewell with Resident Evil: The Final Chapter (2017; final until the Milla-less reboot). In these and many other adventures, she was usually directed by Paul W. S. Anderson, the man to whom she would become wed to professionally as well as legally.

Now, Milla Jovovich returns with a sort of Resident Evil off-brand, Monster Hunter, a film that naturally segways into being as a successor to her previous adventures (you know, a lot of the creatures in the R.E. films were already monster-sized). Directed by Anderson again and financed by the same production company (Constantin), here the thespian stars as an army ranger who must battle giant angry critters in a multi-dimentional setting, an enterprise in which she will be assisted by Tony Jaa (Mr. Ong-Bak from Thailand), occasional horror veteran Megan Good, and poor Diego Boneta, who was not long for this world in Terminator: Dark Fate, and might perhaps linger for only slightly more screen time here. Also, of course, the cast lists Ron Perlman, who I bet is still making these things with the enthusiasm of his first day.

Monster Hunter lists six (!) countries as producers (that's two more than I could name), and has been enjoying itself an international rollout in safer harbors (or ones where no one cares about the unsafety, anyway). It takes over the release date of December 18th, ironically one previously ascribed to Dune, another film involving strange-looking beasts on desert planets. On the date, it will play in open theatres and the many drive-ins in North America, perhaps as a sort of pleasurable if undemanding B-option for those who just can't wait the extra week for the lasso-toting DC heroine. That's not a bad idea: success stories at drive-ins over August-November 2020 have a a similar outlay, favoring action films with established stars (Russell Crowe - Unhinged, Kevin Costner - Him Go), or also whatever The War with Grandpa was.

All the snow on the ground doesn't scream, "let's hunt monsters in the sand." But above all else, I have faith in the endurance and longevity of Milla Jovovich, long may she reign.

Opening weekend: $4 million / Total gross: $15 million

3. Fatale (December 18th)
She is a femme, as well, yes, and more precisely a police officer who proceeds from mere hanky-panky with a married man to a more elaborate conspiracy implicating the poor, unfaithful dude in murder and all kinds of unpleasantness, and right before the holidays, too. A subtle and incisive commentary on police-civilian relations in 2020? Perhaps not.

Hilary Swank stars as the lady cop of the title, Michael Ealy is the temporarily satisfied prey, and Mike Colter and Kali Hawk are among the supporting cast who stare aghast at the proceedings, largely from the sidelines. The direction is by Deon Taylor, most recently of B-thrillers Traffik (2018) and The Intruder (2019). And that, indeed, is where our history lesson for the day comes in.

Lions Gate is releasing Fatale, but I think Screen Gems went and birthed the trend: the studio which quietly put out Idris Elba-Taraji P. Henson potboiler No Good Deed in 2014, and almost accidentally made it a pretty big hit ($52m total!), before embarking on a reasonably successful streak of titles, taking wildly and perhaps inexplicably successful "secret psycho" thrillers like Fatal Attraction and The Hand That Rocks the Cradle and de facto updating and remaking them, this time with a specific appeal to African-American audiences.

And if it works, roll with it! The studio proceeded to The Perfect Guy (2015; $57m; the title was ironic), then When the Bough Breaks (2016, $29m; and say hello to cradle rocking again), and finally, after some interlude time, The Intruder, the vague Pacific Heights redo which cast Dennis Quaid in the reverse-Michael Keaton role as a man who just won't leave, and which grossed $35m last year, showing we weren't done with all this stabby stuff quite yet. Now, we have Femme, which melds together Fatal Attraction with Unlawful Entry, getting a stalker police officer who also participates in sex scenes with the lead.

Ealy is a veteran of this cycle (he starred in, and as, "The Perfect Guy"), while Swank is perhaps transforming herself from two-time Oscar winner to B-movie antagonist of the 2020s (see also The Hunt), as historically has happened to any number of thespians who stood at that big golden podium to accept the grand prize (Rod Steiger, Anthony Quinn, Christopher Walken). That's a respectable list: playing a villain right is its own art.

Femme tries for back to business, in a difficult time. Far from being a film tethered to its previous, inconvenient, pre-troubles release date, Femme was in fact scheduled by Lions Gate just for this moment, perhaps encouraged by a wave of recent B-films whose numbers may well have matched what they would gross in an alternate 2020 (Unhinged, $20m, The War with Grandpa, $18m). And, along with Ms. Milla "Monster Hunter" Jovovich, Femme will also be arguably the first major release in about three weeks, giving it just a little more leg room than the pre-holiday days might otherwise allow; even if in every drive-in double-bill this film might share with Wonder Woman, it would be programmed only for the bottom portion.

Opening weekend: $4 million / Total gross: $11 million

4. News of the World (December 25th)
Not to be confused with Tom Hanks' other film The Post (2017), this is a sort of more action-packed prequel.

News of the World is Hanks' second historical drama of the year, this time traveling even further back from the man's usual stomping grounds/natural habitat of WWII (Greyhound) and into the wild old west, where he's a news-reader to the illiterate who first saves a young girl for a hefty sum, then isn't so sure anymore that her natural kin really quite deserve her company (wait, roll back, a news-reader to the illiterate? us here in the present could use a few).

From Paulette Jiles' 2016 novel, supporting slots are respectfully filled by Bill Camp, Ray McKinnon, and Fred Hechinger, with German child actress Helena Zengel as the girl who is fated to live in tedium as the Robin to Hanks' Batman. (I say leave her out in the elements for a memorable formative experience). Behind-the-scenes we have Paul Greengrass, who brought most of the Jason Bourne films to fruition and previously also hyper-directed Hanks in Captain Phillips (2013), a film that grossed $100m and was perhaps more easily marketable as a thriller than this one.

So, does all the talent on-board deliver? According to the professionals, it does, with 90% on the Tomatoes and up to 71 on Metacritic (and those people are harsh).

I ask the quality question because, believe or or not, there is a nascent Oscar season going on out there, an underground arena where previously-scheduled major awards hitters are still playing for all the right people, as expected, or right there on Netflix, if only you'd search for them (on that streaming service, the highlights are The Trial of the Chicago 7, Mank, Ma Rainey's Black Bottom, not usual entries on Netflix's most popular 10). We even have frontrunners for Best Actress (yes, it's Frances McDormand again, and why not?), Best Actor (Sir Anthony Hopkins), and Picture (Nomadland, the one with Frances). And Hanks and his news are right smack dab in the middle of this contest somewhere, lusting for nominations they likely will get, but with wins far less assured.

The target audience for News + World is set to be mature, grown-up, aged: real adults, the sort of viewer who would have given this film an honourable pair of legs in, say, Christmas 2019; and the kind of audience that is now perhaps more wary of attending theatres, while also not as fully onboard with driving down to the drive-in and necking under the moonglow as they were surely doing 45 years ago. That might leave the title in a sort of uncomfortable middle ground, though older-aimed action dramas like Honest Thief (Liam Neeson) and Let Him Go (Kevin Costner) each opened with $4m and held over respectably.

But you know, streaming, right? News of the World will eventually will be seen. You won't even need a guy who can read about it to you.

Total gross: $13 million

5. Soul (December 25th on Disney+)
Disney is putting Soul on the house tab at 4AM Christmas eve, and I have so little to say beyond standing there mouth agape, thoughts never-to-be gathered. What can I put out there about this film, other than, much like many other animations from both Pixar and its numerous rivals, Soul has a clever, life-affirming story, appealing to all ages, it looks great, having been animated to perfection, and it has received some such high wave of critical praise, the kind of reviews that threaten to at least put a dent in the 100% Fresh ceiling most critic-aggregate websites use?

Reciting such statistics for animation becomes dull, and almost obligatory. Show me the major animation that's been panned, the Pixar that's been hated and driven from town, the (modern) cartoon that's accused of being insensitive, grotesque, and mean. They happen, but not nearly enough. Soul is thought-provoking, tasteful, mature-but-still-for-kids, and funny? Most probably, it is. But if so, why would anyone want to see it?

In the film, Jamie Foxx voices a kindly and moustached old jazz musician who happens to lose his, well, soul, as, in a non-death situation, it departs his body and goes up into the sky and gets itself lodged in some kind of purgatorial waiting space for spirits (...I hate it when that happens. And speaking of old jazzers, Viola Davis stars in Netflix's Ma Rainey's Black Bottom, a film which to this one I view as both complementary and supplementary). In that spiritual limbo, what's left the musician meets a ghost sprite creature (Tina Fey) with a great personality, and a beautiful relationship forms that will define the rest of the film. The direction is by Pete Docter, a veteran of both Up! and Inside Out, so you're basically assured what you're watching is going to be quality - boringly assured, as I said.

Pixar was there at the beginning of the current crisis, and now appears at this critical juncture point. Their other 2020 film, Onward, is the nice little story of a pair of elvish creatures and the merry road trip they have with the half-formed living corpse of their deceased father, a film which also had the misfortune of opening on March 6, before being practically forced at gunpoint to go on Disney+ instead three weeks. At right over $60m, it of course is Pixar's lower-grossing film, and one that apparently hasn't quite registered to our citizens yet (a pretty simple clue on Jeopardy! just this week produced not one out of three contestants who could name the darn thing).

Originally set for November 20, Soul will be going right on Disney+ on December 25, absolutely free of charge (...for people who already subscribe). There is actually a lot of precedent there, though not at this level: the sweet The One And Only Ivan and the extremely avoidable Artemis Fowl were two Disney theatrical films set for 2020 that were sent directly to the "+" section this summer, and of course Mulan premiered on the service too, but, initially ran for a hefty extra fee. So Soul is arguably the most high-profile, biggest-earning potential theatrical release yet to be sent directly to stream away into the night for no additional charge.

For Christmas day "moviegoers" looking for a consensus option, it gives some competition to Wonder Woman 1984, even if at the end I imagine most people in America will see both. Some pop culture you can't escape from.