The 400-Word Review: Ma Rainey's Black Bottom
By Sean Collier
December 16, 2020
BoxOfficeProphets.com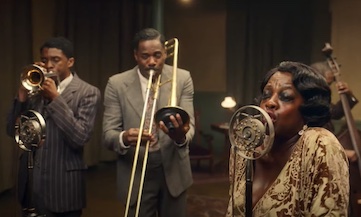 ---
Films containing the final performance of a gifted actor run the risk of being overshadowed by circumstance. The vivid life of a now-absent performer has a tendency to pull the viewer away from the narrative — and when the actor is as talented as the late Chadwick Boseman, it's even more distracting. It would take a damn good movie to shake off that weight and thrive.

Fortunately, "Ma Rainey's Black Bottom" is a damn good movie.

The second adaptation of an August Wilson play produced by Denzel Washington — after the acclaimed take on "Fences" in which Washington also starred — "Ma Rainey's" once again puts Viola Davis, starring as the legendary blues singer, at the forefront. We find Ma during a tumultuous recording session in a sweat-soaked Chicago studio, as she spars with the executives and the band argues with one another.

The source of disharmony among the players is Levee (Boseman), an ambitious and cocky trumpet player eager for debate. He's written a new version of Ma's hit that he'd like to record; he banters with bandleader Cutler (Colman Domingo) over the need to practice and prepare; he argues philosophy with Toledo (Glynn Turman), the easygoing elder statesman of the group.

The unexpected power of August Wilson's script — adapted here by Ruben Santiago-Hudson — is the deep well of anger in Levee, and its unforeseen source. Much of the power in this film, however, is in Boseman's fierce and fearless turn; it's odd and bittersweet to suggest that this may have been the finest work in his too-brief career, but I believe that's the case. He is supernatural here, tapping into something essential.

See? I'm doing it, too — letting Boseman's passing remain front-of-mind when discussing the movie. There's plenty more to praise, especially Davis' physical, forceful acting; she won an Oscar for "Fences," and she could certainly grab another here. Director George C. Wolfe, an associate of Wilson's whom the playwright once approached to direct "Ma Rainey" on stage, manages the claustrophobic setting well, creating vivid, lived-in spaces for the actors to inhabit. Wolfe crafts a world where his performers cannot help but to give raw, honest turns.

"Ma Rainey's Black Bottom" is perhaps not the most natural play for a cinematic adaptation; its structure is more suited to the stage. Yet this movie is so good that it hardly matters; it's a bracing, urgent film.

My Rating: 9/10

"Ma Rainey's Black Bottom" is streaming on Netflix.