The Number One Movie in America: The Mask of Zorro
By Sean Collier
December 11, 2020
BoxOfficeProphets.com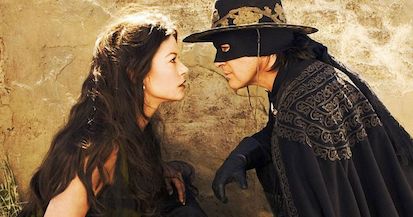 ---
The thing about Zorro: Zorro is fun.

When the masked swordsman swung back onto screens in July of 1998 with "The Mask of Zorro," he represented the first wave of the great intellectual-property-resurrection movement that has continued to this day. While reboots of long-languishing characters and concepts are thought of largely as a 2010s habit — we're still reeling from "The Lone Ranger," admittedly — the die was cast back in the '90s, with everyone from "The Flintstones" to "The Beverly Hillbillies" brought back from the bargain bin.

It's a movement that would quickly become mired in self-importance. By the mid-2000s, there was an (incorrect) feeling that big-budget revivals of such properties should be gritty, dark and serious.

In the '90s, however, wacky fun still had a solid foothold; thus, while "The Mask of Zorro" is not quite a comedy, it is undeniably fun. This Zorro bears more in common with his distant grandson Indiana Jones than he does with his more direct descendent, Batman. Zorro — two Zorros, in fact — swing from chandeliers, banter with disobedient horses and find plenty of time to flirt amid all the swashbuckling.

It wasn't a sure thing. Zorro hadn't been particularly relevant in the United States since the late '50s, when Disney's television series and a few spin-off films mostly made of reused footage became hits. Even in 1998, the first Zorro film was positively ancient; "The Mark of Zorro," with Douglas Fairbanks behind the mask, was released in 1920. (Where's the 100th-anniversary Blu-Ray, by the way?)

To revive the character, Amblin Entertainment (Steven Spielberg is listed as an executive producer) pulled together two ascendant — and, vitally, ridiculously attractive — stars. Antonio Banderas and Catherine Zeta-Jones gave "The Mask of Zorro" the star appeal it needed, without risking the backlash that can come when a new franchise picks stars that are perhaps a bit too ubiquitous (see Tom Cruise in "The Mummy"). Anthony Hopkins — utterly unbelievable as Spanish though he may have been — lent the necessary gravitas.

As vitally, director Martin Campbell knew what to do with the property. He was fresh off the Bond-saving "Goldeneye" (in fact, he turned down "Tomorrow Never Dies" to move to Zorro) and understood that audiences of the era required big set pieces, wry-but-not-condescending humor and just enough sex appeal to make sure that no one was upset about bringing their 10-year-old.

Even with all of those elements, however, it was a big but not massive hit. "The Mask of Zorro" won its opening weekend with a $22.5 million haul, but fell to second place the following week to the debuting "Saving Private Ryan," which would go on to become the year's biggest film. "The Mask of Zorro" earned a respectable $94 million, finishing 19th on the year-end charts; that's a hit, to be sure, but when you're a runner-up to the likes of "The Prince of Egypt" and "Enemy of the State," you are perhaps not in franchise-launching territory.

"The Mask of Zorro" was a sizable international hit — many, many Zorro films have been made around the world — so a sequel, 2005's "The Legend of Zorro," did see the light of day. It was close to a flop domestically, earning a mere $46.4 million, ending the abbreviated franchise at its second installment.

You just can't keep a legendary — and public-domain — character down, however, so more Zorro is always in development. Allegedly, there's a series about a female descendant of the original Zorro in the works at NBC.

If they're smart, they'll make it fun.

"The Mask of Zorro" is the subject of the latest episode of The Number One Movie in America, a look back at past box-office champions. Each episode's film is drawn at random from a list of every number-one movie since 1977. Please listen and subscribe!

Next time: From Zorro to a superhero that is, basically, Zorro but a lot more moody.