November 2020 Forecast
By Michael Lynderey
November 13, 2020
BoxOfficeProphets.com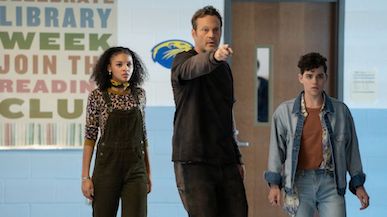 ---
The month's schedule of wide releases is thin, to be sure, but it includes a slasher movie comedy right smack in the middle, and that's all I would've cared about even in a November stacked to the brim with content, anyway (see for example the December 2019 forecast. Did anything besides Black Christmas really come out that month? I mean, really?).

November 2020 has other openers for other people, of course - Kevin Costner shooting bad guys, honourably, and an animated franchise brimmed in pre-history yawning awake after seven years - but, even while big-screen movies have not quite made their comeback, it's the humorous horror film that everyone is talking about. (everyone I know, anyway).

1. Freaky (November 13th)
♬ I woke up in Vince Vaughn's body.
♬ So let's once more remake Freaky Friday.
♬ He's a mad slasher turning my prom night sideways
♬ I can't believe it's freaky friday... the 13th.
-Freaky Friday (song), by Lil Dicky and Chris Brown, 2018; paraphrased, and edited for considerable profanity.

That was the song. Here is the movie. Stabbed by a magical dagger, a shy teenage girl with all the problems that age entails switches bodies with one of those escaped serial murderers that's always going around.

If you loved Happy Death Day...

This is from the same people. Jason Blum produces and Christopher B. Landon directed, as with that 2017 horror comedy, which turned Groundhog Day into the entertaining story of an angry and hungover college student who begins the same morning over again, every time she's killed by the masked mystery slasher whose identity she must finally solve to break the chain. Got that?

Now we have Freaky, which takes the bold stand that if we are to have remakes made of Freaky Friday in perpetuity, one of those fridays may well fall on the 13th (yes, inevitably, Freaky Friday the 13th was actually the film's original title, and in years future I'll miss it). Indeed, Freaky Friday (1976) is probably the first film most people think of in that long chain of stories about two polar opposites eating Chinese fortune cookies, switching bodies, and learning to be better if somewhat more tediously open-minded people in the process. The original starred Barbara Harris and young Jodie Foster, and, putting aside the clever idea thieves (Big, Vice Versa) and many cable re-dos, the 2003 remake headlined Jamie Lee Curtis and Lindsay Lohan (as young as she was ever going to get), grossing a $110m total and becoming almost the leggy smash-hit of late summer 2003 (even bigger than Freddy Vs. Jason, if you can believe it!).

Happy Death Day grossed $55m and rated 71% positive on the Tomatoes, and Freaky ups the ante on that score to 87% (which is like 350% positive if you adjust it for my movie tastes). For films featuring a teenage girl switching places with a scruffy older man, this definitely came in critically above The Hot Chick. And hey, that's a great formula for Freaky 2020 - take a classic comedy/fantasy film that's beloved by a generation of innocent parents and children, add an R rating and a tad of slashing, and it's showtime! And sometimes it's a big tad. The possibilities are endless.

How about an Evil Bruce Almighty, where our hero gets the chance to be the Devil for a day? Or Love Is Dead Actually - the tale of seven lonely necromaniacs who search for romance around the holidays in jolly, disease-free London? (did I mention they're also nymphomaniacs?).

Freaky stars Kathryn Newton, who's appeared in any number of teen roles in her 23 years, and has perhaps most prominently had the inenviable task of being forced to act opposite a teeming horde of non-existent CGI-animated monstrosities in that Detective Pikachu movie (she signed on for Pokémon under duress, I'm sure). In this film, she swaps bodies with Vince Vaughn, playing a legendary serial killer, and right before prom, too!

The plot then proceeds as it must: the 6'4'' and older-than-sin Vaughn must convince her high school friends who she really is inside; while the teenage and tiny Newton, now dressed to kill, embarks on a brand new spree with his new body, both more youthfully ready to commit murder and carrying all the sadism and unabated evil inherent in a teenage girl. Boy, when she switches back, they'll have a tough time explaining that one to the police! (although that excellent film Bride of Chucky actually implied that the Chucky doll somehow carried the fingerprints of the man whose spirit was inhabiting it, so who knows if DNA travels with you wherever your soul goes).

While I'll gladly take in the film at a local drive-in, it almost seems a shame not to open it at... another time, when it perhaps could have had a weekend gross more akin to what it will likely carry only as a total number (heck, Happy Death Day opened to $26m, so why not?). Does the world not deserve a Freaky 2 and Freaky 3 and as many remakes as the non-serial killer Freaky Fridays got? Of course we do.

Opening weekend: $5m / Total gross: $22 million

2. Let Him Go (November 6th) and The Croods: A New Age (November 25th)
Don't let my lack of Freaky-level enthusiasm fool you. Kevin Costner and Diane Lane star in Let Him Go, based on Larry Watson's novel and directed by Thomas Bezuca (The Family Stone), and described as a "modern western" even with the 1964 setting. This title opened last week, when it had a four million+ weekend (the fifth biggest since March, believe it or not), which means all those commercials on CNN during the most torturously slow vote count of all time (seriously, five damn days!) really paid off. You could say those trailers found the right audience at the perfect time.

Costner and Lane star as a couple whose grandson is ensnared in all sorts of illegal criminal activities out in Montana, and whose life finally becomes sufficiently threatened to necessitate some mom-and-pop action (if Costner is glaring hungrily at a rifle floating next to his shoulder on the poster, and he is, you can bet that thing's going off). So we have gruff, low-key, quietly manly, confidently noble, action, if the Costner name means anything in the genre, and it does. And it's a good role for Lane, too, and for Lesley Manville as the crime lordess who Costner is saving that very last bullet for.

Elsewhere, Universal seems ready to open their sequel The Croods: A New Age on Thanksgiving Wednesday, November 25, perhaps enthused by The War with Grandpa's $12m+ take, and also the numbers SpongeBob 3 has been pulling in its Canada-only release (hey, $4.8m adjusted for population is $48m; albeit those were before daily case numbers spiraled again here). Kids movies are doing ok, and if The Croods makes $30m or $40m, presumably the studio will be happy.

The Croods are, of course, primitive humans residing thousands and thousands of years ago, where they have comedic interactions with various prehistoric paraphernalia, including loinclothing, sloths, and those big clubby axe things that are still actually quite useful, all those years later. Nevertheless, the clan have sufficiently experienced the evolution process to prove entertaining to very 21st century-era children, at least good enough for the original film, which grossed $187m in an otherwise fairly docile March 2013.

The franchise's quite lengthy road back to theatres is surprising, if not tragic. Indeed, seven years or not, the voice cast of the original are mostly back - Nicolas Cage, Emma Stone, Ryan Reynolds, Cloris Leachman, Clark Duke - and I imagine the film will be very popular on various streaming platforms and random-but-actually-meaningless letter combinations - VOD, PVR, DIY, whatever, just as Scoob! and Trolls 2 have been for most of the year. (the fact that The Croods and Spider-Verse were Nicolas Cage's highest grossing films of the 2010s is also kind of note-worthy, and, regrettably, it wasn't a close race. No love for his film Mandy?).

To be less comedic for just one second, I think management should probably have moved the November date, and maybe they still will. In a certain sense, Croods 2 can be seen as the biggest film to receive a national release since March, even with Tenet in town (I know, I know). Whether for its benefit or for its audience's, 2021 seems more like a Croods year, and waiting eight years for a Croods sequel will probably be no less grueling than the seven we've already experienced. We'll see.