The 400-Word Review: The Opening Act
By Sean Collier
October 18, 2020
BoxOfficeProphets.com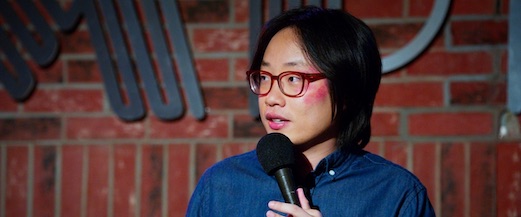 ---
You could make a documentary about modern stand-up comedy and it wouldn't have half the truth of "The Opening Act."

There are nonfiction films about stand-up, of course, and many of them contain plenty of genuine insight. But what's captured in "The Opening Act," written and directed by Steve Byrne, is the endlessly frustrating feeling of life as a stand-up — one marked primarily not by laughs, but by uncertainty.

In the interest of full disclosure, I'm a part-time comic myself. In the interest of fuller disclosure, both Byrne and I are from Pittsburgh — the setting of "The Opening Act" — and I've met him many times, so I can't feign a complete lack of bias. But that also gives me the experience to assure you: This movie demonstrates exactly how it feels to navigate the bizarre micro-culture of comedy clubs as a young, unsure performer.

The performer here is Will O'Brien (Jimmy O. Yang), an awkward but undeniably funny twenty-something who can reliably get laughs at the open-mic night in Steubenville, Ohio. Such success is not exactly lucrative, so he maintains a soul-crushing job as a claims adjuster, barely tolerating his aphorism-spewing boss (Bill Burr) and angling for better opportunities.

One arrives when a more seasoned comic (Ken Jeong) asks O'Brien to take over a club weekend in nearby Pittsburgh, serving as the MC for legendary-yet-faded stand-up Billy G. (Cedric the Entertainer). O'Brien is overjoyed at the chance to open for a hero, but quickly finds himself forced to navigate a slice of life that he doesn't quite understand — and one that is not exactly hospitable to newcomers.

Byrne depicts a curious contradiction here, one known only to those who have dealt with a weekend at an unfamiliar comedy club: While everyone O'Brien meets, from the no-nonsense bouncer to the sound guy to the headliner, is constantly dispensing advice and instructions, they're also all irritated that O'Brien doesn't already have the answers. It's a world that demands both professionalism and constant openness to instruction — and it took careful craft to render that on-screen.

Byrne packs his cast with funny folks, including Alex Moffat, Iliza Shlesinger, Whitney Cummings, Tom Segura and many more; nearly everyone who speaks in the film is a comedian. That helps the film feel genuine and lived-in. It's a low-stakes affair, but the tension and anxiety are very real.

Trust me. Very real.

My Rating: 7/10

"The Opening Act" is available via digital on-demand services.