October 2020 Forecast
By Michael Lynderey
October 14, 2020
BoxOfficeProphets.com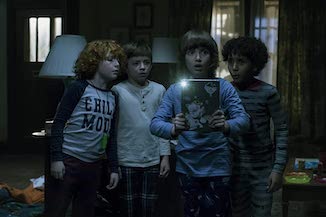 ---
Nutty children's horror classic Hocus Pocus is poised to dominate the box office for the month of October, taking its 1993 gross of $39m up to, let's say, $50m, so that all will be right with the world at last (I was always confused why Disney released this film in July, and on the same day as Free Willy (!), of all the classic tearful heart-tuggers in the world. Now, the historical oddity can be remedied).

So that means Bette Midler and her Salem witch friends are with us on the big screen in 2020. But everyone else is saying goodbye to the year for now, leaving viewers to fend for ourselves: Wonder Woman 1984, lasso in hand and scowl on face, gone. Black Widow, kicking and packing and at the door. Dune, in all its three hour (sorry, three hour+) glory, pushed back many a month, deeper into the 2020s. And then James Bond in No Time to Die, the first major film to be delayed because of 2020-related reasons, has already checked in his bags at the airport yet once more (well, ok, after 57 years, did the world really need another very long movie with James Bond in it, pronto?).

With most everything else gone, the box office in these early days of October 2020 has stabilized into a top 10 chart consisting of a handful of remaining major releases, many of them from late August, matched by surprisingly wide re-issues of millennial nostalgia traps, choice films picked out from the years ranging roughly from 1975 to 1993 (so, the 1980s, broadly defined); and then on the lower runs of the charts, there are regional, pulpier, smaller releases, largely at drive-ins, and heavily leaning towards the horror genre, The Wretched, Relic, Becky - the fun stuff.

It's the box office wild west. Nothing opens big and everything grows 'em some legs, with films playing for weeks and weeks on end in pursuit of a desirable total number like, say, The New Mutants' $20m (Unhinged is well on the way, too), with Tenet's $40m+ as a sort of golden crown of post-March 2020 moviegoing. In short, a 2020 numbers chart looks much like box office straight out of the 1970s.

But they had Hallowe'en in the 1970s, too, so have a happy holiday!

1. Come Play (October 30th) and lots more horror
♬ Oooh, I'm gonna decorate the house for Halloween ♬
♬ with scary ghosts and bats and creepy crawly things ♬
♬ It's the most wonderful time of the year ♬
-Liane Cartman, "South Park," October 1997

Azhy Robertson from Marriage Story is the haunted child at the focal point of Come Play, a late-in-the-month release which is the year's eleventh major horror film (fact: for obvious reasons, 2020 will have the smallest number of wide release horror movies since 1994, which had about nine. The particularly frightful 2007 was the peak, at 35). In Come Play, the villain is a supernatural monster with very long limbs and rather blunt name ("Larry"), and the boy's parents went and got themselves cast with John Gallagher, Jr. and Gillian Jacobs, who look just the right amount of worried in the trailer. Elsewhere, Disney is promising another horror title, The Empty Man, for October 23. We'll see if it makes it.

But outside of theatres, this month, there are still many films in the greatest genre, the fright film, to be found. Halloween (1978) will be making its way through the drive-in circuit, in tandem with Halloween 4: The Return of Michael Myers (1988) and Halloween 5: The Revenge of Michael Myers (1989), decidedly countering claims by Halloween (2018) that these films never even existed ("did you, like, know that, between 1978 and 2018, no one had ever thought of making a sequel to Halloween? How stupid were they!" - I believe that's a direct quote from Danny McBride's script for Halloween 2018).

But those movies are real. Part 4 is respectable, with characters who are a little smarter than expected, at least in the film's first half (for one, the town's sheriff immediately believes Michael Myers' pursuer, Dr. Loomis, and suspends all trick-or-treating). Part 5 is a bit more of a grim ride through the darkness, as the films' mainstay, Donald Pleasence's Loomis, became a sort of slightly less frightful Santa Claus: he arrives in the town of Haddonfield, Illinois year after year within days of the 31st, warning of impending doom, and proceeds to run through the darkest night and pump heedless rounds of bullets into Michael Myers ("I shot him six times!," indeed).

Aside from other drive-in releases like The Call and Possessor Uncut, much horror will be found on streaming, too, with eight new films from Blumhouse on Amazon Prime, and then of course Shudder's always on. Netflix has Babysitter 2, which was actually quite good, and are also putting forth Rebecca with Armie Hammer and Lily James, and their Hill House sequel series, The Haunting of Bly Manor (hey, I finally finished the first season this May, so I have great hopes I can tackle Bly by 2023 at the absolute latest). Netflix also credits itself for Adam Sandler's latest experiment in terror, Hubie Halloween: a... horror comedy.... which became available for streaming Tuesday night at 3AM, within minutes of which I'd began watching it, all so I could have the right to instantly report that it was a truly, truly, terrible, film. Still, the movie is visually striking, with the set design having really gone to town on the Hallowe'en paraphernalia in Salem, Massachusetts; here is a film that looks like October, and so it's worth seeing. Just don't forget to turn off the audio.

2. After We Collided (October 23rd)
After is Anna Todd's... strikingly... popular book series about the romantic exploits and assorted misadventures of a pair of college students whose minds are not quite on their studies. They began as fan-fiction about a certain fairly talented British singer who shall not be named here (initials, "H. S."), and then were in the good name of commercial appeal transitioned into a simple, civilian-only, love story, with the names and identities changed from the original version to protect the famous from undue embarrassment (it didn't work).

After (2019) was the first film based on their love, a movie that grossed $12m in North America and then an additional, oh, $57m, give or take, internationally, if you're wondering both why a sequel is here and then two additional films are slated to hit our screens forthwith (that's a lot of story that is dying to be told).

After began with a near-implausibly innocent and virtuous eighteen year-old girl who gives a chaste peck on the cheek to her boyfriend as she's dropped off at college, where she then enters into, well, actually, still a fairly PG-13 relationship with a tattooed British guy; who, at the end of the day, is revealed to also be a pretty nice guy, really, with maybe a bad habit or two somewhere - like he snores or something. If all this sounds like a first-world problem, I can assure you that it is. And hey, they're my favourite kind.

In the sequel, our heart-mad couple will encounter... more complications... if not particularly sophisticated or challenging ones... on their way to unquestioned bliss all the way in the fourth film (I'm just assuming they get married?). So, what struggle shall befall their doomed-to-succeed romance this second time? There's a breakup, an internship, and Dylan Sprouse, the brother of Cole Sprouse, Jughead of Riverdale, but what chance does he have to demand romantic interest of our heroine for longer than 40 minutes, being neither tattooed nor from the British Isles? Zero. A young and less known supporting cast populates the credits, but the girl's mother was and still is played by Selma Blair, who was in Cruel Intentions (1999), while Roger Kumble, who directed that film, has been convinced to helm this one too.

After We Collided (which is actually a good title, this time) opened in Canadian drive-ins in early September, where I just missed it, and where it grossed a quite respectable $3m even without my help (that would have been roughly $30m in the U.S. if you adjust for Canada's per capita unpopulousness, a number of people ten times smaller than the U.S.'s despite Canada having so much more land mass).

Now After 2 makes it to some American screens, with VOD play also a same-day option. Let's see how it does.

Total gross: $2 million

e

3. Honest Thief (October 16th)
If any living actor were to star in a film titled "Honest Thief," it would be Liam Neeson. Though I think he has promised to quit doing action, cold turkey, a couple of times now, here is a man whose 2010s filmography can pretty much be summarized in this lively cliché, a respectable, aged criminal who breaks the law while holding on to his morals, blissfully unaware of the various oxymorons involved.

The film tells more or less that story, with Neeson as a master thief placed into another prototypical thriller plot: drawn into violence just one last time - no, the lastest of lastness times, really, as final as they get! - to commit a particularly profitable crime, before he can live out the rest of his golden years in peace and material riches. Villains (Jai Courtney, Anthony Ramos) threaten both to take up his spare time and the people who he holds dear (Kate Walsh as Neeson's menaced paramour). I predict the vault will be opened, the damsel will be rescued, and that those bad guys are f--king dead, to be splattered on the sidewalk at Neeson's discretion.

Run All Night (2015) remains my favourite of the 2010s Neeson vehicles, with The Grey (2012) a close second, an existential feast. His recent box office returns have stabilized somewhere in the early $30ms (The Commuter, Cold Pursuit), and that has been probably good enough to keep making more.

Honest Thief is one of the remaining wide theatrical releases of the year 2020, an interesting if frightfully accurate statement to be making in early October. I assume its distributor did not flinch because they regard Russell Crowe's success with Unhinged as a sort of barometer for plausible box office (hey, Unhinged grossed $20m, a total I'm not sure it was guaranteed to claim in most alternate universe 2020s). They must think this film can do much the same and better. I believe that is possible.

Opening weekend: $3 million / Total gross: $13m

4. The War with Grandpa (October 9th)
Perhaps recognizing the bare market for children's films, this light-hearted Robert DeNiro title, which has ventured far and wide on the release schedule over the last several years, finally really makes it a date this October.

Oakes Fegley, a young and insanely talented dramatic actor (Pete's Dragon, Wonderstuck, The Goldfinch) has here been shifted to a comedic role opposite a man who in fact could also be described as an insanely talented thespian (seriously, did you see his work as Murray Franklin in Joker?). It's about a young teen (Fegley), who, understandably displeased with suddenly having to share a room with his mother's father (De Niro), hatches any number of (non-lethal?) schemes to have the man vacate the property, forthwith, and never come back. And holy s--t, his parents are played by Rob Riggle and Uma Thurman! Uma! Jane Seymour, Cheech Martin, and Christopher Walken are among the other actors sacrificed here at the trough of comedy. Was it worth it?

If you liked Dirty Grandpa...

Here is the PG version. As in that DeNiro/Efron picture, which I found strangely underrated (I know, I know, my bad), what we have here is a generational conflict, leading to bonding, though with the bombastically and vile sexual content kept to an absolute minimum rather than raised to maximum. So this time, no naughty bits, no copious profanity, no late night belly dancing in clubs with the old man, and no Aubrey Plaza emitting vile and entertaining platitudes just under her breath yet still within audible earshot (did you know Plaza and DeNiro's characters married and had a kid at the end of that movie? No, really! Spoiler alert, indeed). I think families who still want to journey to the theatre will appreciate the option.

Opening weekend: $2 million / Total gross: $9 million

5. The VOD duo: Love and Monsters (October 16th) and The Witches (October 23rd)
The pair are two of the month's set-to-be theatrical releases that've been sent to streaming, a sort of noble gesture given the times.

Not to be confused with the upcoming Monster Hunter, who is played by Milla Jovovich, Love and Monsters is a post-apocalyptic film about a world equally beset by the two evils in the title, where a love struck twentysomething decides to venture out into the monster-conquered world outside to reconnect with his old high school girlfriend (she's not one of the monsters). This somewhat topical story stars Dylan O'Brien, who does not resemble Jovovich, and who had the Adam Brody role on the show Teen Wolf - a witty sidekick to a muscular lead - and naturally emerged as the program's biggest breakout. He transitioned into lead film roles in The Maze Runner (2014), Deepwater Horizon (2016), and American Assassin (2017) - all surprisingly humourless characters for an actor who came to fame for sarcastic refrains. Why the constant casting against type? I think O'Brien could have made more of an impact had he chosen roles with comedic possibilities. Here, he may have such a part.

Like Antebellum before it, Love and Monsters was moved from spring, and lands on VOD at horror holidaytime, pointedly. The other film culled from the theatrical schedule, The Witches, more or less retains its original date as it premieres on HBO Max, and is the somewhat inevitable remake of the 1990s children's horror film about a little mouse-boy who discovers that witches are real and hate children almost as much as middle-aged comedians do.

Anne Hathaway plays the Anjelica Huston role, a tall and imposing madame who's been elected Grand High Witch, and who vamps around a European chateau before transforming back to her lovely natural state of oversized nose and facial wart monsters. The young boy's surprisingly unhelpful aunt was played by Mai Zetterling in the original, now Octavia Spencer, the setting has been moved to Alabama in the 1960s (uh-oh!), and the plot involves something about the eradication of all children from the face of the earth (I think puberty will do that for them, actually). The harridans turn the unsuspecting child into a mouse, a condition that (spoiler....) by film's end is not quite exactly remedied, although there is hope.

The director is Robert Zemeckis, who in between making prestigious Academy Award films with unfathomable runtimes (Forrest Gump, Cast Away) has been side-dabbling in the horror genre (he was a co-producer on Tales from The Crypt way back in the day), and here finally jumps right to it. The Witches was originally a Roald Dahl novel, after all, an author whose tales of loving grotesques torturing innocent children have understandably been quite popular (Matilda, James and the Giant Peach, Charlie and the Chocolate Factory). And The Witches too plays on an idea that like many in Dahl's repertory literalizes what many little boys believe, that the sometimes unkind older women they encounter are secretly evil witches who want to trap, cook, and eat them, in that order.

Hell, I still believe it.