The 400-Word Review: Death of Me
By Sean Collier
October 4, 2020
BoxOfficeProphets.com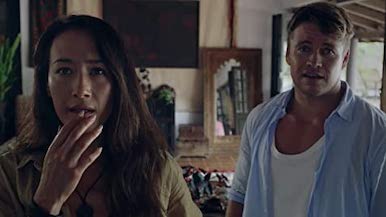 ---
Maggie Q keeps getting into serious vacation trouble.

For the second time this year, the decidedly underrated performer finds herself in bad shape on a remote island. Sometime before theaters closed, she paid a visit to the rebooted and newly sinister "Fantasy Island." Now, in "Death of Me," she's on a mysterious isle off the coast of Thailand with her husband — and they've discovered a video which appears to depict her own death.

These things don't happen as often when you just go to Disney World.

Anyway, Christine (Q) and Neil (Luke Hemsworth) wake up with a wicked hangover and no memories of the preceding evening. Neil, a slightly hapless travel writer, is seeking an off-the-beaten-path location to cover; he's certainly found it, an isolated and paradisal isle where mysterious occurrences are categorized as "island magic."

As they attempt to piece the night before back together, they find an unintentionally recorded video that appears to depict Neil killing and burying Christine after an animalistic sexual encounter. The pair will get very little help and plenty of ominous stares as they try to figure out how, precisely, Christine remains alive.

Director Darren Lynn Bousman — of several "Saw" films and "Repo: The Genetic Opera" — and a trio of screenwriters are united in their obstinate avoidance of the underlying discomfort here. There is an unmistakable and unavoidable racial component to the tale, as the Americans are tormented by ritualistic islanders. At one point, the film name-checks "The Wicker Man" as a point of comparison; this seems to embed an argument that the villain of the film is religious mania, not any national or racial component, as in "Wicker Man" or "Midsommar."

Whether that distinction is enough to get you to accept "Death of Me" without scrutiny is up to you. Generations ago, such plots were commonplace in horror flicks — voodoo used to be a go-to explanation, for Pete's sake — and some filmmakers still believe they can walk the tightrope without causing offense. Whether they succeed here is a judgment call, and I wouldn't begrudge anyone either conclusion.

Putting that aside, "Death of Me" is effective if repetitive. Q is a natural lead, and the photography is impressive; it's a sufficiently creepy film. It does tend to drag, though; even as things get positively supernatural, these vacationers spend a long while not accepting that they're deeply, deeply screwed.

My Rating: 6/10

"Death of Me" is available via digital on-demand services.