The Number One Movie in America: The Time Machine
By Sean Collier
September 20, 2020
BoxOfficeProphets.com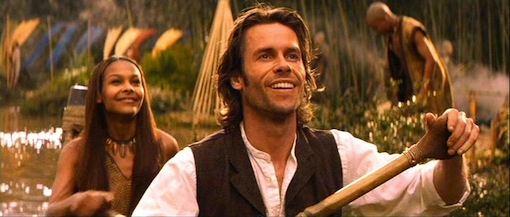 ---
Eighteen years after the brief and unremarkable release of "The Time Machine," a loose remake of the 1960 film and thus a looser adaptation of the H.G. Wells novel, there's only one distinguishing fact about the film.

Improbably, it was directed by H.G. Wells' great-grandson.

Simon Wells was a veteran of animated film by the time "The Time Machine" entered pre-production. He was the supervising animator on "Who Framed Roger Rabbit," and later served as the director of several non-Disney cartoons which managed to hit in the midst of the Mouse House's Renaissance, including "An American Tail: Fievel Goes West" and "The Prince of Egypt."

Someone at either DreamWorks or Warner Bros. — it was a rare co-production between the two studios — noticed the H.G. Wells scion puttering around Hollywood, and clearly thought it was a great idea to have the (much) younger Wells helm the ambitious reboot of "The Time Machine."

This proved to be a mistake.

Despite his considerable talents in the animation realm, managing a demanding, live-action production didn't agree with Wells, who exited the production weeks before it wrapped. DreamWorks cited "extreme exhaustion," which is a nice euphemism for "holy crap get me out of here."

Gore Verbinski swooped in to get "The Time Machine" to the finish line; supposedly, Wells returned for post-production. He wouldn't direct again until 2011's "Mars Needs Moms."

"The Time Machine" feels very much like the result of a troubled production; some scenes work and some don't. Large swaths of the story don't make sense, though there is brilliance in a few minor plot points. It's too short but feels too long. It spends too much time in dull stretches — feel free to nod off once Guy Pearce, as our designated time traveler, makes it past 800,000 B.C. — and skips over more intriguing developments.

Looking back, it's also painfully tropey, with Pearce's motivation coming when his fiancee is gunned down as part of a mugging gone wrong. He invents the titular machine solely to undo her death — at which point she's struck by an errant carriage and killed again. If he had kept looping back, we would've had an early prequel to "Happy Death Day." He settles in the future, of course, after rescuing and thus snaring the affections of a big-eyed young lass played by Samantha Mumba.

There are some high spots; a few of the effects were novel for 2002, and the eventual arrival of Jeremy Irons as a blue-skinned Uber-Morlock (that's, uhh, actually his credited character name), is more than welcome. Irons — who looks like a slightly more PG-13 Pinhead from "Hellraiser" — also, improbably, earned "The Time Machine" an Oscar nomination; it was one of two nominees for Best Makeup, losing to "Frida." (Irons is the only character in appreciable makeup.)

Overall, though, the film is flashy but hollow. The returns bore this out; it scored a one-weekend win, with $22.6 million, before dropping all the way to fourth place in its sophomore frame. It was out of the top 10 in less than a month.

Simon Wells was probably relieved to see it go.

"The Time Machine" is the subject of the latest episode of The Number One Movie in America, a look back at past box-office champions. Each episode's film is drawn at random from a list of every number-one movie since 1977. Please listen and subscribe!

Next time: I never meant to cause you any sorrow.