The Number One Movie in America: 10
By Sean Collier
September 12, 2020
BoxOfficeProphets.com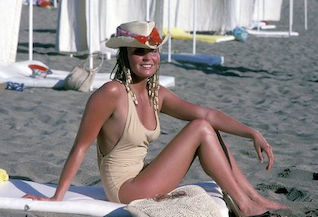 ---
If you were tasked with writing a one-sentence description of the 1979 comedy "10," you'd probably end up with the following: "Wealthy man struggles with the fact that he can't have sex with everyone."

In the early moments of the once iconic but now mostly forgotten film, protagonist George Webber (Dudley Moore) is cruising from mansion to recording studio in a luxury car, listening to a recording of his phenomenally talented girlfriend, Samantha (Julie Andrews). Yet he's miserable; there are all these buxom young women running by, you see, and he appears to take their bikinis and workout gear as some kind of personal insult.

Obviously, this wouldn't fly today. I'm surprised it flew then.

The height of Webber's mid-life crisis occurs when he spots an alluring bride (Bo Derek) and follows her into the church. Then bothers the priest to figure out who she is. Then makes an appointment with her dentist father to try and get more information. Then follows her to Mexico, where she's on her honeymoon.

You know: It's one of those stalking comedies.

Looking back at forty-plus-year-old movies always involves some degree of distance; there will inevitably be jokes, references and attitudes that did not then register as problematic that seem glaring today. In the best of cases, these are no more troubling than outdated language; in particularly alarming instances, they render the film retroactively unwatchable. (I've got bad news about "Sixteen Candles," by the way.)

In the case of "10," though, I'm not sure what ever worked in the first place. It has some gags — some are even quite funny — but not nearly enough. A few of the performances are effective; Andrews is the highlight of the film. But Moore, roguishly charming though he may be, is more adept at selling the film's slapstick moments than he is at injecting any weight into it.

Was it, even then, all about Bo Derek?

A sequence of the then-unknown star running down the beach launched her career, turning her into a sex symbol and selling a great deal of tickets. It's easy to see why the scene was fixed in minds (adolescent male ones especially), and she does pop off of the screen and out of the era altogether; she's a timeless silver-screen beauty, to be sure.

That and some gags, apparently, were enough for "10" to pull in $74.8 million, landing it in the seventh spot for the year, just behind actual classics "Alien" and "Apocalypse Now." "10" outgrossed a bunch of movies you'd expect would've been bigger hits, including "Moonraker," "The Jerk" and "The Muppet Movie."

It wasn't just box-office, though. "10" was critically acclaimed, earning it five Golden Globe nominations and a pair of Oscar nods. Roger Ebert gave it a four-star review, writing, "Like all great comedies, it deals with emotions very close to our hearts."

Some emotions change over the generations, I guess.

"10" is the subject of the latest episode of The Number One Movie in America, a look back at past box-office champions. Each episode's film is drawn at random from a list of every number-one movie since 1977. Please listen and subscribe!

Next time: We're bopping through time, but at least it'll be easier to follow than Tenet.