The Number One Movie in America: The Deep
By Sean Collier
September 4, 2020
BoxOfficeProphets.com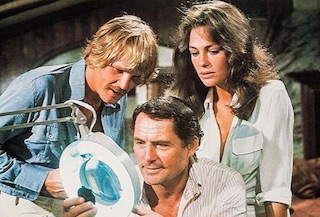 ---
Around the time that "Jaws" was becoming the biggest movie in the history of ... movies, Peter Benchley was working on another novel.

The man behind the bestselling book that introduced Amity Island to the world didn't stray from his wheelhouse. "The Deep" is another oceanfront adventure featuring average grown-ups thrown into a watery crisis. With "Jaws" mania well and truly in effect, "The Deep" was picked up for a feature adaptation before it was even released.

The resulting film stars Robert Shaw. It features a dramatic shark-attack scene. It's well photographed, with sunlight fading over a sea of blue.

In other words, it's often more of a "Jaws 2" than "Jaws 2" was.

Predictably, audiences turned out. "The Deep" opened huge, with a $6.8 million opening weekend. Contemporary reports claimed it was the largest opening weekend in history to that point, taking the record away from ... let's see here ... "Jaws."

The film, directed by Peter Yates and co-starring Nick Nolte and Jacqueline Bisset, went on to earn $47.3 million. "The Deep" ranks seventh on the year-end chart, outgrossing films such as "The Spy Who Loved Me" and "Annie Hall."

So: With "Jaws" connections aplenty and an appealing cast, what did audiences who rushed out to visit "The Deep" get? A sleepy, somewhat clunky ramble bookended by memorable scenes. The film concerns a shipwreck off the coast of Bermuda; the wreck may or may not lead to centuries-old treasure but definitely contains millions of dollars worth of lost morphine.

Nolte and Bisset play a vacationing couple who poke around the shipwreck on a lark. (Note: Please never do this.) When they discover both the drugs and some intriguing artifacts, they bring them to the attention of a grizzly treasure hunter played by Shaw; meanwhile, a deeply problematic criminal enterprise overseen by Lou Gossett, Jr., tries to get to the drugs before the treasure hunters can foil their plans.

Most of the middle of "The Deep" is a winding slog, with beautiful underwater scenes breaking up a rambling story. (This stretch also contains stunningly troubling sequences of voodoo-themed attacks on Bisset's character.) "The Deep" is definitely too long and does not, on closer inspection, stand up to much scrutiny.

It starts and ends strong, however, and that goes a long way in popular memory. The film's best dive scene occurs in the film's opening minutes, as the couple wordlessly explores a beautiful series of underwater scenes. (The scene is also notable for Bisset's outfit, which even Wikipedia notes is partially responsible for popularizing the wet t-shirt contest in the wider culture.) In a final confrontation — without explicitly spoiling the outcome — a giant moray eel is used, quite effectively, as a weapon.

If you're going to be mostly boring, open with sex appeal and tropical fish, end with an eel attack. I believe that's an old Hollywood adage.

One more historical footnote: We can't know for sure, but it looks like "The Deep" was the first film to ever dethrone a Star Wars movie. "A New Hope" premiered four weeks prior; no data remains for the intervening two weeks, but "The Deep" handily bested Skywalker and crew in the franchise starter's fourth weekend. Unless "Smokey and the Bandit," which actually came out before "A New Hope," or "A Bridge Too Far" had an odd surge in one of the intervening weekends, "The Deep" is the first film to ever steal Star Wars' thunder.

In the long run, obviously, Star Wars is a bit more of a big deal.

"The Deep" is the subject of the latest episode of The Number One Movie in America, a look back at past box-office champions. Each episode's film is drawn at random from a list of every number-one movie since 1977. Please listen and subscribe!

Next time: Apparently, we're on a '70s sex symbol kick.