The 400-Word Review: Bill and Ted Face the Music
By Sean Collier
August 29, 2020
BoxOfficeProphets.com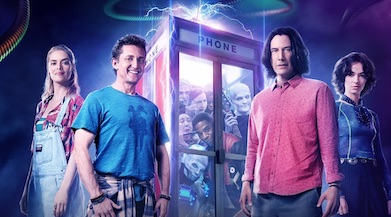 ---
While most latter-day sequels spend a great deal of time reflecting on how much time has passed, "Bill & Ted Face the Music" has no interest in considering what has changed.

It's Bill and Ted. They haven't changed. And a lack of self-awareness is critical to their characters, so how would they notice the effects of aging?

A full 29 years removed from their last caper, Bill (Alex Winter) and Ted (Keanu Reeves) are still struggling to write the song that will unite the world, as prophesied way back in '89. The Wyld Stallyns are on the rocks, reduced to playing fire halls and weddings — including that of Bill's one-time stepmom, Missy (Amy Stoch), now marrying Bill's little brother Deacon (Beck Bennett) — and their relationships with medieval princesses Joanna (Jayma Mays) and Elizabeth (Erinn Hayes) are on the rocks.

Fortunately, Bill and Ted have some pretty big fans: their daughters. (Adorably, they've named them after one another.) Billie (Brigette Lundy-Paine) and Thea (Samara Weaving) are true believers in both their fathers and the power of the Wyld Stallyns. When another emissary from the future — Kelly (Kristen Schaal), daughter of the duo's former guide, Rufus — arrives to tell them the time to finally write the song that unites humanity is nigh, no fewer than two Prestons and two Logans are on the case.

The resulting adventure is breezy, charming and fun. Reeves and Winter slip effortlessly into their own roles; not even the power of Reeves' endless string of iconic roles can reduce the Ted-ness of this Ted. Weaving and Lundy-Paine are perfect additions. The story is familiar to the original films in a solid way — less a series of winks to the prior effort and more a natural fit with the type of stories these films tell.

If there's a criticism to offer, it might be that "Face the Music" is thin. Despite an appropriately epic conclusion, the script (co-written by series scribes Chris Matheson and Ed Solomon) is happy to bop from one scene to the next with no real build.

Any ill effect of that breeziness, however, is more than made up for by the warm, affirming positivity of this film. Bill and Ted are ideal heroes for 2020; amid consistently bogus circumstances, they persist with positivity and genuine love. More now than at any other time, Bill and Ted provide a welcome escape.

My Rating: 8/10

"Bill & Ted Face the Music" is playing in both outdoor and select indoor cinemas and is also available via on-demand services.