August 2020 Forecast
By Michael Lynderey
August 15, 2020
BoxOfficeProphets.com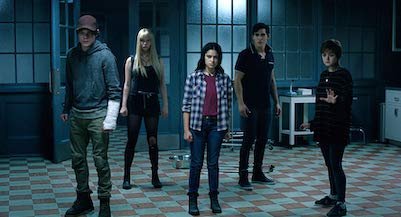 ---
As July came to a close, The Goonies held steady at the box office, taking second place, just ahead of Back to the Future, which had to settle for fourth in this round. But I didn't see all this on a 1985 box office chart, man. It's 2020.

2020, where 1980s classics fight for grosses with drive-in horror films like Followed and The Rental (Dave Franco directed that one, and I'm informed he did it well), and also with something called, truly and really, Killer Raccoons 2: Dark Christmas in the Dark, which is playing in 4 cinemas somewhere out there in America (as we know, in the absence of human attention, feral critters will overrun our cities).

But every summer must end. This one concludes itself with a few big studio films sent to streaming, and also with two promised, major theatrical releases, Unhinged and The New Mutants; a pair that is making a gallant (?) attempt at national play in cinemas, which if successful would make them the first new films to hit 800 theatres since March 13. These titles and others may or may not take away The Wretched's crown as the highest-grossing new movie of summer 2020, an honour it holds after having accumulated a box office total of $1.8m. And counting.

1. The New Mutants (August 28th)
2020 is the Summer without Superheroes, the New York Times' analyst politely informed us, although he had clearly forgotten about the existence of this decidedly un-merry band (just look at their expressions on the poster) of downtrodden mutant teenagers in their twenties, who were simply not going to budge from August 28th, perhaps their last scheduled release date.

This summer movie season's final lonely Friday night is also the mutants' one remaining dance before they're apparently rebooted again, conscripted against their will to join the really official Marvel Cinematic Universe/accept no imitators (the idea of rebooting the X-people yet again forthwith, is, of course, evil, never to have been acceptable in film history previous to the 2010s - so thank you, decade; also, why didn't anyone tell us in 2000 that the X-Men film being released then was nothing more than fan fiction?)

A pedantic and vaguely humorous history of the big-screen X-Men series, apparently written by me, can be read here (my favourite line of all their movies is still, "F*k you, X-Men: The Last Stand! Get off my planet!"). The New Mutants takes place in the same soon-to-shutter universe, starring characters who were introduced in 1982, 20 years after the regular X-people; their co-creator is Chris Claremont, the comic book titan who wrote Uncanny X-Men for 15 years, before being abducted by aliens and forbidden from ever making X-Men comics again. But his work continues, and persists.

The film is about five mutants somewhere on the early stages of maturity, who are forced to re-enact those scenes in X-Men: Apocalypse where the younger X-Men were kidnapped and harassed in some kind of superhuman testing facility (against their will). This film sounds mildly superheroey itself, but its makers have always said they're playing it within the ranks of a much more august and respected genre, horror, which means the leads have to go through an awful lot of painful angst before they finally break out.

Alice Braga plays a nice doctor at the facility who deigns to regard these mutant folk as human, after all, though the film's need for a plot twist could abruptly change her motivation. Anya Taylor-Joy, the young actress at the top of studio and fanboy "please cast" lists for just about every genre film since The VVitch (2016), stars as Illyana Rasputin, the presumably Russian-accented sorceress who is the sister of X-character Colossus (the preachy metal giant in Deadpool). Charlie Heaton of Stranger Things plays Cannonball, and I assume he was probably cast not long after his show's 2016 premiere (more on this later...). Blu Hunt is Moonstar, who creates mirages even better than Mysterio does, and there's also Wolfsbane, a girl who can turn into a wolf though does not self-identify as a werewolf; she's cast with Maisie Williams, from the TV show I shall not be naming. And finally, Sunspot, a solar energy manipulator who is played by Henry Zaga, who was one of the stars of Deadly Detention (2017), a not-particularly-good Saturday morning-pseudo slasher film I'm de facto shilling for, for no obvious reason other than slasher films are great.

It's been directed by Josh Boone, who debuted with the fair romantic comedy Stuck in Love (2012), from whose loins he was plucked to make The Fault in Our Stars (2014), which became, unsurprisingly, the biggest non-genre teen movie of the 2010s. Now he is putting mutants through the ringer, with much more copious use of special effects than the ones required to digitally blot out the leg of the male lead in his 2014 film.

As every know-it-all forecast must recount in painful and graphic detail, The New Mutants was filmed three summers ago and was then somehow ushered out of its original release date of April 13, 2018. It would have likely made another date, April 3, 2020, but fate intervened again. And now here we are, with the film seemingly set for a wide theatrical release at last, though forecasting its box office numbers with such uncertain conditions in the air (you know, a lot of hurricanes and stuff) is not easy.

There are many questions. Will this be the first new film to hit 1000 theatres since March? Or will Russell Crowe's crazy driver do the honours? And which title will outgross the other? (And also, who would win in a fist fight, Crowe or the entire cast of The New Mutants?). Either way, 20 summers ago, X-Men arguably began the modern wave of superhero films (with apologies to Blade). And now seems like the right time to come back and end it.

Opening weekend: $5 million / Total gross: $13 million

2. Unhinged (August 21st)
Road rage kills, they tell us. Be angry only in the privacy of your own home.

This is one of those films, long ago inspired by Fatal Attraction (1987), where a seemingly normal, helpful character type plunges themselves into the protagonist's life - only to turn out to be a crafty and calculating psycho with a singular, dedicated life mission of revenge! Boo! Unfortunately for all involved, this maniac by definition also has an improbable ability to conduct elaborate psychological stalking games and commit grave and morbid violence upon his chosen prey; and then, in the climax, to always stay living and able after having been shot, stabbed, and cursed at, or at least to remain long enough alive until the movie was scheduled to be over. (I'll give them some credit - these villains were usually dead enough not to inspired a sequel).

Through this genre, there were stepmothers, police officers, nannies, temps, and babysitters from hell, and this film gives us an angry driver from hell, like that guy from Joy Ride except we always see his face - and it's Russell Crowe!, playing a disgruntled and violent motorist who turns out not to be a good person after all (hmm), and who chases down after a single mother and her son, which means that the film's token casualties will have to come from non-blood relations. Or is there a close aunt or a step-brother available to die in their name?

Crowe has deigned to adorn almost every poster, but it's New Zealand actress Caren Pistorius who does the honours as the woman who must fight back against the night. Her son, soon to be traumatized for life as the presumed target of so much bad behaviour, is played Gabriel Bateman, who along with his sister Talitha has become quite a regular horror film mainstay well before hitting 20 (Gabriel alone was in Child's Play, Lights Out, and Annabelle, more or less surviving).

As with many other unlucky films, this pulpy if proud thriller has been bouncing around the summer release schedule, having made stabs at being "the first film back" on July 10, 24, 31, and now August 21, where it will probably actually succeed, after a fashion.

Film's got a plot that naturally lends itself to drive-in possibilities, where Unhinged should do particularly well, and Crowe gives the material some recognition for the curious. It's also nice as a long-time ally of the horror universe to ease the distinguished actor into this stage of his career: horror is where all great movie stars come from at the very beginning (Depp, Bacon, Aniston), and it is where they all must eventually go. Welcome, sir.

Opening weekend: $4 million / Total gross: $10 million

3. The Secret Garden (premiered August 7th)
"The summer of 1993 will be remembered as the time when every child in the world wanted to see "Jurassic Park." The lucky ones will see [The Secret Garden], too."

-Roger Ebert

Well, Mr. Ebert, I do not believe you to have been a bigot against children, but you were not exactly correct in your generalization. I can tell you that, on one sunny late summer afternoon in 1993, one young child was driven out to the movie theatre, where he in fact did view The Secret Garden, a film that he then proceeded to persistently watch again and again over several subsequent years, all before he ever even laid eyes on Jurassic Park or a single of its computer-animated dinosaurs.

Mr. Ebert, that little boy was me.

Frances Hodgson Burnett's 1911 classic novel - about sad, lonely, people leaving their house and letting the glorious bloom of nature heal their moral pain - is no less topical today than it was all those 109 years ago. Right? And now it has received a major new adaptation yet again (1949's is another standout version), and the plot as it must be - a newly-orphaned little girl travels to a remote manor in England, where - in this order - she is bossed around by the governess Mrs. Medlock, ignored by her stoicly dashing uncle, befriended by the pre-teen help (forget child labour laws), and finds herself intrigued by both a sickly young cousin and by a boarded-up garden fiercely growing moss down into the moors. And yes, I know, I know, these are all very first-world problems she's having.

The girl was played by Kate Maberly in 1993 and Dixie Egerickx in 2020. The uncle is Colin Firth, an actor who has frankly changed so little over the years that he probably could have had the same role in 1993, at 33, and scarcely a soul would have noticed (see the same for Maggie Smith, who played Mrs. Medlock in the original; I had to double-check that they got Julie Walters and Smith wasn't actually coming back). And the sets and costuming of this British production are also without fault, as expected of this fine nation.

As with every other film on this "box office forecast," a sad backstory of date changes and international intrigue - the real victim of our current situation, etc. - must be recounted. The Secret Garden was slated for 3 April in theatres, before circumstances forced it down to an August 7th date, from whence it can now be viewed on pay-per-view and streaming and possibly even telepathically directly into your brain. It was a good deal for some, and the movie was #1 on Amazon Prime. (in the UK, it's scheduled for theatres, still, on October 23. If you insist on a big-screen viewing...).

But you know, this is the summer when every child in the world demanded, not unreasonably, that their parents rent out Trolls and Scoob! for 48 hours on streaming. The lucky ones will have this one, too.

4. The One And Only Ivan (August 21st)
If the special effects in that live action Lion King movie made your day... they may just make it again.

Like some number of other big studio films this summer, Disney's taken their talking silverback gorilla movie and sent it from a theatrical date on the 14th straight to their Disney+ service on the 21st. They're putting Ivan in a TV cage, forever, though as with most non-domestic animals in films these days, our lead character has been carefully animated rather than commanded and trained (I'm rather sure the Dumbo elephant wasn't really standing there next to Colin Farrell, either).

The cage pun was on topic: based on a book with the same name, The One and Only Ivan is a true story, in its grain, inspired by an actual gorilla (no computer programmers got their hands on that one) who spent 27 years in a concrete enclosure in a mall in Tacoma, before animal rights groups arranged for his move to a zoo considered a more humane place of residence (Ivan died at the age of 50, in the same year, 2012, that the fiction book was published; I hope he at least got the chance to give the cover a glance).

The film begins in the wild, but that idyllic nature set is invaded by poachers, and then there is no more idyl. After some money changes hands under the table, Ivan ends up in a Big Top Mall and arcade, where he does not play video games for cash (that's another film), but goes instead for generally benign misadventures with his fellow residents of the animal kingdom, as well with a stray "good human" or two who care to take pity on these captured, caged beasts.

Our lead silverback gorilla is voiced by the ever-awards worthy Sam Rockwell, taking a mild break from playing racists and presidents to star in exactly the kind of movie that produces about a dozen character posters on IMPawards with a funny-looking animal and an actor's name above it. Yes, the voice cast for Ivan's cheerful jailmates is long and compelling, including also a stray dog (Danny DeVito), a chicken (the Chaka Khan?!?), a poodle (Helen Mirren...), a seal (co-writer Mike White), and an African elephant who is voiced by Angelina Jolie, who between this and the Maleficents seems to have, at least temporarily, wedded her lot to Disney. It was a Red Wedding, I assume.

Over at the live action department, Bryan Cranston paid a visit to the set, too, to challenge Michael Keaton in Dumbo and play the animal owner as a nice guy this time around. The book was written by K. A. Applegate (wow! blast from the past! Animorphs!), and the film was directed by Thea Sharrock, of Me Before You, which itself was a sort of story of a man caged. Now, The One And Only Ivan will face its fate on Disney's home turf. Since we will never know how much it would have made, nor, likely, how frequently it will be home viewed, I will at the very least wish that its viewership will sufficiently please its masters up at Disney headquarters; though perhaps not so much so that they demand a sequel and have to drag that poor CGI gorilla back into life in another small animated cage.

5. Bill & Ted Face the Music (August 28th)
31 years ago, buddying twentysomething teen movie actors Keanu Reeves and Alex Winter joined together to star in a wacky time travel comedy, as cheerfully Californian amateur musicians (no Juilliard or Sorbonne training, there) who knew very little of facts; and whose proto-grunge band Wyld Stallyns would eventually be of such irrefutable important to the world that the duo had become revered, worshipped icons for incoming civilizations (well, yes, it's science fiction).

George Carlin came back from the future, Joan of Arc and Sigmund Freud were recruited from the past, Bill and Ted traveled through eons past for some arcane purpose on one long Friday night, never shedding their very specific and memorable lingo, and a good time was had by all. But time had some unusual plans itself.

When the first film was released in February 1989, Reeves was still viewed, naively, as a harmless and funny star of high school movies, but by the sequel's arrival on July 19, 1991, Mr. Reeves had already instigated some pretty A-level action scenes (and skydiving!) in Point Break, which was released on July 12, just one week before. And by that decade's end, he was Neo in The Matrix and that guy in Speed, with John Wick and the Diane Keaton romance in Something's Gotta Give still ahead. For his part, Reeves' compatriot Alex Winter had appeared in a few more films, and then turned to directing. The dudes grew up, while the characters were retired from use and had apparently found their way into that great cinema in the sky, where they would live forever, undisturbed. The first film grossed $40m, the second more or less matched it with $38m. As a 1980s artifact and cult obsession, Bill and Ted's value is priceless.

But wait - there's more! In 2020, as with much else that had ended long ago, the Bill and Ted franchise has returned, and just like the new Rocky, Star Wars, and Terminator films, a certain generational transition must be respected - Bill and Ted now have two daughters, ready to be dim, too, and also to participate in ignorant yet noble time travel with the best of them. They are played by Brigette Paine-Lundy of Atypical and budding scream queen Samara Weaving, who's made it through Ready or Not and The Babysitter with considerable props, and a general nod of respect from myself. Comedians (Kristen Schaal, Jillian Bell, Beck Bennett) and singers (Kid Cudi, Win Butler) are on hand, too. Archival footage of George Carlin will not be far behind.

So, how big is that Bill and Ted "cult" fanbase after all these years, anyway? Had the film opened in an alternate 2020, one without giant crustacean attacks on unsuspecting cities, would there have been another $40m gross in the cards? Perhaps even $85m, which is forty million dollars adjusted for 2020 money?

Maybe. Bill & Ted Face the Music is still set for right around its original release date (August 14 was originally planned), and heads to both limited theatres and streaming, which means we probably won't quite find out what a full wide release would have been like. But these boys'll get seen.

And speaking of time travel comedies now in theatres, I'll say another thing about that film that's moving up the charts, Back to the Future. At just 24, its star, Michael J. Fox, is clearly a bright comedic actor, and I personally am distinctly looking forward to his next film, Teen Wolf, when it opens later in August. It looks rad!