The 400-Word Review: Boys State
By Sean Collier
August 14, 2020
BoxOfficeProphets.com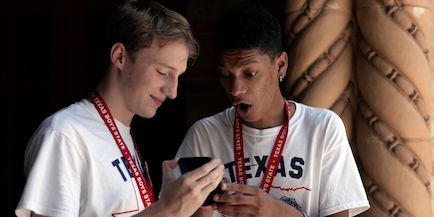 ---
To anyone hoping that "Boys State" will offer a model of a more reasonable, understanding political future: Please abandon your hopes now.

The documentary follows the 2018 installment of AL Boys State Texas, a mock government program sponsored across the country by the American Legion. Politically minded youth are chosen from high school classes and sent for a one-week experiment in mock government, featuring party platform building, the enactment of legislation and, most dramatically, a race for public office.

The young men — and only men, as Girls State is a separate entity (and there is no acknowledgement of other genders) — are certainly well versed in modern politics, demonstrating an easy command of both policy and recent history. Their passion is evident, and they seem to share a very traditional type of aspiration: elite colleges that will open doors into the halls of power.

They're also alarmingly, concerningly partisan — even when partisanship is separated from ideology. Only one concept seems to truly inflame the passions of the 1,100 teens: Victory. They are divided into fictional parties, the names of which are arbitrary, and develop platforms that are barely distinguishable. Yet as soon as lots are drawn, they are desperate to defeat the other side.

As one boy says, "Being here gave me a new appreciation for why politicians lie to get into office." Another, when his position as party chair is challenged, swiftly abandons his own perspective, swearing that his only remaining goal is to keep his job at all costs.

As a film, "Boys State" is captivating. Most of our attention is turned to the mock gubernatorial race — the highest office in the exercise — as we follow the candidacy of a soft-spoken candidate battling through the abbreviated primary process. The race swiftly turns to mudslinging, attack memes on Instagram and an ugly bout of racism as the teens are swept up in the need for victory in an ultimately meaningless contest.

The program is clearly a well-intentioned exercise in civic participation. But in the 21st century, it is a rich, vivid demonstration of how remote from reality the game of politics has become, even in the minds of nominally idealistic young people. There's an encouraging moment in the mock legislature, as the boys pass more ambitious bills than Congress can manage. Unfortunately, the rest of the film doesn't provide hope; it provides a warning.

My Rating: 7/10

"Boys State" is streaming on Apple TV+.