The Number One Movie in America: Fiddler on the Roof
By Sean Collier
July 19, 2020
BoxOfficeProphets.com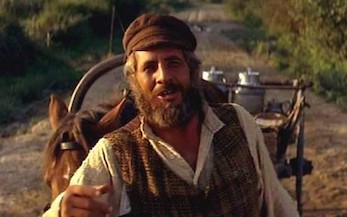 ---
"Fiddler on the Roof" was the top-grossing movie of 1971.

Maybe.

Attempting detailed box-office analysis before the early '80s has always been a fool's errand; consistent records only go back to 1982, and they're not quite complete for a few years after that. Nevertheless, you can generally look up the top-grossing films of a given year; this is, for example, how we discern the top-grossing movies of all time after inflation adjustments.

In 1971, the top grossing film of the year was either "Fiddler" or "Billy Jack," the independent, post-hippie Western that became an unlikely smash. Wikipedia claims that "Fiddler" has the title, but the data they're drawing from is archived; more thorough website databases have stopped reporting information that early in the decade. The website The Numbers claims "Billy Jack" takes the crown, but their data is unsourced (and specifies that totals may represent multi-year earnings). The AV Club, which has been writing a series of articles on each year's top-earning release, wrote about "Billy Jack" when they reached '71.

Given the way records were kept — or, more accurately, not kept — it's impossible to know. "Fiddler on the Roof" assuredly made a lot of money and likely rattled around screens in many areas well into 1972; "Billy Jack" was a drive-in megahit, so prints were probably shown continuously and off the books on outdoor screens for years.

Regardless, "Fiddler" was a giant hit, winning three Oscars among a slew of nominations. It's also a movie that displays mainstream cinema's transition from the '60s to the auteur-focused '70s. In its magnificent sound and picture, its fealty to the Broadway megahit on which it's based and its broad, showy performances, "Fiddler" is very much a traditional Hollywood musical, not too different from mid-'60s hits such as "The Sound of Music" and "My Fair Lady."

Yet the artfulness in Norman Jewison's shots and compositions places "Fiddler" solidly in the '70s. Sure, Tevye's monologues to God and himself are theatrical, but the showy choice to immediately transport him into the distance while his daughters await his proclamations, their eyes filling the screen and his mind, is pure cinema. (So is the wild nightmare sequence "Tevye's Dream," which looks like nothing so much as a proto-"Hocus Pocus.")

While it received some lukewarm critical notices at the time — Roger Ebert praised the adaptation, but called the story "quite simply boring" — "Fiddler" became a beloved favorite, particularly on the strength of Topol's iconic lead performance. Eight years after its release, it may have topped the box office again in a re-issue; while reiterating the earlier caveats about incomplete records, "Fiddler on the Roof" earned more than $1.7 million in a single weekend in November of 1979. This was well before the prevalence of repertory re-releases, and eight years is generally not long enough for nostalgia to kick in; as a point of reference, that would be like "The Dark Knight Rises" getting a re-release today and somehow besting most new releases to finish second or third for the weekend.

That barely-later second triumph is a testament to the warm feelings delivered by an admittedly sad story. It's a fondness that comes from film artistry — a quality that "Fiddler on the Roof" exhibits in abundance.

"Fiddler on the Roof" is the subject of the latest episode of The Number One Movie in America, a look back at past box-office champions. Each episode's film is drawn at random from a list of every number-one movie since 1982. Please listen and subscribe!

Next time: Long before he was one of the biggest stars in Hollywood, The Rock got a starring spinoff and an awkward CGI head.