The 400-Word Review: 2040
By Sean Collier
June 13, 2020
BoxOfficeProphets.com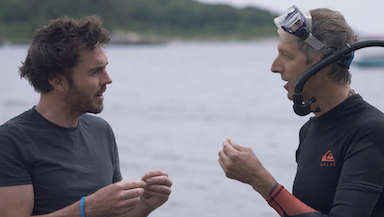 ---
Earlier this year, National Geographic published a special edition in observation of the 50th anniversary of Earth Day. On its cover, a soothing, blue-and-green Earth stood next to the phrase: "How We Saved the Planet." It was a hopeful, affirming message of the many ways in which humanity can apply science and technology to pressing global issues and avert a climate disaster (and its inevitable humanitarian devastation).

Then you flipped the magazine over.

This special edition had an alternate cover (and an alternate series of articles) on the reverse side. The blue-and-green planet was replaced with a scorched, brown globe; the headline read, "How We Lost the Planet."

It was a powerful illustration that the game is very much still underway on humanity's future; we can pull out a comeback, or we can blow it spectacularly. "2040," a new documentary, takes an optimistic look at the same problem, illustrating that dynamic innovation is very much possible — and necessary.

Damon Gameau leads viewers on an international tour of innovation, visiting sites the world over that are demonstrating the successful application of potentially revolutionary technologies and behaviors. Gameau, who also wrote and directed "2040," frames the film as a message to his young daughter, who will be wrapping up college two decades from now; through cinematic flash-forwards, he depicts the efficient, equitable world she could inhabit.

Along the way, Gameau stops in Bangladesh, where a village is demonstrating how communities can "skip the grid" and create their own shared electric networks via rooftop solar panels. He heads to Singapore to tool around in a driverless rideshare vehicle. He hangs out under the waters of the South Pacific with a guy who is really pumped about seaweed. He stops in Oberlin, Ohio, where an energy-use "dashboard" is monitored by the public like a weather report.

(As an aside, he also admits the irony in jetting around the world, an incredible expenditure of carbon, to make these points. Whether or not that forgives the project is up to you to determine.)

There's great information here, presented with enough humor and creativity to keep it from being a dry, Powerpoint-style lecture. If it's too optimistic — and, to be clear, it is — Gameau does a good job of demonstrating that parents (and humans more broadly) need optimism to bear the big questions about the health of their children.

Also: Seaweed is surprisingly versatile.

My Rating: 6/10

"2040" is streaming now via virtual-cinema services.