The 400-Word Review: Da 5 Bloods
By Sean Collier
June 12, 2020
BoxOfficeProphets.com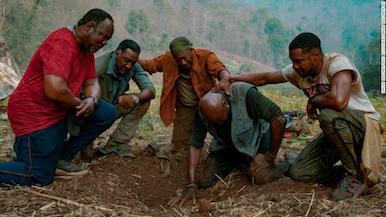 ---
The strongest moment in Spike Lee's excellent "Da 5 Bloods," a movie full of very strong moments, is a long pause.

Otis (Clarke Peters), a Vietnam veteran returning to the country for the first time, is having dinner with a wartime lover, Tiên (Y. Lan). Tiên's daughter (Sandy Huong Ph?m) walks in; Otis looks at her and processes the fact that she appears to be mixed-race.

Over an agonizing moment, Otis searches for words, wanting to ask if he's just seen his own daughter for the first time. The subject matter is loaded but not novel; many Vietnam narratives have dealt with the children of American soldiers. The power is in the silence; Otis tries to distill undefinable, generation-spanning conflicts and complexities into one question — a query that, no matter how it's phrased, will be inadequate.

"Da 5 Bloods" confronts such complexities with matter-of-fact candor. The logline of the film is relatively simple: A group of veterans return to Vietnam, searching for the remains of their fallen comrade (as well as some buried treasure). In that, though, centuries of world history are entwined in ways that cannot be put into words.

The personalities of these five men — Otis, Melvin (Isiah Whitlock Jr.), Eddie (Norm Lewis), Paul (Delroy Lindo) and his college-aged son David (Jonathan Majors) — drive the plot, as their own traumas and baggage ricochet in extreme circumstances. Paul is struggling with PTSD, often at the expense of the group's efforts; Otis' injuries have led him to carry a vial of Oxycontin into the jungle; Eddie, nominally the big spender of the group, is secretly bankrupt.

All are still mourning the loss of their military and spiritual leader, Norman (Chadwick Boseman). In moving flashbacks, it is clear that he was all things to these men, both an able and courageous soldier and a thoughtful shepherd of their personal development.

In those scenes — which Lee masterfully helms with of-the-era techniques — the four actors, besides Boseman, play themselves as they are now; they are not digitally de-aged or replaced with younger performers. That decision could, perhaps, be a nod to the truism that no one really leaves a war behind; these men have grown into old age still, mentally, fighting the Vietnam War. Even that interpretation can't possibly tell the full story, however; nothing can. "Da 5 Bloods" is virtuosic at putting images where words cannot stand.

My Rating: 10/10

"Da 5 Bloods" is available on Netflix.