Top Chef Season 17: Episode 12 Recap
By Jason Lee
June 8, 2020
BoxOfficeProphets.com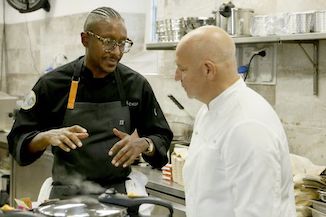 ---
Most Top Chef fans know that chefs who make it into the finale usually get two or three months in between the final challenge in their host city (here, Los Angeles) before heading off to the finale. That gives the finalists some time to regroup, refill their mental reserves, and research the cuisine of the finale locale (here, Tuscany).

No such luck this year. For the first time that I can remember, the finalists are packing their bags in Los Angeles and hopping aboard a flight straight to Tuscany (think about how much dirty laundry they must have accumulated since then). No time for rest, no time for research. It's finale or bust.

Meanwhile, Malarkey is presumably heading home at one of American Airline's domestic terminals, waiving sadly to our finalists who are sipping champagne at American Airline's First Class lounge in the International terminal.

Our chefs are reflective. Stephanie feels like the underdog as the only finalist who didn't also make it to the finale of their first season. Melissa feels more confident than she did going into the Top Chef: Boston finale. Kevin is drawing strength from his wins in Last Chance Kitchen. Bryan, back in the finale since his appearances in Top Chef: Las Vegas and the first season of Top Chef: Masters, feels like the third time will be his charm.

As for Gregory, he's physically hobbled. Having thrown out his back, he's stiff and achy from the transatlantic flight and has trouble sleeping in the finalists' villa in Tuscany. Bleary eyed, he joins his fellow finalists in a gorgeous, open piazza in Lucca, Italy where Padma is joined by Michelin-star chef Filippo Saporito. Apparently, Padma is fluent in Italian (how did we not know this before???).

Our chefs are taking part in the great Italian tradition of the aperitivo, which takes place over a glorious couple of hours—generally between 7pm and 9pm—when Italians relax post-work over a glass of wine or Campari and some snacks. Filippo emphasizes that the snacks are usually eaten with "two fingers," since the other hand is busy holding a beer or other alcohol.

As you might have guessed, the chefs will be providing the aperitivo, but not just for our judges. Rather, for 30 locals. They'll each have to pick a station stocked with ingredients from a particular region of Italy (northwest, northeast, central, southern, and islands). The winner gets $10,000.

Once the 45-minute clock starts, the chefs run to any random station and get cooking. Some have an easier time than others. Gregory tries to make something out the clams he has, but they're too sandy, so he switches to cuttlefish. Bryan wants to make a scallopini but he has no bread to use for breadcrumbs. He switches to a tartare, resigned to the fact that he's making a dish that's not typical in the region he's been assigned.

Time runs out and the diners dive in. Padma and Filippo do, too. They sample Gregory's island-inspired cuttlefish with plumped raisins, and saffron, cooked in a peroni beer with crispy chickpeas. That textural element is a hit, as it's very traditional in the islands.

Bryan, who had the southern Italian region, has a lamb tartare with a panzanella salad with a sardine gremolata. Padma and Filippo find that the dish simply has too many spices and too much garlic.

Stephanie tries out a fried sandwich of venison and gorgonzola for her northwest Italy dish. While it's a good idea, her execution was lacking.

Kevin makes a polenta with prosciutto in the style of northeast Italy and draws praise for his combination of sweet and sour flavors.

Finally, Melissa made peroni-steamed mussels to honor the central Italian region. Filippo says that her flavors "open the heart and open the stomach."

Bryan and Stephanie unsurprisingly end up in the bottom, and while Melissa gives him a run for his money, Kevin ends up taking home the Quickfire win and the $10,000. With little nod to humility, Kevin notes that he's now won $30,000 this season on Top Chef.

From happy hour to happy trails, the chefs' Elimination Challenge takes them into the woods with members of the Savani family, who are known for selling gorgeous white truffles. Those truffles aren't farmed, but rather, scavenged in the woods with the help of two truffle-sniffing dogs. At the base of a tree, under a bush . . . it's truffles here, truffles there, truffles everywhere. And as they fetch 6,000 euros per kilogram, it's a very rich haul the chefs are bringing back.

Their assignment in the Elimination Challenge is simple: make any dish that features the white truffles they've just dug up. The chefs head to the Italian replacement for Whole Foods to get their ingredients, trying to come up with some dish that will honor these expensive ingredients. Some are faster than others, as Gregory hobbles around the supermarket, clutching his painful back.

They're up early the next morning to head into the kitchen to prep for dinner service. Stephanie takes a few minutes to call her husband—it's their one-year wedding anniversary, and as sad as it is for them to be apart right now, Stephanie still has her head in the game, telling her husband that she woke up in the middle of the night and changed her dish. She's going to make a pasta. In Italy. For Italians.

The kitchen is small, but still larger than what they had at Michael's in Santa Monica. Kevin is grilling some cipollini onions when he takes another look at the meat he had purchased—he'd thought it was pork, but in fact, it's two types of pork plus veal. He's nonplussed, deciding that he'll just grind all the meat together.

Meanwhile, on the other side of the kitchen, Stephanie tries some of the radicchio she bought and it's far more bitter than she had expected. She tries to re-season it. It's still bitter. She adds butter to mask the bitterness. She adds honey. It's not enough. It's like Wily Coyote opening up a tiny parasol to defend against a giant falling boulder. The butter and honey are simply no match for the bitter Italian radicchio.

Any viewer watching is probably screaming, "LEAVE IT OUT. DON'T PLATE THE RADICCHIO." I know I was. It's like watching Wily Coyote walking off a cliff and taking a few steps out into nothingness, held up by nothing more than his obliviousness. Once he finally looks down and acknowledges his folly, he will plummet down to reality. The same happens here, and we scream collectively as Stephanie continues her steps past the edge of the cliff.

The chefs move from the kitchen to the Palazzo Pfanner where they start serving their truffle dishes to members of the Savani family and company, as well as our judges, which includes Cristiano Tomei, a fantastic Italian chef.

Kevin has a polpette (basically a meatball) with chestnut honey, roasted cipollini onions, pecorino, and white truffle. While the dish isn't "bad," the flavors of the three meats overwhelm the flavor of the truffle. The dish would have been better, Cristiano notes, if Kevin had simply left the meatball off the plate, and Tom agrees.

Next is Stephanie with her squash and brown butter mezzaluna with a porcini brodo, rosemary, braised radicchio, and white truffle. Padma asks Stephanie which component is contributing to such a bitter flavor. Stephanie's expression turns to horror. Our Wily Coyote has looked down. She tells us that she realizes all the viewers are screaming at their televisions, infuriated by the rookie, avoidable mistake. She knows she should have left the radicchio off.

And she's right. The radicchio, as well as all the other accompaniments, again overwhelm the truffle. Gail notes, "this is one time we don't want balance. We want all truffle."

Gregory tries to turn the tide with a stew of wild boar with prunes, tomatoes, cocoa, and white truffle polenta. To really bring home the truffle flavor, he starts shaving raw truffle over the dishes. Massive amounts of raw truffle. Cristiano asks him whether he realizes the cost of those truffles that he's so casually whittled down over the polenta, like thick truffle snowflakes covering everything in a blanket of umami.

And yet, the truffle flavor again is lost. Cristiano tells the judges that unlike black truffles, white truffles are "unforgiving." Pair them with an ingredient that the truffle "doesn't like" and it "leaves." And sure enough, despite the liberal shavings of raw truffle, the flavor isn't there.

Melissa returns to congee, a dish that served her so well in the challenge with Ludo Lefebvre. She has a truffle congee with salami, fried garlic, parsley, a quail egg, and white truffle butter. Her's is the first dish to draw real praise from the judges. Tom loves the decision to combine truffle and congee, and he deems use of the quail egg "brilliant." Gail loved the richness and textural elements. Cristiano's only complaint is with the salami, which doesn't belong in the dish.

Bryan brings us home with a ragu of veal shank, chestnuts, white truffle, and aerated potato (basically, mashed potatoes done in the style of a foam). The flavors are great, the construction of the dish is smart, and the potato pairs perfectly with the truffle. To Gail, he presented the flavor of the truffle in its more pure form. Tom is complimentary but less so than Gail, calling it "successful."

There's little suspense at Judges' Table, where Melissa and Bryan are quickly dubbed the top two. Melissa made an exciting congee dish, making something that's clearly in her style of food, while still letting the truffle be the star. Cristiano begs her, though, to never cook salami again. Melissa laughs and says, "yes, chef." As for Bryan, his potatoes were the perfect vehicle for the truffles and smartly paired it with the veal. Though his simplicity and execution were great, though, Melissa takes home her second Elimination Win in a row.

The remaining three chefs are in the bottom for basically the same reason: they overcomplicated their dish and overshadowed the truffle. Gregory's stew was a good dish, but not one capable of highlighting the white truffle. Gail tells him that there was so much flavor in his stew that the texture and unctuousness of raw truffle he used was lost.

As for Kevin, which his meatball tasted great and his onions were delicious, those flavors "destroyed" the flavor of the truffles. Similarly, the radicchio in Stephanie's dish "obliterated" everything else, including the truffle. There was just too much happening in the dish, which was overcomplicated and not focused on the truffle.

She seems safe, though, as Cristiano and Padma both agree that she had the best dish of the three bottom chefs. Kevin definitely teeters on the edge of elimination, as his dish with its components of meats, onion, and truffle, was disjointed and didn't come together. But Gregory seems to have made the biggest faux pas with his wild boar stew. Tom calls the truffle "nonexistant," even though he used the most truffle of any of the three. Thus, although the bottom three chefs all made the same mistake, Gregory's was the most egregious.

And indeed, it's Gregory who must pack his bags, just one day after arriving in Tuscany. He wanted to win but acknowledges that "you can't always will something into happening." He takes solace in knowing that he gave 110% of himself and did everything he could.

It's a stunning, though maybe not surprising, fall for Gregory. Though he was clearly the most consistent and successful chef over the course of the season, he faltered in the last three—underseasoning his broth in the kaiseki challenge, forgetting the prosciutto in the Michael's challenge, and now doing a disservice to the truffles he so liberally shaved into his dish. It's a shame, but that's how the truffle crumbles.