The 400-Word Review: Shirley
By Sean Collier
June 3, 2020
BoxOfficeProphets.com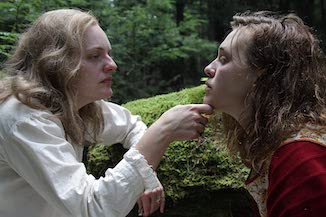 ---
"I'm a witch. Didn't anybody tell you?"

That line — and the brief presentation of a tarot deck, a flourish which does not lead to any actual divination — is the closest the Shirley Jackson of "Shirley" treads to the gothic subject matter of her most famous stories and novels. In the world of this film, the great author's flair for dark subject matter derives not from a fascination with the macabre but rather from the stress of a dissatisfying life.

It's a take that undoubtedly has roots in Jackson's legitimate biography — many of the broad details are there — but is specifically derived from a novel of the same name by Susan Scarf Merrell. Whether or not this is the authentic Shirley Jackson is far from the point; this isn't a biopic (despite what the title may indicate) and it does not aspire to be.

It is, rather, the story of a sad collision of unhappy couples in a distant outpost of academia. Young newlyweds Rose (Odessa Young) and Fred Nemser (Logan Lerman), her quietly expecting and he loudly angling for a professorship, relocate to Bennington College in Vermont. They are welcomed, in a manner of speaking, by Stanley Edgar Hyman (Michael Stuhlbarg) and Jackson (Elisabeth Moss), the married literati at the center of the college's consciousness.

Rose, mostly the protagonist, is quickly sidelined by her desperate-to-please husband and turned into a reluctant maid by Hyman. This leaves time to bond with Jackson, who is periodically rendered immobile for days at a time by a cocktail of poor health, anxiety and rage (the latter mostly directed at her husband's unashamed infidelity with young students).

Rose considers Jackson a genius, and quickly overcomes irritation at the writer's provocative exterior to form something of a desperate friendship. Jackson, meanwhile, mentally conflates this lost young woman in her house with the story of a missing undergrad, seeding the writing of a new novel, "Hangsaman."

The film, by Josephine Decker, is both sturdy and stubborn; its artistry is always evident, even as it turns away the audience with languid stretches and bitter glances from every character. Decker keeps "Shirley" in strict control — allowing Moss, who continues to emerge as one of the most powerful and versatile performers in the game, the freedom to bounce off the walls. It's a bombastic, virtuosic turn by an actress who can't help but be brilliant.

My Rating: 7/10

"Shirley" is available via digital on-demand services beginning Friday, June 5.