Top Chef Season 17: Episode 8 Recap
By Jason Lee
May 9, 2020
BoxOfficeProphets.com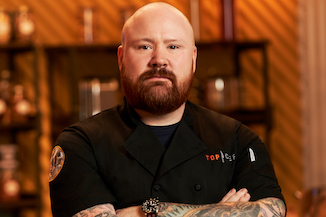 ---
As the saying goes, there are only two certainties in life: death and Restaurant Wars. As teased in the last episode, the latter is at issue today.

The judges have already provided some measure of clarity for this season's version of Restaurant Wars. We will have two restaurants with clear concepts: southern food and Haitian cuisine. We will also have two de facto executive chefs: Kevin and Gregory, both among the dominant chefs this season so far. But as all fans know, there are two perilous positions to be in during Restaurant Wars: executive chef and front of house. Thus, Kevin and Gregory are dealing with double edged swords.

First, though, they'll need to draw knives to determine who will go first in selecting their teammates. Kevin draws the knife labeled "1st choice" and has his pick of the bunch. As has been pointed out in prior recaps and Top Chef Power Rankings, there are currently three standouts in this season's cast: our two aforementioned executive chefs and Melissa, who have each won three elimination challenges. No other chef has won an Elimination Challenge.

Thus, Kevin has an easy choice, right? Pick the other dominant competitor—namely, Melissa. Except he doesn't. Kevin goes with his castmate from Top Chef: Las Vegas, Bryan Voltaggio.

Okay, fair choice. Bryan has the chops, and his struggles this season have stemmed from an inability to deliver on the theme of a given challenge, not because his food has been bad.

So that means Gregory will pick Melissa, right? Again, she's been clearly dominant (see above) and they know each other well, having been castmates on Top Chef: Boston.

WHA? In a bizarre move, Gregory picks annoying-gnat-of-a-person Brian Malarkey, saying he wants Brian to do front of house. That's a reasonable rationale, but wouldn't you assume that Brian would be available for your second choice, Gregory? Why spend your first round draft pick on BRIAN-FREAKING-MALARKEY?

Kevin ain't that stupid. He picks Melissa. Gregory goes with Lee Anne, Kevin chooses Karen, and Gregory is stuck with Stephanie. Your teams are thus:

The Country Captain: Kevin, Bryan Voltaggio, Melissa, and Karen
Kann: Gregory, Brian Malarkey, Lee Anne, and Stephanie

Uneven match-up, much?

Padma provides the ground rules: the chefs will have 48 hours to plan and prep their restaurant. There will be no requirement in terms of the number of dishes or courses—that's left up to each individual team. They'll have help in selecting their decor and bringing in rental equipment. Yes, this is a big task but there's also a big reward: the winning team gets $40,000 to split.

Jeebus, can you imagine coming out of Restaurant Wars $10,000 richer?

The strategies of each team start coming to life. Kevin selects Karen to do front of house and tries to make sure each member of his team feels invested in how the restaurant comes to life. This includes conception of the menu. One thing Kevin won't budge on, though, is the number of dishes. Because The Country Captain is meant to be an ode to his grandmother's style of cooking, it's going to be bountiful with a staggering TWELVE DISHES to be served. That includes three tiny canapés to start, one dessert to end, and an insane EIGHT DISHES served family style, all at once, during the second course.

Gregory has been thinking about his Kann restaurant concept for years and has a clear idea of what the dishes should be, taste like, and look like. There will be no accommodation for individual cooking styles. He's got his front-of-house person in Malarkey and line chefs in Lee Anne and Stephanie. In terms of decor, he wants to take his guests to the Caribbean. Realizing that most won't be familiar with Haitian cuisine, he pens an introduction to his restaurant that will be provided to each guest with their place-setting.

Massive shopping now begins. Whole Foods is first, where Lee Anne buys a comically large amount of rum for her pineapple upside-down cake and rum raisin ice cream. Then it's off to specialty food stores and restaurant supply depots for additional odds and ends. Flatware needs to be selected, leading to a bizarre, but thankfully brief dust-up between the two teams when Lee Anne and Malarkey inadvertently start picking out pieces from a flatware set that Kevin and Karen had already selected for their restaurant.

Then, while Lee Anne goes shopping for additional plants, flowers, vases, yucca, taro, etc., for Kann, Karen gets to work setting up the dining room for The County Captain, and the other chefs embark on a huge amount of food prep—especially Kevin's team, with those crazy twelve dishes.

It quickly becomes apparent that both teams are straining at the seams. Kevin's making the same "County Captain" dish that he made in his restaurant pitch and it's just not tasting the same. He blames it on the unavailability of the prior curry powder he had used, but who knows. The dish is the star of his menu and Kevin knows it's got to be good. Meanwhile, on the other team, Stephanie is totally in the weeds with the amount of responsibility she's been given.

The day starts to wrap up and Karen is daunted by the amount of work she still has to do to set up The County Kitchen. Kevin convenes that team to go over their to-do list for the next day and realization starts to dawn on all of them that, perhaps, they are quite behind and maybe it wasn't such a good idea to do twelve dishes.

Not that the other team doesn't also have an insane amount to do the next day. Lee Anne, in particular, is exhausted, both physically and mentally.

The next day, the chefs head back to their respective restaurant spaces, knowing that they have a huge lift in front of them (at least it'll all be over soon?). Malarkey, bizarrely, seems to have everything under control over at Kann. Karen, on the other hand, is way behind schedule. While Malarkey is training his staff and walking them through the courses, Karen is still frantically trying to finish her dish, leaving her servers sitting around idle. Finally, Karen asks Melissa to finish things up for her and heads out to talk to her staff.

Before we know it, the diners show up and it's showtime. Karen warmly greets and talks to each table of diners, while Malarkey is singing and dancing (literally) in his dining room. The food comes starts to come out and, displaying her nerves, Karen proceeds to drop her first canapé on the floor.

It's ominous foreshadowing. Service starts to break down at both restaurants. Servers are not writing up their tickets as they'd been instructed at Kann. Lee Anne starts to get a bit (let's say) blunt with one of her servers, leading to Stephanie having to take over the task of expediting dishes. Lee Anne doesn't take it seriously. She'll just keep her head down and make salads.

Meanwhile, at the Country Captain, guests are missing dishes, meaning that Kevin's team has to make extras to replace them. Food service starts to grind to a halt at both restaurants, though with The Country Captain more affected.

Meanwhile, in the dining room, Karen knocks over a bowl of Country Captain.

The judges (Tom, Padma, Gail, Stephanie, and Kevin from last week) show up at Kann for dinner. Because the $40,000 prize is provided by OpenTable (I bet they're hurting right now during this pandemic), Padma literally goes up to the hostess and says, "I made a reservation on OpenTable. It's under 'Lakshmi.'"

I'm pretty sure she knows who you are, Padma.

The judges get seated and exchange positive comments about the decor, which quickly establishes a tropical vibe. They also appreciate the place-card with Gregory's introduction to the restaurant. The only negative observation is that few tables have any food—a consequence of Gregory insisting on being a part of the cooking, tasting, and plating of each dish.

The first courses eventually come out. From Lee Anne, there's a mixed salad with peanuts, avocados, and crispy peas. Stephanie provides salt cod patties, fried green plantains, and spicy vegetable pickles. Gregory's contribution is a crispy, twice-cooked pork. Everything is a huge hit, save for Gregory's pork, which is dry. Gail appreciates how familiar and casual the food is. Tom agrees, praising Gregory for not "chef-ing up" the food.

The next course, however, takes a while. The judges have been at their table for 55 minutes before Padma finally grabs Malarkey's arm and tells him that they can only be there for another half hour. Malarkey rushes to the kitchen and relays the message. Gregory snaps back that the fish is cooking and there's nothing he can do about it. "I'm not going home for undercooked fish!" he says, acidly.

Eventually, Malarkey brings out Gregory's dish of chicken thighs with smoked peppers, rice, and kidney bean sauce, telling Gregory to bring out the fish whenever it's done. Within seconds of the fish finishing cooking, Gregory runs it over to the table. It's a roasted red snapper marinated in scotch bonnets and cilantro with Caribbean root vegetables. Padma asks him why he didn't serve the oxtail from the restaurant pitch that the judges loved so much. Gregory stammers something about wanting to show versatility.

Luckily for him, the judges agree that these two dishes are as good, if not better, than that glorious oxtail. The fish is great, the sauce is better, the beans are beautiful, and the chicken thighs are cooked perfectly.

Finally, for dessert, Lee Anne has a rum raisin ice cream with pineapple upside-down cake. The judges find it a little too sweet, but the diners adore it.

Wrapping up, Kevin notes that the restaurant has a clear point of view, and Padma says she'd come back. Tom provides the ultimate compliment: Kann actually feels like a restaurant—a rarity in Restaurant Wars.

Karen is dreading the moment the judges walk into The Country Captain, as there is a very, very large crowd of diners waiting to be seated. She worries that she'll be "crucified." The judges arrive and Karen blames the crowd on the fact that their food is "the type of meal that makes you want to sit around and talk."

It's not a bad explanation. What is bad, however, is the decor, which the judges find far more feminine and formal than what they had understood based on Kevin's pitch. With huge fuchsia flowers on the wall, Stephanie remarks that it feels more Miami Vice than country.

Three canapés are put before the judges. Bryan made a Dungeness crab salad with egg yolk pudding, plus a smoked trout puff with caviar. Melissa has a chicken liver mousse on brioche. Kevin takes a bite of the mousse and declares it "lovely." As explanation, Tom tells him, "Melissa made that." If it wasn't clear already, Tom has a very high regard for Melissa's cooking. As for Bryan's canapés, they taste good but they're not very "southern." Perhaps, Gail muses, the intended focus of the menu is the Country Captain.

The judges will have to wait a bit to get it. The kitchen is so backed up that servers are standing around with nothing to do while they wait for dishes to come out.

Wisely prioritizing the judges over the other diners, Karen brings out the long-anticipated Country Captain, comprised of chicken thighs braised in curry, currants, and almonds, plus roasted chicken breast. Kevin also provides yellow rice as an accompaniment. Among the many other dishes, Bryan made creamed corn with shrimp, "dilly beans," and cucumber pickles with vidalia onions. Melissa made fried potatoes, and Karen has two dishes of madeira-glazed mushrooms plus a sweet and spicy red pepper relish.

The judges are understandably overwhelmed by the number of dishes. Most of them, luckily, are good. Tom likes Melissa's potatoes, and Gail likes Bryan dilly beans. Bryan creamed corn dish, similarly, is so good that it hardly seems like a side dish.

The two problems, however, are the Country Captain and Karen's mushrooms. The chicken in the Country Captain lacks the flavor that was present when Kevin made the dish for his pitch, and it's also drier. When you have an entire restaurant built around a single dish, Kevin notes, it needs to be spectacular. Unfortunately, this dish is not. As for Karen's Madeira-glazed mushrooms, Tom finds that they lack flavor.

As an aside, Gail wonders why Kevin hasn't stopped by to say hello. Tom correctly guesses that he's "in the weeds."

Finally, Kevin's dessert of warm banana pudding with toasted meringue comes out. It looks gorgeous, with all the toasted, swooping edges that you'd want. However, it's a wealth of conflicting flavors. Kevin says is a microcosm of the entire meal: beautiful but a bit confused.

After service winds down, the exhausted chefs gather in the stew room to await Judges Table. Given how busy both teams were, they really have no idea how things went in the other dining room (and sometimes in their own dining room, like in The Country Captain). Kann expresses disbelief when Kevin tells them that his team made twelve dishes. Meanwhile, Karen frets that, in situations where there's a disconnect between the kitchen and the dining room, front of house gets thrown under the bus.

The chefs are brought before the judges and Tom compliments them for the thought and effort that went into bringing both restaurants to life. The judges got a lot of great food, but one team had a well-designed menu that showcased all of the chefs coming together to deliver a cohesive experience. To no one's surprise, the underdogs at Kann take home the win.

The praise is effusive. Tom and Padma loved the salt cod patties from Stephanie and the salad from Lee Anne. The judges harbored reservations about the lack of the oxtail dish on the menu, but the chicken and fish dishes more than made up for that. Gail loved the kidney beans served on rice—a tradition of Gregory's family. Finally, the judges pass along the numerous compliments they heard from diners about Lee Anne's dessert. "Folks love sugar," Lee Anne notes wryly in response.

The judges don't select any individual dinner for the challenge (though they're each $10,000 richer from winning), but Tom pays Gregory the highest compliment possible: eating at Kann made him want to visit Haiti. Stephanie chimes in: the food was so inspiring that she wanted to run back to her own kitchen and start cooking.

Though stacked with talent, The Country Kitchen didn't hold a candle to Kann. Gail wonders if Kevin gave any thought to doing less, and Kevin perplexingly suggests that he could only think about doing more. Tom gently suggests that while doing a lot may be good sometimes, it can come at the cost of being able to focus on individual ingredients. Kevin says that his ambition was in the spirit of Top Chef.

The judges ask if there was any dish that Kevin would have edited out. Again, Kevin disclaims any desire to pull back, saying that his grandmother's motto was to give everything you can and then give more. Melissa voices the contrarian view, suggesting that she was concerned about the number of dishes, but says that Kevin told them that southern food is about having lots of side dishes.

In terms of dishes, the judges only single three for criticism. The Country Captain dish was too large, had the same texture throughout, and simply wasn't as good as it had been during Kevin's pitch—a point that Kevin concedes. Karen's mushrooms were "pretty bad," lacking flavor and feeling steamed. Karen tries her best to note that she wasn't able to finish them because she had to handle front-of-house. This has the de facto result of throwing Melissa, who finished the dish, under the bus, and it's a bit of an awkward moment between the two of them. They're saved by Kevin's dessert, which was dry, was a bit too sweet, and featured bananas that needed to be softer.

But enough commentary. Tom gets right to the point. "It's your concept," he tells Kevin. "It's close to you. How do we not send you home right now?" To his credit, Kevin doesn't try to blame anyone else. In a heartfelt, but rambling and somewhat incoherent monologue, he says that he owns his mistakes, is not going to try and pass the buck to someone else, and takes responsibilities for his errors in judgment.

Then, without any further deliberation with the judges (unless it was edited out), in a total surprise move, Padma asks Kevin to pack his knives. It's stunning. Whether the judges reached agreement beforehand, or whether his responsibility for the team's failure was so clear in the moment, I can't recall another instance in which the judges sent a chef home without at least discussing the decision after hearing from the chefs.

But the bottom line is that the country captain is headed to last chance kitchen. Kevin knows it's the right decision. He told the truth and is willing to go down with the ship. He hopes that he earns some measure of respect for that.