Top Chef Season 17 Power Rankings
By Jason Lee
May 7, 2020
BoxOfficeProphets.com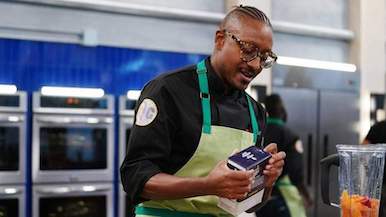 ---
Leaders of the Pack: Gregory, Kevin, Melissa.
Another day, another Elimination Challenge, another set of wins by Gregory and Kevin. With that, they tie Melissa for three Elimination Challenge wins this season. No other chef has won an Elimination Challenge, and only one other chef (Stephanie) has won a Quickfire. This is as close to domination as you're going to see on Top Chef.

Making Up the Middle: Bryan Voltaggio, Karen, Brian Malarkey.
Bryan is living up to expectations, with yet another instance in which he makes delicious food that doesn't embody the spirit of the challenge. To wit: his great mid-Atlantic dishes in last week's challenges that conflicted with his description of an "accessible" (i.e. non-fine dining) restaurant. Karen admirably overcame her mental and physical fatigue to land safely in the middle. And look out now: Brian Malarkey has now ended up in the top of two straight Elimination Challenges. Hath hell frozen over?

Bringing Up the Back: Lee Anne and Stephanie.
Two reversions to their unfortunate means. Lee Anne and Stephanie have both been plagued this season by over-complicated dishes and lack of focus. Both were on display last week, nearly leading to the elimination of Lee Anne, with Stephanie escaping due to immunity. Will these chefs' respective Achilles heels lead to their downfall this week during Restaurant Week?