Top Chef Season 17: Episode 7 Recap
By Jason Lee
May 6, 2020
BoxOfficeProphets.com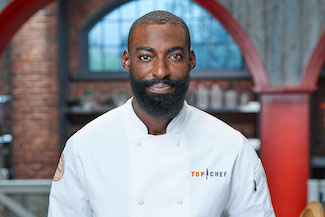 ---
We catch back up with the chefs in the aftermath of Nini and Karen's double elimination. As Padma flagged at the end of last week's episode, they'll have a chance to immediately rejoin the competition through Last Chance Kitchen. But who will it be?

After a good night's rest, they chefs head back to the Top Chef Kitchen where the victorious chef has been battling non-stop through the previous day's Elimination Challenge and two rounds of Last Chance Kitchen. Making it through that daunting gauntlet is our favorite (fake) redhead and James Beard Award-winning chef, Karen. Her prize is another full day of competing, starting right now, capped off by yet another Elimination Challenge where she'll have to try and avoid being eliminated for a second time, despite her mental and physical fatigue.

Welcome back.

The guest judge for the Quickfire is Danny Trejo, acclaimed actor and namesake for Trejo's Tacos in southern California. Ever the opportunist, Danny mentions that he also just opened a donut shop. In honor of Danny, the chefs will have to make the perfect taco for their Quickfire. As for the tools at hand, again, in honor of Danny, they'll have to use a freaking MACHETE in lieu of a chef's knife.

As any Top Chef fan knows, a Quickfire usually commences with a mad rush to the table holding the special ingredient or tool so that chefs have as much time as possible to cook. This time the rush is . . . less quick. The chefs each gingerly pick up a machete and carefully head over to their respective station to avoid impaling fellow competitors in a normal Quickfire sprint.

There's a pretty wide span in confidence levels in the kitchen. Lee Anne sticks with a version of a dish that she knows, which includes a cheese-crusted tortilla. Malarkey is full steam ahead on a "Baja Asian" taco, inspired by life in San Diego. Meanwhile, Bryan Voltaggio and Gregory are trying to maintain complete complicated knife work with their machetes. This is even more complicated by the fact that many chefs are trying to make their own tortillas, some (like Gregory) for the first time ever.

Time severely gets away from Gregory and his tempura rockfish taco with dried chili ends up among the bottom two, as it was way too salty. Joining him is Eric, who had a nice rockfish chorizo taco with corn, mango, and jicama salsa, but the ratio of filling to tortilla was definitely off.

Lee Anne, Karen, and Stephanie comprise the top of the group. Danny loved Lee Anne's tequila, beer, and masa-battered fish taco with a cheese crust tortilla, calling the flavors "poppin.'" He also liked Karen's use of kimchi in her rockfish taco with sesame salsa and cilantro. As for Stephanie, he appreciates that she did something totally different by serving a fresh corn tortilla with lamb, grilled cucumbers, cilantro, and cashews.

For her originality, Stephanie takes home the win—becoming the only chef other than Kevin, Melissa, and Gregory to win a Quickfire or an Elimination Challenge. More importantly, she also gets immunity—the last time it will be offered this season.

Top Chef's iconic challenge, Restaurant Wars, will take place next week, Padma tells the chefs. But the battle begins this week. She introduces the two guest judges for this week and next week, Top Chef Season 4 winner, Stephanie Izard, and Kevin Boehm, a James Beard award-winning restauranteur.

Those individuals, plus Tom, Padma, and Gail, will be asking the chefs to pitch them a restaurant concept. They'll have to design a concept, create a menu, put together a mood board, and cook one or two dishes to give the judges a feel for the restaurant they want to open. The two winning pitches will become a reality next week when the chefs open them up during Restaurant Wars.

Having heard the challenge, the first order of business is for the chefs to head home and play arts and crafts. They cut up magazine ads, pick out fabrics, and (in Bryan Voltaggio's case) glue an actual plate to their mood board. Most of the chefs have a pretty clear vision for their restaurant. Eric is using the concept he pitched during last year's finale under the name Middle Passage, which will be inspired by African diaspora. Lee Anne is going modern Hawaiian. Stephanie is going . . . well, she's not sure what she'll be doing quite yet. Thank goodness she has immunity.

The chefs spend 30 frantic minutes shopping in Whole Foods before high-tailing it back to the Top Chef Kitchen to cook their dishes. Eventually, the judges enter and take their seats at a table at the front of the kitchen. They'll have a front row seat as the chefs finish up.

Kevin is the first to go and he's brimming with confidence, having opened five restaurants since competing on Top Chef. His restaurant is named The Country Captain and will serve southern food family-style. He presents braised and roasted curried chicken with bread and butter pickles with hot chow chow. Tom praises his cohesive and clear concept. The other judges love the flavors and spices used in his dish.

Eric is next but he's WAY behind. He asks Lee Anne, who's cooking at the station next to him, to help him finish. She drops everything and starts plating his dish. Bryan Voltaggio also notices Eric's dire situation and pitches in. Somehow, the three chefs manage to get everything done, but Eric is not feeling confident. He was out of rhythm all day, despite having been thinking about this restaurant concept for years.

But it's go time. He presents Middle Passage, a restaurant featuring flavors of the African diaspora. To embody those flavors, he presents a tamarind-glazed duck with coriander green peppercorns. He also has a Berbere-spiced shrimp with charred vegetable broth. Stephanie asks what the service at his restaurant will be like. He says that it'd be casual but still formal. Eric's internally contradictory response leaves her perplexed.

Even worse is his food. Kevin calls Eric's duck "a mess." Tom doesn't mince words in response. "Oh god, this is overcooked duck. This is over salted broth. This is just a lot of bad technique." Unless someone else somehow has an even worse meltdown, it's clear after just two chefs that Eric will be going home today.

Gregory is just barely on time with his dishes of braised oxtail with sautéed plantains, next to a marinated red snapper with cilantro, lime, garlic, and ginger. They embody his restaurant, Kann, which features Haitian woodfire cuisine. The food is great and the concept is clear. In particular, Padma thinks that such a restaurant would be a great way to introduce diners to this wonderful cuisine.

Bryan Voltaggio follows next with Thatcher and the Rye, a restaurant featuring mid-Atlantic flavors. He has a crab-rolled jicama with a green apple, cucumber, and dill pickle mignette. With that, he serves a game hen and sunflower seed risotto with a shellfish broth. When asked about the type of service, Bryan professes to want the restaurant to be accessible, with a per-person total price point of around $50 to $60.

The judges find that Bryan's food simply does not match his concept. The food is delicious but not accessible in the way he describes. As Stephanie puts it, "Bryan makes beautiful, fine dining cuisine—own it." And she's right. As the last couple of challenges have shown, Bryan simply cannot make anything other than fine dining food, even when he tries. We've seen this over and over again with his bizarre calamari pesto in the branded-product challenge and his minimalistic approach to using hazelnut flour in a kalamata olive crumble in a challenge that's supposed to celebrate alternative flours. Today's misstep in the Elimination Challenge is just another example of Bryan's inability to extend beyond the fine-dining realm.

Exhausted Karen is next with her Three Black Crows restaurant concept, which would be a modern dim sum restaurant. I'm left scratching my head, though, at her dishes: a focaccia dough scallion pancake, with Dungeness crab salad and yuzu brown butter aioli next to a sweet potato dumpling in red curry. How on earth is any of this Chinese or dim sum? Gail agrees, noting that she likes both dishes but didn't find either to be Chinese or Asian. Tom thinks that Karen's food is more of a fusion of Chinese and Italian and suggests she should have leaned in that direction with her concept. He relishes, though, the idea of chefs pushing dim sum carts past seated diners in Restaurant Wars.

Lee Anne presents Hanai Mama, her modern Hawaiian restaurant. To embody the menu, she has salted egg curry mahi mahi bites and a beer-braised pork belly. Her "vacation food" is not pleasing the judges. Tom calls her meat dish "cold pork in a bowl that's not seasoned well." Stephanie agrees, noting that the mahi mahi bites are too salty. Gail actually liked the salted egg yolk curry, but faults Lee Anne for having a concept that's not far off from typical Hawaiian restaurants.

Stephanie is next and dreading it. She has a bad feeling about her dishes and concept, which still hasn't really come together. Her restaurant is named Lucy C's and focuses on "modern, elevated comfort food." Yeah, you and a thousand others. She serves a smoked salmon pâté with salt and vinegar chips. Alongside that, she has a pork schnitzel with grilled lettuce puree, celeriac remoulade, and romano beans. Tom cannot understand why Stephanie chose these two dishes to embody her restaurant, which in Kevin's words has a "non-concept concept." If this is the concept, Tom says, he'll pass.

On deck next is Malarkey. Tom tells the other judges that he expects Malarkey to hit this out of the park, as he's opened and sold many, many restaurants. Setting up his mood board, Malarkey spins a tale about a restaurant focused on Baja and Asian street food flavors and aimed at millennials. To serve, he has a shrimp and hamachi aguachile with a braised oxtail with "gochujang mole," whatever the hell that is. As for the name of the restaurant, Malarkey launches into an extended comedic-simply-because-he's-clueless story about two people who fall in love but are not supposed to be together. The punchline? His restaurant is named Donkey and the Dragon, inspired by the characters from Shrek.

His presentation is more successful than it has a right to be. Gail finds the concept of a gochujang mole to be brilliant and Kevin thinks that Malarkey's concept of fun food is aimed at exactly the right audience. Padma and Tom agree—Malarkey knows how to put together and sell a concept.

We finish up with Melissa, who stays in her wheelhouse with her restaurant, Sabrina, which is modern, Asian, and Californian. The restaurant is inspired by her grandmother, who was an elegant Asian woman—a ballroom dancer, to wit. Embodying the menu are dishes of ahi tuna atop Asian pear, fermented black beans, and a shiso leaf, plus a corn agnolotti with Chinese lap cheong, XO sauce, and yuzu. Stephanie finds the agnolotti to be the best crafted dish all day. Tom finds the concept elegant, understated, and beautiful, just like Melissa's food. Kevin says that she has "star chops."

Of the nine chefs, the judges pick out four whose restaurant concepts were highlights of the day. Three of those chefs are the current frontrunners for the title. Kevin blew the judges away with his presence as a restauranteur, had a crystal clear concept, and gave them great food. Gregory also did great, with fantastic plantains and a concept that he really brought to life. Similar, Melissa's flavors, technique, and concept were a perfect match.

Somehow finding himself in the company of the best three chefs this season, Malarkey is also in the top for a restaurant concept smartly targeted at an appropriate audience, with dishes that embodied that vibe.

Of those four chefs, two will see their restaurant concept come to life next week during Restaurant Wars. They are Gregory and Kevin—their third Elimination Challenge win each, tying them with Melissa.

The bottom chefs find themselves there for flaws in conception and execution. Unsurprisingly, it's Eric, Lee Anne, and Stephanie, who has immunity. Eric understands his presence in the bottom, saying he's disappointed in himself. Tom faults the disconnect between Eric's desire for the restaurant to be accessible but also upscale. Padma liked the theme of the restaurant but couldn't get past the food, with overcooked duck and salty broth.

Lee Anne had aimed for big, bright, Hawaiian flavors, but while her restaurant had a good name and concept, she overcomplicated her pork belly dish. She also failed to distinguish her restaurant from the multitude of other Hawaiian restaurants already in operation.

As for Stephanie, she won't be going home today, despite her non-concept concept—something that Stephanie readily admits. She knows she struggled today.

It's extremely sad, given that Eric has been thinking about and working on this restaurant concept for years, but today just wasn't his day and he'll be packing his knives. In his exit address, Eric is appreciative for this second run on Top Chef, which taught him a new level of humility and gave him opportunities to learn from the other amazing chefs competing this season. He looks forward to redeeming himself in Last Chance Kitchen.

Meanwhile, Restaurant Wars awaits next week.