Top Chef Season 17: Episode 6 Recap
By Jason Lee
April 28, 2020
BoxOfficeProphets.com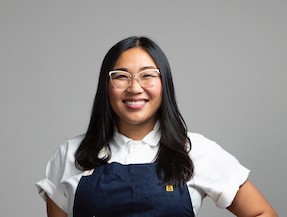 ---
After some brief moments of levity at the Top Chef house, with Brian Malarkey and Nini showing their crystals to each other (yes, it's as odd a scene as you can imagine—each person has a crystal they wear around their neck for luck, and thus before leaving the house, they let their respective crystals hang from a chain held in their hand to soak up sunlight streaming from a nearby window), the chefs make their weekly trip to the Top Chef Kitchen.

It's flower power—errrr, flour power time with Padma and guest judge, Chris Bianco, an artisan and renowned pizza maker. With gluten-free baking all the rage, and lots of folks dealing with food allergies, the chefs stand before an amazing assortment of alternative flours—garbanzo bean flour, almond flour, buckwheat flour, etc. The only thing missing is all-purpose flour. The chefs must use one of these alternative flours to make a dish in 30 minutes. No immunity will be given to the winner, but he or she will earn a cool $5k for the effort.

Reflecting the wide variety in cooking styles, people are taking divergent approaches to the challenge. Melissa takes the obvious route, deciding to bake little financiers. Lee Anne shies away from that, knowing you can't adjust a baked dish once it goes into the oven. She decides to make dumplings. Others like Bryan Voltaggio are taking even less of a chance, using their flour in a crumble topping as opposed to integrating it into the dish itself.

And then there's Malarkey. Determined to redeem himself after messing up with the ice cream machine a few challenges ago, he is making a tropical dish with coconut milk ice cream and a coconut flour donut. It doesn't go so well. With minutes to go, he realizes that his donuts will not be done in time, so he switches to making a coconut flour craquelin.

Unfortunately, the whole point of the challenge was to make something with the flour itself. And thus, both he and Brian Voltaggio end up in the bottom of the challenge. Malarkey's ice cream itself is good, but the craquelin isn't cutting it. Same for Voltaggio, who made a delicious dish of roasted sole with a hazelnut kalamata olive crumble, but this wasn't a "crumble" challenge. It was a flour challenge.

Coming at the top are Melissa, Gregory, and Nini. Melissa's duck fat and almond flour financiers were beautiful and rich. Gregory made pancakes with tapioca flour, paired with a blueberry compote, and they were delicious and complex. Finally, Nini used rice flour to make a play on banh xeo with mushrooms and squash, and her textures were awesome. Gregory again edges Nini for the win and he gets $5,000 to put towards his planned Haitian restaurant.

From esoteric flours to high-culture, today's Elimination Challenge celebrates the 100th anniversary of the L.A. philharmonic. In honor of opening night for the symphony's 100th season, the chef will cook a meal for famed conductor Gustavo Dudamel and 60 members of his orchestra.

In order to figure out what they'll be making, the chefs draw knives. Each knife has one of five "flavors": sweet, salty, bitter, sour, and umami. The chefs must pair up with another chef who has a different flavor and make a single, cohesive dish that spotlights those two contrasting flavors. If that weren't hard enough, the losing TEAM will go home, meaning this is one of Top Chef's dreaded double eliminations.

Karen and Nini immediately pair up for an umami and sour dish. Eric and Brian Voltaggio go bitter and sweet. Stephanie and Gregory, winners together in the first challenge, team up again for a salty and sour dish. Kevin and Melissa find favor in salty and sweet.

That leaves Lee Anne with the unenvious position of pairing up with Malarkey for an umami and bitter dish. It's clearly not her desired outcome, but given that she's been in the bottom three times already, as the saying goes, beggars can't be choosers.

After visiting the Walt Disney Concert Hall and having an inspirational talk with Dudamel himself (seriously, they experiences you get to have on Top Chef are alone worth the price of admission and potential for humiliation on TV), the chefs split off to plan their dishes. Of all the pairs, Lee Anne and Malarkey are (unsurprisingly) having the hardest time. As Lee Anne puts it, Malarkey planning a dish is like "a cat with a laser pointer," going off chasing a different potential direction every few seconds. Lee Anne puts the breaks on things as best she can. "We don't need that, we don't need that," she says over and over again, emphasizing that their flavors are UMAMI and BITTER.

As this makes clear, if they're going to have any success at all, it's going to be based on Lee Anne's ability to edit the dish and keep Malarkey on a short, short leash.

The chefs then head off to Whole Foods. Shopping often involves fights for common elements, but here the disputes are even more heated, as multiple teams are highlighting the same flavors. Lee Anne and Eric furiously scour the produce section for endive, knowing that the opposing team needs it, too. When Lee Anne spots them, she miraculously grabs five bags in one hand and runs off with her cart. "I got all the endives!" she calls out to Malarkey.

With Eric frustrated and lacking endive, his partner isn't doing so well, either. Brian Voltaggio wanted lamb but there's none to be found, so he has to go with pork instead. It'll be a test of improvisation for those two.

Meanwhile, undeterred by Lee Anne's success, Brian Malarkey has grabbed a bunch of unnecessary ingredients to add to their shopping cart. We don't need this, we don't need this, Lee Anne tries to tell Brian—"We have umami and bitter, and carrots are SWEET," she tells us exasperatedly—but Brian insists that they need back-up ingredients. The fact that the ingredients don't mesh with their intended flavor profiles doesn't seem to occur to him.

The chefs head to the kitchen to begin cooking, and most of the pairs are getting along great. Except (of course) Lee Anne and Malarkey. Recognizing with every passing second that she is going to have to overrule Malarkey at every step of the way in order to keep the dish focused, succinct, and beautiful, Lee Anne rules over their team with an iron fist. This is going to be her way or the highway, and Malarkey is nothing more than a passenger.

Smart move by Lee Anne.

Meanwhile, the first dish goes out to the judges. It's a salty-sour dish from Gregory and Stephanie featuring sea bass glazed with miso, mirin, and sake, plus sautéed celeriac and pickled apples. It's a beautiful dish that amazes the judges with the fact that every ingredient—not just the dish as a whole—is salty and sour. It's incredibly harmonious in that way, save for one element: a spiciness in the broth (courtesy of some jalapeño that was cooked with it) that distracts from the salty-sweet combination. But that's a minor quibble for Padma, who says she would order this dish "again and again."

Next is Melissa and Kevin with a salty-sweet dish of fish-sauce caramel roasted cabbage with apples and a cured pork crumble. It's a bang of flavor from the first mouthful, with a wonderful play on salty and sweet. Dudamel calls it addictive, and Tom says that this dish would stand out on any menu.

The forced marriage of Lee Anne and Brian is next with an umami-bitter dish of beef with a miso-anchovy hollandaise with bitter greens, charred orange, and a mimolette crisp. Gail immediately proclaims it to be the best food they've received so far from either Lee Anne or Brian, noting that the dish is umami and bitter-forward without being overwrought or overthought—a triumph for chefs who have both erred in that way this season. Tom calls it a beautiful dish, with an amazing balance between the orange, endive, and beef.

Superstar team Eric and Bryan Voltaggio follow with a bitter-sweet dish of pork with a maafe lacquer and bitter greens. It's a play on a Senegalese stew and Gail loves its subtle and focused flavors. Her only complaint is that there's not much sweetness to be found. Tom notes that the sweetness was supposed to come from the crust on the pork, but because the loin is so large, the ratio from crust to pork is off, leading to a paucity of sweetness.

Nini and Karen finish their final prep with a nervous energy—they worry that the sour elements are not coming through enough. However, there's no time to fix that, as they're forced to present their umami-sour dish of tomato broth with poached cod and pickled cucumbers. It's a light, delicious dish, but comes off as sweet instead of umami due to the fresh tomatoes.

As the chefs are brought before Judges' Table, Tom wants to make one thing clear: all of the food was delicious. It was a fantastic meal, which means the already-hard task of a double elimination will be even harder due the fact that TWO chefs will go home for making a good dish.

It won't be Melissa and Kevin, though, who made the judges' favorite dish. It showcased both chefs' backgrounds in a harmonious way. It also displayed their massive culinary acuity, with astute decisions of how the flavors of salty and sweet would be incorporated, through which ingredients, and in which components of the dish.

It also won't be Lee Anne and Malarkey, who Padma says were THISCLOSE to winning. Everything in their dish was in balance and the umami and bitter flavors really shone. The judges permit Lee Anne and Malarkey to step aside and join Melissa and Kevin in the "safe" zone . . . but they should really be asking Lee Anne to take a bow for her incredible work in reining Malarkey in.

With three pairs still standing before the judges, Gail praises Stephanie and Gregory for their dish, which was layered and had great textural variety with the vegetables. Every component was distinctly salty and sweet, but the one superfluous element was the jalapeño in the broth, which was unnecessarily spicy. But that's not going to send them home today. They're safe, much to Stephanie's visible relief.

That leaves Nini-Karen and Eric-Bryan. Both made delicious food, but one team will go home. For Nini-Karen, their small error was inclusion of the fresh tomatoes. Although they were compressed with fish sauce and lime juice to make them umami and sour, they came off as sweet. Tom notes that a better approach might have been to roast them to bring out their umami flavor.

As for Bryan-Eric, the dish was sufficiently bitter but lacked sweetness. That was supposed to come in from the crust on the pork, but because of the way it was sliced, there was far more un-crusted pork loin than crusted pork loin, which means most of the dish lacked the lacquer that Bryan and Eric had worked so hard on.

But because the sweetness in Nini and Karen's tomatoes was stronger than the umami and sour flavors that they were supposed to highlight, Nini and Karen are eliminated for a dish that Gail calls "fantastic." But that's where we are in the season. Not just one, but two chefs can drop out of the competition for making a very, very good dish.

But they may not stay out of the competition for long. In a surprise move, all of the eliminated chefs, including my beloved Jen Carroll, enter the kitchen for the immediate start of Last Chance Kitchen. It'll be a three-chef cook-off where the winner immediately rejoins the cast.

Three chefs, one spot. Bravo knows you don't have anything better to do at home right now than watch Last Chance Kitchen, and they want you to do that. I'm happy to take them up on that offer.