Top Chef Season 17: Episode 5 Recap
By Jason Lee
April 21, 2020
BoxOfficeProphets.com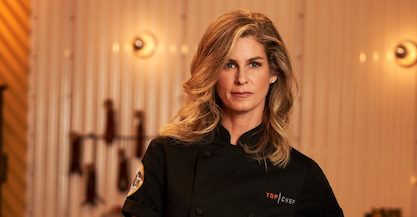 ---
Lee Anne Wong knows her way around Top Chef. A finalist in the very first season, the show's culinary producer for the next four, a survivor of Last Chance Kitchen last season, making it into the main cast before seeing her hopes derailed by altitude sickness . . . she, of all people, should know what it takes to be successful on the show.

But even she is struggling. After getting thrown under the bus by Brian last week—who snidely suggested that even though he may have underseasoned her dish as it went out, didn't the hummus Lee Anne made also have problems???—she hugs it out with him, professing no hard feelings, before having a heart-to-heart with Jen Carroll the next morning.

Jen provides some great encouragement and words of advice. Lee Anne is getting in her own head and needs to see herself as the badass chef that she really is. Jen notes that perseveres simply by believing in her own food. It is, Jen notes, harder this time around for her, as she's recently had to deal with helping her sisters take care of their parents, handle her own restaurant and catering company, planning a wedding . . .

Needless to say, it's busy and stressful times for the preeminent badass chef on the history of the show. (Don't believe me? Go back and rewatch Top Chef: Las Vegas as she tolerates no bullshit or mediocrity from the chefs or herself).

The Quickfire today kicks off with a weird scene: a totally empty kitchen where each station has one of the chefs' names on it and a cell phone. One by one, the phones begin to ring with calls from a family member or loved one of the chefs. There are sisters, moms, friends, wives, husbands, etc.

Padma comes in to clue the chefs in on the challenge. Their loved ones are sitting at a famous Los Angeles restaurant and are going to be served one of three dishes. That person will have to describe the dish over the phone, and the chef will have to try and recreate the dish as best he or she can. The winner gets $10,000 and immunity.

The ensuing scene is hilarious. Chefs bustle around the kitchen, half focused on perplexing conversations with their loved on (Nini's mother is pretty sure the salad on her plate isn't arugula; Nini correctly guesses that her mom is wrong) and half focused on gathering ingredients and cooking. Bryan's sister, the pastry chef at one of his restaurants (an advantage that seems utterly unfair), sends him off getting the entirely wrong fish. Melissa is able to identify fingerling potatoes by asking her friend if the vegetable on her plate resembles "pudgy fingers." Jen's well-meaning sister describes the place setting as having "one fork" and "one wine glass." LOL.

When 30 minutes are up, the chefs are introduced to their guest judge, Nancy Silverton, whose restaurant Mozza has been feeding their loved ones. Nancy knows the three dishes quite well—a yellowtail collar with fingerling potatoes and a salsa verde, grilled hanger steak with arugula salad and parmesan (the easiest of the three to make and recreate), and a peppercorn-crusted pork chop with cannelloni beans and radicchio.

Bryan comes in last for completely getting the fish wrong, but Melissa, Lee Anne, and Kevin are judged to have made the closest versions of the fish, steak, and pork dishes, respectively. Kevin ends up winning his second Quickfire of the season, though he seems happier about the $10k than the immunity.

If you didn't know, Top Chef is happy to tell you that Nancy Silverton is the creator of La Brea Bakery and has a new gelato company set to open (weekly pandemic message: I hope that company is still in business; best of luck, Nancy). This week, the chefs will get to try their own hand at creating a signature product. They'll set up shop at the Century City mall and try to entice 50 diners to trade their ticket for a bottle of their product. To do so, they'll be able to make a dish to serve that showcases their signature product. The chefs who sells the most product will be safe from elimination. As added help, the chefs' respective loved one will be able to assist them during preparation and during the challenge tomorrow.

Having worked with companies that make branded products and being familiar with recipe development, doing all this in 24 hours blows Jen's mind. She says she's flying by the seat of her pants and decides to make a sauce based on fresh ginger and lemon—two of her favorite ingredients.

Most chefs are smartly playing to their strengths/roots. Kevin is going to do a spicy salt, showcased on chicken and waffles. Nini is going to do a version of the traditional Vietnamese sauce, nuoc mam. Gregory is doing pickles, Brian is making some sort of relish, Lee Anne has huge pots of ingredients with which to make mayo tofu sauce . . .

But her preparations are alarmingly interrupted when her mother, who's supposed to be helping with rolling out dumpling wrappers, starts to faint. The chefs rally around her, sit her down, and give her water. Lee Anne's mom seems to be doing okay, just exhausted from her travel and unaccustomed to the heat of the lamps used to light the set. She leaves the kitchen entirely to lie down.

Which, of course, leaves Lee Anne shorthanded. The other chefs come to her rescue and pitch in to make sure Lee Anne has the support she needs to get everything done. Stephanie sends her husband to help Lee Anne roll out dumpling wrappers, Melissa's friend takes over for some vegetables, Jen checks in for moral support . . . it's a really wonderful scene to watch and causes Lee Anne to tear up.

The next morning, we catch up with Brian out on the terrace. Apparently back in high school now, Brian has taken it upon himself to rank all of the remaining chefs—not according to looks, like everyone did back in school, but in terms of relative strength. It's a highly questionable list. He puts himself at the top as the strongest chef and has Melissa (who, to date, has won half of the Elimination Challenges, in fourth). And he has Gregory, who won the first Elimination Challenge, in seventh out of ten.

The chefs head off to Century City and, upon arriving, head to their station and begin prep work. Their loved ones are there, too, including Lee Anne's mom, who's staying in the shade. Before long, the diners (with their valuable tickets) and the judges show up. Top, Gail, Padma, and Nancy first try Melissa's Korean-inspired kimchi-peach vinaigrette, which she has used to make a Korean-inspired fried chicken wing. Gail loves the dish's presentation and crunch. Tom likes the sauce but finds the application just okay. Nancy would have liked more spice.

Lee Anne is next with her Mama Wong mapo tofu sauce. She has used that to make a shrimp, tofu, and shitake dumpling. It's a very tasty dish, and the product is definitely something that people would enjoy but wouldn't be able to make themselves at home.

Kevin has "Hotlanta" hot salt, which can be used to bring heat to a dish without making it wet or soggy. His hot salt adorns chicken 'n waffles, which no diner wants to turn down. Nancy finds that the dish tastes southern, but without cliche. Gail loves the salty bits in the dish. Like Melissa, Tom likes the dish but finds the product just okay.

Eric has an African dish of "doubles," which is like a bar snack, apparently, topped with chickpeas and pancetta. It showcases his Calypso sauce. The dish is great and the sauce is a winner.

Gregory took a bit of a risk making spicy Haitian pickles, which he puts atop Haitian Creole chicken marinated with black pepper, thyme, and cloves. The stew is delicious and the chicken is braised quite well. Nancy praises the dish for making a product and showcasing it in the best way possible. Gail loves how homey and approachable the dish is. Tom notes that the pickles could be used on a variety of different dishes.

Nini has a braised and broiled pork rib cooked with her own nuoc mam glaze. Padma says this is something she would buy in a heartbeat. Gail was won over by the aroma of the dish. Tom agrees, saying the dish is really good.

If it sounds like the first set of chefs all hit home runs, or at least doubles, things go downhill from here. Karen has a romesco sauce used to cook pork belly, almonds, and crispy potatoes. The sauce lacks finesse and is a bit too mild.

Brian has some mush of a relish in a bottle, which he uses to make a pacific swordfish with radicchio slaw. The dish overall is oily and his product is more like a dressing than a slaw.

Stephanie offers a vegetarian chili base, which she used to make a two-bean chili with a homemade cracker. Her product lacks depth and complexity, and Tom notes that once you brown meat and cook the beans, her chili base doesn't really do much or save home cooks much time at all.

Bryan has a perplexing "calamari bolognese," which he uses to make a kale and nori spaghetti. It's upscale, modern, strange, and apparently delicious, but totally not something that would appeal to a mainstream home cook.

Finally, Jen has a "Sunny lemon-ginger love," which is named in honor of her sister, and which she used to cook a skirt steak. Tom criticizes the product's texture, which he calls "terrible" because it's impossible to purée ginger without leaving behind chunks of the ingredient. Nancy says that it didn't taste "sunny."

Back at Judges Table, the judges ask the chefs to guess which one among them sold the most products, but there's no guessing necessary—everyone knows that Melissa sold the most. She's safe.

The top three chefs are Gregory, Nini, and Eric (all of whom were among the middle to the bottom of the pack on Brian's list, for whatever that's worth). Padma tells Melissa that, in case she was wondering, she's not in the top because although the judges loved her sauce, Kevin gave them a better fried chicken.

Tom raves about Gregory's pickles and dish. The chicken was cooked beautifully and paired great with the rustic, spicy pickles. It gave the dish the right amount of crunch.

Nancy loved Nini's ribs, which were tender and brought out the best in her nuoc mam, which was very balanced. Gail says she could tell that the dish was made with love.

As for Eric's "double," he made something unknown to most diners but presented it in an accessible and "cravable" way. Nancy says that every bite was delicious.

But neither Nini nor Eric can overcome Gregory's pickles, as he takes home his second Elimination Challenge win of the season.

Worse news comes for Stephanie, Jen, and Brian, who end up on the bottom. Tom chides Stephanie for making a product that doesn't really offer any convenience to home cooks. Gail says the chili was good, but the product doesn't really do anything to differentiate it from other tomato bases.

Brian's dish was oily, according to Padma. Nancy thought she would be getting something fresh and bright, but instead found it muddy. Tom says that dish was fine but he was confused by what Brian was selling.

As for Jen, Tom wishes that she had strained the sauce because he didn't enjoy the bites of ginger in it (although Jen says that she, herself, enjoys those little bits of ginger). Nancy thought it was going to be more sunny, suggesting that mixing yogurt into the sauce diluted the flavor.

Past readers will be familiar with my theory of Top Chef: the other judges are just there for show, and Tom's opinion is the only one that matters (see above: Gregory). Week in and week out, that proves true. Just listen for the chef who gets the most criticism from Tom and that's the chef who's going home. Honestly, I've said this hundreds of time to my husband, and every freaking episode, this theory proves true.

And it proves true again today. Because Tom can't get over the bits of ginger in her sauce, my beloved Jen Carroll is going home today. She takes it extremely well. She reflects on how much Top Chef has done for her and taught her. She exchanges some very warm handshakes with the judges and gets a multitude of hugs from her fellow chefs. She says that she's learned to take these types of things in stride, simply focusing on being better next time. She also says that she will forever treasure the fun she had cooking with her sister during this challenge.

I, for one, will never stop supporting Jen Carroll. I will be rooting her on to blaze a trail of defeated chefs in Last Chance Kitchen.