The Number One Movie in America: Teachers
By Sean Collier
April 18, 2020
BoxOfficeProphets.com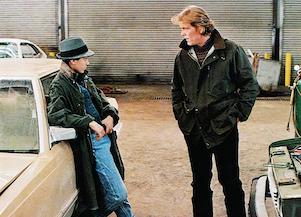 ---
If you go back far enough, box-office results aren't really comparable to the way we look at them today. (Or, at least, the way we looked at them before March 2020 — but that's a column for another day.)

Go beyond the dawn of the '80s and there are scant records if any; while Billboard tallies have been meticulously preserved all the way back to the middle of the 20th century, we don't have reliable movie charts beyond about 1981. Even in the years that followed — with the blockbuster era in full swing — things are spotty.

And weird.

In 1984, for one illustrative example, "Purple Rain" only managed to win one weekend, while Clint Eastwood's "Tightrope" took four. The biggest hits — "Indiana Jones and the Temple of Doom," "Ghostbusters" — kept fading and returning, winning varied weekends throughout the calendar, while other megahits never took the top spot; "The Karate Kid" peaked at 4th. And amid a string of enduring blockbusters, forgotten footnotes such as "Oh God! You Devil," "Missing in Action" and "Teachers" became box-office champions.

"Teachers" won two or three weekends, in fact, depending on which source you trust. A tonally odd yet strangely watchable mixed bag by "Love Story" director Arther Hiller, "Teachers" hasn't necessarily aged well — a fact also true of its soundtrack, which generated a surprising three Top-100 hits — but stands as an interesting slice of the cinematic era.

Leading man Nick Nolte (like I said, it was a different time) is the last teacher who cares at a troubled high school. The district is being sued by the family of a boy who was conferred a diploma despite being unable to read; a former student and, inevitably, love interest played by JoBeth Williams is in charge of the litigation. Meanwhile, the students are getting stabbed, shot, pregnant and plenty besides.

Did I mention it's a comedy? It is. Kinda. There's a runner about an escaped mental patient posing as a substitute teacher.

For those looking for before-they-were-famous turns, "Teachers" is a treasure trove. Laura Dern is already in fine form as a student having an affair with a gym teacher; a year before he would go full nerd, Crispin Glover is the most defiant of the slackers. While he was learning karate a few doors down the multiplex hallway, Ralph Macchio plays the cause celebre of Nolte's character. Morgan Freeman — looking basically unchanged, as ever — turns up as a defense attorney.

It's very difficult to look at "Teachers" through a modern lens, as subjects as dire as adult-teenage relationships and school violence are treated somewhat flippantly. The plight of the forgotten teen has been explored countless times since, so there's nothing here that will seem particularly groundbreaking to a modern viewer — although its frank treatment of some then-taboo topics is notable.

It's not exactly good; the heavy-handedness can provoke guffaws. Yet "Teachers" is so head-tiltingly different, to a modern viewer, that it's worth a curious watch.

By the way, this was the same year as "Hot for Teacher" and a few years after "Don't Stand So Close to Me." Was teacher-student romance just a fact of life in the early '80s? Early Gen-Xers: What was going on back then?

"Teachers" is the subject of the latest episode of The Number One Movie in America, a look back at past box-office champions. Each episode's film is drawn at random from a list of every number-one movie since 1982. Please listen and subscribe!

Next time: Patricia Arquette has had it up to here with these mysterious woundss!