The 400-Word Review: The Quarry
By Sean Collier
April 15, 2020
BoxOfficeProphets.com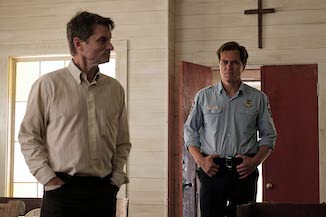 ---
Early in "The Quarry," a no-nonsense lawman smashes the myth that modern small towns are "quaint." Sure, there's something theoretically charming about the judge and the preacher operating from the same pulpit, he points out, but the reality is stasis bordering on hopelessness.

An unnamed drifter (Shea Whigham) is found on the side of the road by an alcoholic pastor (Bruno Bichir). The latter man is en route to a Texas border town where he's been hired to preach, dipping into the communion wine as he drives. The former is on the run from a mysterious yet obviously haunting crime.

When the preacher pushes our reluctant protagonist to confess, a struggle ensues; in a burst of violence, the man of God is killed. Without any better ideas, the drifter claims his name and job, continuing the journey south.

On his first night in town, his belongings are stolen by a pair of wayward kids (Bobby Soto and Alvaro Martinez); when the crime is reported to Chief Moore, the local sheriff (Michael Shannon), Moore sniffs out traces of the drifter's crime — and pins it on the kids.

The drifter unwittingly finds his approach to religion — read the Bible aloud, never pretend to be anything but a messenger — is a powerful salve for the town. As the impact of the parables lands with him, however, the guilt over his crime and the knowledge that innocent kids may be forced to pay for it weighs on him.

"The Quarry" is a character study masquerading as a potboiler; the beats of the investigation and trial make the film compelling, but the quiet unraveling of the protagonist (his name is never given) gives it heft. Whigham, a character actor usually relegated to the edges of the frame, proves his mettle with a restrained role; he's aided by careful direction from Scott Teems, in his sophomore effort after 2009's "That Evening Sun." (He's been tapped to write "Halloween Kills," the upcoming chapter in the Michael Myers franchise.)

Shannon's role isn't quite antagonist; Moore is an odd figure from a story perspective, cutting through the narrative rather than slotting neatly into it. Fortunately, Shannon — a phenomenally talented performer, commanding from any angle — gives a note-perfect turn, making a flawed character sympathetic. "The Quarry" is ultimately a curious film and not a great one, but Whigham and Shannon carry it without much trouble.

My Rating: 7/10

"The Quarry" will be available via digital streaming on-demand services on Friday, April 17.