The Number One Movie in America: Michael
By Sean Collier
January 23, 2020
BoxOfficeProphets.com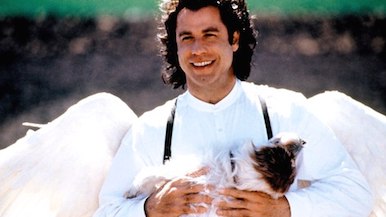 ---
The two highest-grossing films in Nora Ephron's career aren't tough to guess.

Among the directorial efforts from the storied filmmaker, "Sleepless in Seattle" is the easy winner, having earned $126.8 million in 1993; "You've Got Mail" lands in second at $115.8 million.

In third place, you'll find a curious star vehicle about an angel and a tabloid (writer's) romance. "Michael," starring John Travolta as a lightly crass archangel, earned $95.3 million after its release on Christmas Day, 1996.

The movie is ... odd.

After helping an old woman (Jean Stapleton) knock down a bank — an act which may or may not have actually helped with the lady's problems — news of an Iowan angel reaches the offices of a Chicago tabloid, from which an investigative team consisting of Frank (William Hurt), Huey (Robert Pastorelli), Dorothy (Andie McDowell) and Sparky (a dog) is dispatched to bring Michael in for a photoshoot.

There's a long, convoluted subplot about the angry editor (Bob Hoskins) and the dog, with a revelation about Dorothy's real role, but it doesn't add up to much.

Anywhere: Sometime between headbutting a bull and possibly having sex with a bunch of clearly entranced midwestern women, it turns out that Michael's real gig is as a cosmic matchmaker. Maybe. The point of Michael's time on Earth, as with all other details about Michael, is patently unclear.

"Michael" is not unwatchable, largely because everyone involved is trying very, very hard. Ephron clearly engaged passionately with the tale and tries to spin a lighthearted, wistful tale of Middle America. Travolta gives it his all; he's identified the part as one of his favorites. McDowell sings her heart out at an Iowan honky-tonk. (There's a runner about her writing country songs.)

But even as you're inclined to root for the film's folksy earnestness, you're put off by some of its bizarre plot points and general weirdness. Let's get back to Michael's lasciviousness: In one scene, the angel takes the dance floor (because when is Travolta not dancing onscreen), leading all the women in the bar to flock around him in an eruption of restrained small-town lust. He eventually (probably) beds a waitress played by Joey Lauren Adams — with a clear implication that these women are being taken in by some sort of automatic angelic love potion.

So ... what? Why is any of that in this movie? Who let that through? Were there no test screenings on any of this?

It was a hit, anyway; middle-of-the-road entertainment that you can bring both the older kids and the grandparents to see plays well at the holidays, and the only other Christmas-Day release in 1996 was "The Evening Star," the ill-advised sequel to "Terms of Endearment."

It was part of a remarkable hot streak for Travolta, too. In the wake of his "Pulp Fiction" launched comeback, he made nine movies between 1996 and '98, also including hits such as "Phenomenon," "Face/Off," "Broken Arrow" and "A Civil Action."

These days, things are not so bright for the former Vincent Vega. He made five films between 2018 and '19; the $4.3 million earned by the flop "Gotti" represents nearly the entire box office of all five, three of which reported ticket sales of $0. His most recent release, last year's Fred Durst directed "The Fanatic," earned a whopping $3,153 from 52 screens.

Never let anyone convince you that Scientology helps an actor's career.

"Michael" is the subject of the latest episode of The Number One Movie in America, a look back at past box-office champions. Each episode's film is drawn at random from a list of every number-one movie since the late 1970s. Please listen and subscribe!

Next time: Everything is awesome!