If I Were an Oscar Voter
By Kim Hollis
February 9, 2020
BoxOfficeProphets.com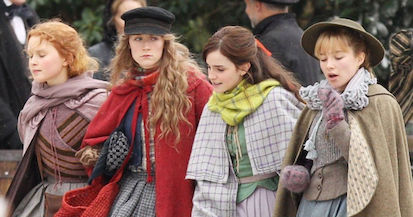 ---
Each year, I try to catch all of the Best Picture nominees in an effort to immerse myself in the movies that combined for critical and audience acclaim. 2019 wasn't the best year for film, honestly. Animation was fantastic, and Avengers: Endgame and Spider-Man: Far from Home brought Marvel Phase 3 to a satisfying, adrenalizing conclusion. The Farewell and The Two Popes were lovely, but not nominated here.

The Best Picture nominees are a combination of flat-out malevolent and sweet perfection. If I were an Oscar voter, my card would look like this:

9) Joker

I hate hate hated this movie. I resent that I watched it. I resent that it made as much money as it did. I resent that Joaquin Phoenix is nominated for this performance and will likely win when Heath Ledger gave us the definitive, ideal performance that didn't glorify or sympathize with this sadistic character, but nonetheless made him fascinating and off-putting in a way that danced perfectly with Batman's own imperfections.

The audience is meant to spiral down with Arthur Fleck as he withstands all manner of cruelty and bullying. And his means of "rising above it" is to enact his own harsh punishment on the society he sees as his tormentor.

And don't get me started on the way women are treated and depicted. This is "Society Sucks: The Movie." It's a bleak way of looking at the world and simply not something I can advocate or praise in any way.

8) The Irishman

Man, De Niro had some swings and misses this year as far as I'm concerned. I actually kind of get the appeal of Joker for him - he's theoretically turning the tables and playing the Jerry Lewis role from King of Comedy. And The Irishman, of course, puts him back alongside his frequent directorial collaborator, Martin Scorsese. It had been more than 20 years since De Niro starred in one of Scorsese's films, with the director seemingly going with the younger upgrade of Leonardo DiCaprio over the last many projects.

I get what Scorsese is doing here. Really, I do. He's taking a different view of the same kind of characters he's presented previously and showing us that sympathizing with them is not what he meant for us to do at all. But The Irishman is so indulgent and long that the message is lost, and what might have been an opus is simply trapped inside of a boring if well-acted film.

7) Jojo Rabbit

From here on out, I liked the contenders pretty well. Jojo Rabbit is an oddity that will stay with you over time. Taika Waititi presents us with a timely exploration of xenophobia, bullying, and wanting to belong. Unlike Joker, he doesn't allow us to sympathize with the protagonist when he's behaving badly. And he presents Hitler as a buffoonish cartoon character, something like a certain political leader currently in office. (Played by Waititi himself, he's hilarious and ridiculous - a character that deserves our scorn.)

You can wonder what's funny about Nazism. I believe that the point is that there isn't humor in the movement, but we must find the light in the midst of challenging times. And there is light. Jojo Rabbit is uneven, but I do see it as a call to action in these precarious days that unfold before us.

6) Marriage Story

Look, it's just not fun to watch a relationship falling apart. The story can be told with dignity, grace, and some remarkable acting. In fact, I'd call Adam Driver's performance the best of the year, albeit in a pretty weak category.

Marriage Story is an incisive, discomfiting exploration of a couple's divorce. While writer/director Noah Baumbach has said that it's only somewhat inspired by his own separation and divorce from Jennifer Jason Leigh, one can't help but feel uncomfortable and voyeuristic while watching.

Still, along with Driver, Scarlett Johansson and Laura Dern are sympathetic. We empathize with both husband and wife at various times. I rarely enjoy Baumbach's work, but this is easily his best work outside of his collaborations with Wes Anderson. He's come a long way.

5) Ford vs. Ferrari

This recounting of Ford's enlistment of Carroll Shelby to bring them a LeMans victory over Ferrari is a true crowd-pleaser (there's a reason it got an A+ Cinemascore and has an 8.2/10 rating at IMDb). It'd be easy for this story to be boring for people who have no interest in cars OR racing (i.e. people like me), but not only is it an immersive tale, but Ford vs. Ferrari is a deeply engaging character study.

Christian Bale adds one more spectacular notch in his acting belt as he portrays driver/mechanic Ken Miles. As always, Bale has completely enveloped himself in the role, embracing both the good and the bad qualities. No man is an angel or a devil, and this is why we root for Miles to win.

It's a bit odd that the film understands Miles' complexities even as it makes use of one of the most one-dimensional villains possible. Josh Lucas does what he can with Leo Beebe, but the writing makes his arc unbelievable. Since it appears some liberties were taken, I struggle with this. Still, Ford vs. Ferrari is a great ride.

4) 1917
I mostly believe that 1917 is a masterpiece of filmmaking. The visuals, sound, and impact are undeniably strong. This is a movie that "feels" like a best picture winner, and I admire the hell out of it.

On the other hand, I dislike war movies. Had this not been nominated, I likely wouldn't have seen it even with accolades. I know war is hell. That's why we call it war.

A couple of negative points have to be bubbled up. I found the "one continuous shot" effect to be distracting. I'm sure the intent is to immerse the viewer deeply within the story, but it took me out of the film at numerous points. In particular, it took me about a half hour or so to shake it off and accept that this was a storytelling choice.

Also, since the story is fiction based on stories told by director Sam Mendes' grandfather, some of the contrivances didn't ring quite true. It just felt like they were there to make the next thing happen. For example, Schofield finds milk because a baby will need it later. Alternately, Schofield and Blake watch a plane barreling toward them because it will crash and put them into peril.

That sounds like a lot of criticism for a film I enjoyed and believe would be a deserving Best Picture Winner. I just struggle to choose it in the top spot because of its foibles.

3) Once Upon a Time… in Hollywood

Quentin Tarantino's films are hit or miss for me. I imagine that most people wouldn't agree with me that his best effort is Inglourious Basterds. I'd probably rank Once Upon a Time… right there alongside it, and suspect that if I watched it again, it might be my choice for Best Picture.

An epic tale of days of Hollywood past, OUATIH features Leonardo DiCaprio as washed up actor Rick Dalton and Brad Pitt as Dalton's best friend/stunt double Cliff Booth. Both men are better than could be hoped, which is saying a lot considering that I think Leo is one of the finest talents of his generation, while Pitt gives possibly the best performance of his career (which is saying a lot when you consider his roles in Ad Astra, Inglourious Basterds, and Moneyball).

OATIH evokes the late 60s, or at least I imagine it does, in a dreamlike, atmospheric fashion. Supporting turns from Margot Robbie, Timothy Olyphant, Dakota Fanning, Mike Moh, and most especially Julia Butters stand out amongst the many, many people who appear in the film. As you watch, you feel like Tarantino has taken a bit of a departure from his typical bloody style, but he brings it all around in the end - just not in a way anyone would expect. I was genuinely surprised with the film's resolution, which is saying something considering the real-life events that work in the shadows.

2) Parasite

Depending on the day, I could slot either of my top two choices as my favorite. It would just depend whether I'm feeling sentimental and sweet or whacked out and edgy.

As you've likely guessed, Parasite would be the choice on my whacked out and edgy days. I struggle to even imagine where director/co-writer Bong Joon-ho even conceived of the idea. For that matter, I struggle to even describe the film to someone who might be interested in seeing it. I think it's best to go in blind and just absorb it.

You have to experience Parasite to understand why it probably deserves to win Best Picture. That's probably as good an argument as any for its candidacy.

1) Little Women

I'm one of four sisters. I love literature from the 1800s. I want to support female directors. All of these are reasons that Little Women resonated with me.

This story has been told many times, but I deeply admire Greta Gerwig's screenplay, casting, and directorial decisions. Some purists haven't enjoyed the fracturing of time, but I felt that it added gravitas to the themes Gerwig wished to emphasize.

Saorise Ronan is wonderful as Jo March - much as she always has been since her first nomination as a teenager for Atonement. The real revelation, though, is Florence Pugh as Amy. In the book, I generally found Amy awful and unappealing (though she does have some redemption toward the end), but she's beautifully nuanced and relatable here. Timothée Chalamet is winning as well, much more so than I found him in Call Me By Your Name.

Sure, you might think that Little Women is light and fluffy. Perhaps it is. But I found it delightful and resonant. We all bring our experiences to what we see.