Weekend Wrap-Up
By Tim Briody
December 29, 2019
BoxOfficeProphets.com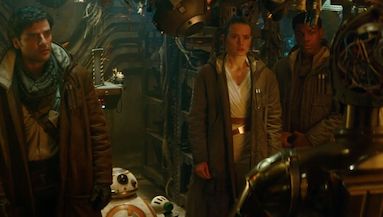 ---
Star Wars: The Rise of Skywalker more or less dominates the final weekend of 2019 as Christmas releases and expansions made it a suddenly packed marketplace.

With a second weekend of $72 million, Star Wars: The Rise of Skywalker does easily hold on to the top spot at the box office, despite a 59% decline from opening weekend. That was of course, to be expected. The Last Jedi plunged 67% from its opening weekend, though that started with a higher figure. The Rise of Skywalker has $361.7 million after 10 days in theaters. That's obviously very good, and at this same point in release The Last Jedi had $368.1 million. While it would seem like The Rise of Skywalker is keeping pace so far, there's a big but here.

The Last Jedi's 10th day in release (i.e., today for The Rise of Skywalker) was Christmas Eve. Due to the calendar configuration and release date, The Last Jedi had a full week of earnings before getting the holiday box office boost. The gap between Episodes VIII and IX is about to widen significantly over the next few days and next weekend it will see a huge post-holiday weekend drop off.

Right now I think we can say with confidence that The Rise of Skywalker is getting to $500 million. It's not getting to $600 million, but how close it gets to that number hinges a lot on its decline next weekend. It'll get a New Year's Day bump, but box office drops dramatically after that and next weekend will not be pretty.

Jumanji: The Next Level holds in second place with $35.3 million, a strong bump of 33% from last weekend. It has $175.4 million in three weekends. That's the power of the Christmas week box office, where last weekend it was kind of stumbling over the $100 million mark after dropping 55%, its now in line to be over $200 million by the end of the week. The Next Level is not the out of nowhere juggernaut that Welcome to the Jungle was two years ago, but it's got a couple of okay weekends left in it, and the target is going to be $300 million. That's a big stretch, but January's not going to have a tremendous amount of competition. It's also found money for Sony as despite a $130 million price tag, its pushing towards $500 million worldwide, with more to go.

Our first Christmas opener takes third as Little Woman earns $16.5 million for the weekend and $29 million over five days. The latest adaptation of the Louisa May Alcott novel (the first notable one since 1994, though a contemporary adaptation was released last year by faith-based distributor Pure Flix and earned $1.4 million), this one written and directed by indie darling Greta Gerwig. Starring Saoirse Ronan, Emma Watson, Florence Pugh (having an outstanding year), Timothee Chalamet and Meryl Streep, it's a veritable who's who of Academy faves. Indeed, Little Women is 95% Fresh at Rotten Tomatoes and has a high probability of a Best Picture nomination, along with a nomination for Ronan (who at this point could read the phone book and get nominated) and the adapted screenplay for Gerwig, who's also in the conversation for Director, but this year's pretty stacked.

Made on a $40 million budget, Little Women will make Sony very happy over the next month or so, especially if it gets more awards traction than currently anticipated. '

Frozen II earns $16.5 million in its sixth weekend (up 27%) and was off to the races this week as it blows past the total box office of Frozen and has $421.2 million to date. Not much more needs to be said about it, all it really needed to do was tread water for a couple of weekends after its pre-Thanksgiving release and the box office money train would do the rest.

Another Christmas Day release takes fifth as Spies in Disguise earns $13.2 million for the weekend and $22 million in five days. An animated entry from Disney (via Fox) starring the voices of Will Smith and Tom Holland among others, this was aimed squarely at those too young for Star Wars and Jumanji and who've already seen Frozen II. It wasn't meant to be a worldbeater, and as it was from the same production studio as 2017's Ferdinand, I think they were hoping for the same outcome. Though that one opened a couple of weeks prior to Christmas and got a nice holiday bump to earn $84 million. Spies in Disguise will not match that and is probably looking at $50 million as a total.

Knives Out reaches the $100 million mark thanks to the holiday week as it earns $9.7 million in its fifth weekend to give it $110.2 million. Rian Johnson has one of the most acclaimed films of the year as the reception to The Rise of Skywalker (in which JJ Abrams pretends that The Last Jedi never happened, but I digress...) continues to be mixed.

Expanding from 5 theaters to wide release on Christmas Eve, Uncut Gems earns $9.5 million for the weekend and $18.8 million over five days ($20 million adding in Tuesday). Written and directed by the Safdie Brothers, Uncut Gems stars Adam Sandler in a crime thriller that's earning him the best reviews of his career and have some saying he deserves a Best Actor nomination for the performance. A pretty dark choice for a wide release, Uncut Gems is acclaimed by critics (93% Fresh) but audiences who bought tickets were apparently expecting a typical Sandler movie and gave it a C+ CinemaScore. With $21 million in the bank to date, it's got a chance at being distributor A24's highest grossing film in its history, a title that currently belongs to Lady Bird with $48.9 million. It would probably need some help from the Academy to get there, though.

Though we mention at this point every single year that this week is the high tide that rises all boats, once every few years there's an exception, and Cats is one of those. With a second weekend of $4.8 million (down 27%), even the "so bad it's good" reviews couldn't save it as it was a punching bag on social media all week long. The musical has $17.8 million in two weekends and I look forward to everyone involved disavowing its existence a couple of years from now.

Bombshell also slides from its wide release weekend, but only 8% to $4.7 million, giving it $15.6 million in three weekends. To be fair, it's only in 1,480 theaters (as opposed to Cats, which has 3,380 for some reason). Bombshell is going to best be remembered for a couple of acting nominations (for Charlize Theron and Margot Robbie) and that's about it.

Richard Jewell wraps up the decade in the tenth spot with $3 million (up 17%) and $16 million in three weekends. It got a little bit of a holiday week bump, but the Clint Eastwood film is still a big miss for Warner Bros.

This weekend's top 12 films earned $188.8 million, and once again we thank Star Wars as it's just ahead of last year's $170.8 million as Aquaman led the way with $52.1 million.

We flip the calendar next weekend and we just have one new release as a remake of The Grudge starts off the year as the #1 film of 2020.