Weekend Forecast for December 27-29, 2019
By Reagen Sulewski
December 24, 2019
BoxOfficeProphets.com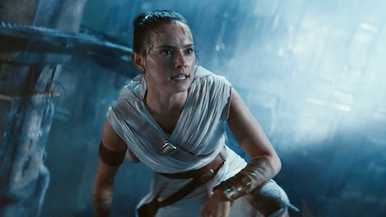 ---
It's quick turnaround time as three new films hit theaters in wide release for Christmas Day, traditionally one of the busiest single days of the year. Adding to the three that dropped on Friday (but really, it's all Star Wars) and we've got a crowded slate for the main stretch of the holidays.

Will Smith has a history with Christmas Day, having given us one of the greatest one-day Christmas wonders with Ali, back in 2001 - earning $10 million on its opening day and then just $48 million more for its entire run. He's probably looking for much better results with Spies in Disguise, which if I may be so bold, has many significant differences with Ali.

An animated film originally produced by Fox but now by virtue of the corporate takeover, under Disney's wing, it sees Smith as the "World's Greatest Spy" - so called because, and I quote, "Everyone knows his name". ... I have questions. In any case, as the top agent at a world-spanning intelligence operation, he's tasked with tracking down a super-villain named Killian (subtle, this film) with a bionic arm that controls an army of destructive drones. So far so good. But then, a nervous, nerdy tech agent (Tom Holland) creates a serum that accidentally turns him into a pigeon. ... I have more questions.

From there, it's fairly standard kiddie-spy-adventure stuff, but with bird jokes thrown all about. In addition to the top pairing, Rashida Jones, Ben Mendelsohn, Karen Gillan, DJ Khaled, Rachel Brosnahan and Reba McEntire lend voices, but it's not a title that's likely to find traction outside of the kiddie market and captive parents. The action setting and bright, crisp animation does point to a certain quality at least, and reviews mostly point to it being tolerable and inoffensive, two important adjectives when it comes to kids movies. Smith and Holland appear to be having a lot of fun with this too, which helps in the promotion. It's not Smith's first foray into animation, with Shark Tale being a somewhat regrettable film from the 00s animation rush. I'd look for this to be a middling entry in animation, with $15 million on Christmas Day, and $24 million over its first weekend.

Little Women carries a lot of the Oscar hopes for films this weekend, with Greta Gerwig's adaptation of the Louisa May Alcott novel about lives of girls in the aftermath of the Civil War arriving with a full court press of promotion and great reviews. The four March sisters are played by Sairose Ronan, Emma Watson, Florence Pugh and Eliza Scanlan, with It Boy Timothee Chalamet, Laura Dern, Meryl Streep, Bob Odenkirk and Chris Cooper also getting key roles - this looks like it was cast by Indie Feminist Twitter.

A somewhat modernized adaptation, in that it jumps around in time, it's a classic of coming-of-age literature. It was last on big screens in 1994 with the Winona Ryder version, also released at Christmas time, going on to earn a decent $50 million at the time, and earning three Oscar nominations. This version is definitely hoping to improve on both those marks, though it faces the problem all female-centred movies have - trying to attract a broad audience. Men - we don't want to get girl on us. Strong reviews may help here and it should start with a decent $8 million, turning into $19 million on opening weekend.

Not without Oscar hopes is Uncut Gems, the latest by indie directing team The Safdie Brothers. These ride on the shoulders of Adam freaking Sandler, who's stretching his dramatic legs for his "once-every-few-years" Try Hard film. Sandler plays a New York City diamond merchant who's always on the lookout for his next hustle, barely managing a gambling addiction, crushing debt and infidelity issues. As these issues all spiral out of control, he has to balance all of these conflicting and intersecting calamities, before everything comes crashing down.

While Sandler still has his nonsense films he makes for Netflix, the 53-year-old is actually settling into something resembling a serious career. The Meyerowitz Stories was a notable entry that got him notice for his dramatic chops, and we can go back to Reign Over Me and Punch-Drunk Love for evidence he can act. This would seem to be his biggest reach yet, playing a sleazy and complicated man (you could easily see John Turturro playing him 10 years ago). He's already won a couple of critics awards, but was left out of the Golden Globes and a strong Best Actor slate this year might leave him on the outside looking in. This critical praise could turn into a solid box office performance however, and it's earned $1 million already on just a handful of screens. Its expansion should get it $2 million Christmas Day and $6 million over the weekend.

Star Wars will of course win the box office again after its lower-than-expected $177 million debut. It's been a rough ride for this trilogy, with nerd entitlement rearing its ugly head, and word of mouth is a mixed bag for this conclusion of the 9-film saga. To its benefit for box office, its second full weekend occurs during Christmas Break, giving it the softest possible landing. While it won't challenge The Force Awakens' record of $49 million for Christmas Day, its releases' proximity to the holiday means its in for a huge single day of $37 million, and $110 million over the weekend, which should put it at $400 million by the end of its second frame.

Jumanji: The Next Level and Frozen II are also poised for big showings, going right after family audiences, and both are veteran franchises to using this time period. Jumanji should find $22 million over the weekend, while Frozen II might even see a slight uptick to $14 million. Knives Out may be in the same boat, after its strong critical praise through the last month, jumping to $8 million. No so lucky is Cats, which used up all its nine lives right off the bat and has become the critical whipping boy of the season. It's mostly there to attract the morbidly curious and should fall to $4 million, slinking off quickly after the holiday week.